Introduction to Civil Law M&A Practice for Common Law Practitioners
Atlanta
06 - 07 March 2009
---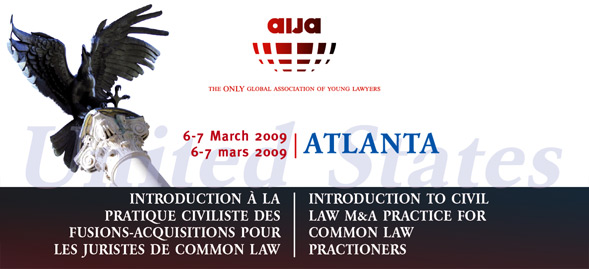 OBFG (for the French speaking Belgian attorneys)
accreditation points : 6 March : 6 points / 7 March : 2 points
Please join the Commission of Corporate Acquisitions and Joint Ventures for a Seminar in the capital of the southern United States - Atlanta, March 6-7, 2009 entitled "
Introduction to Civil Law M&A Practice for Common Law Practioners." The seminar will create an environment for constructive discourse between leading M&A lawyers from civil and common law jurisdictions.
Atlanta is a vibrant city of more than 5 million people with the third largest concentration of Fortune 500 companies in the United States behind New York City and Houston, Texas.
Among the major national and international companies headquartered in Atlanta are Coca-Cola, Home Depot, United Parcel Service, AT&T Mobility and Newell Rubbermaid. The city and region is also home to a thriving financial industry and has been a major source of direct international investments, particularly from Europe.

Many major European corporations, such as Porsche and Philips have located their North-American headquarters in Atlanta. To support its corporate citizens, Atlanta has sprung a significant, sophisticated and increasingly international M&A practice.
Come to Atlanta and experience the famous southern hospitality and our vibrant and exciting young city.
A vigorous social program is planned to introduce you to Atlanta's rich history, the traditions of the South and give you plenty of opportunities to meet members of the M&A bar.
We look forward to seeing you in the "ATL"!
---
AIJA Commissions

Corporate and M&A
Litigation
---