AIJA Real Estate & Construction Mini-Seminar & Robotics Lab Visit // BIM and Law: Finland's Experience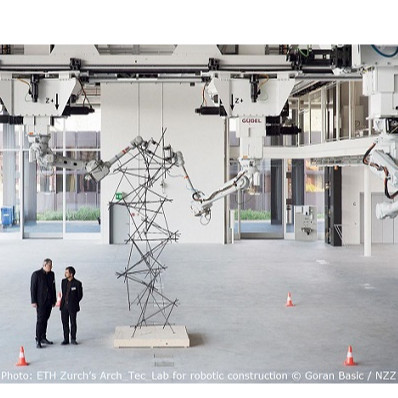 Zürich
28 - 29 May 2018
---
1st Event

AIJA Real Estate & Construction Mini-Seminar & Robotics Lab Visit
Monday, 28 May 2018 at 15:00, meeting at Bus-stop ETH Hönggerberg
Followed by an AIJA Switzerland & Neighbours Get Together Drinks & Dinner
Monday, 28 May 2018 at 18:30, Restaurant Turm (Obere Zäune 19, 8001 Zürich, Switzerland)
We will have a 2.5 hours introduction to the topic (see below) and will visit one of the most exciting laboratories of construction robotics at ETH Zurich (Swiss Federal Institute of Technology in Zurich). Our colleague Emma Niemistö from Helsinki will join us for this event.
We have the unique chance to be hosted by ETH Zurich, with no registration fee at all, but limited places.
After this scientific and legal part, we will get together with AIJA members from Switzerland and neighbouring countries downtown Zurich.
RSVP by 20 May 2018 to
O Seminar
O Drinks & Dinner
2nd Event

BIM and Law: Finland's Experience
Tuesday, 29 May 2018, 13:00-17:00, SIA (Selnaustrasse 16, 8001 Zürich, Switzerland)
This presentation and plenum discussion is organised in collaboration with SIA (Swiss Engineers and Architects Association), ETH Zurich and immolawspecialists.ch
Speakers:
Dr. Odilo Schoch, lecturer at the ETH Zurich (Swiss Federal Institute of Technology in Zurich), implementation expert for builders and designers, programme manager of the CAS ETH ARC DIGITAL
Emma Niemistö, Partner at the Finnish law firm Merilampi Attorneys Ltd, specialist in construction law. She is an active member of the AIJA Real Estate & Construction Law Commission
Jean-Rodolphe Fiechter, Senior Associate with the Swiss law firm Kellerhals Carrard, specialist in construction law. He too is an active member of the AIJA Real Estate & Construction Law Commission
Walter Maffioletti, attorney-at-law, head of SIA legal, member of the management
About the topic
Digital Construction and BIM from the legal perspective
Digital technology is increasingly applied to design, planning, carrying out and operation of built facilities. But how shall we best advise our clients in this innovative field, give them added value and enable them to avoid costly disputes?
The opportunities for innovation and development of the relevant technologies are extremely broad: think of tools that make communication easier, automation of the manufacturing process, advancements in materials, the use of unmanned aerial vehicles (UAV), robotics or artificial intelligence (AI).
All this needs data, which is to be shared among project participants – a new territory for many stakeholders. Building Information Modelling (BIM) influences the content of construction contracts. This influence takes place at several stages of building processes and at several levels of contract law. The application of BIM also raises questions of public procurement and intellectual property law, among other legal areas. SIA, KBOB and digital lobbyists recently published guidelines and templates – with mixed perception and diffuse clarity. We will inform and debate about them.
---