Lawyers' Ball at the Hofburg Palace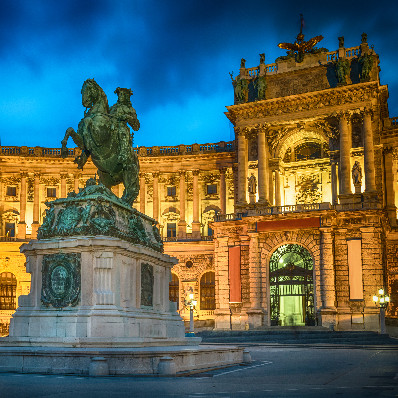 Vienna
02 March 2019
---
AIJA goes Lawyers' Ball in Vienna
Have you ever dreamt of going to a real ball event in a real palace like in the fairy tale of Cinderella?
Although we are neither Cinderella, prince charming or the fairy godmother we can offer you an event at least coming close to that:
Lawyers' Ball at the Hofburg Palace
Saturday, 2 March 2019
The ball takes place at the imperial inner city palace, the Hofburg, with orchestras and bands playing in the beautiful ballrooms, with many different bars scattered in the palace, and with ladies in long ball gowns and gentlemen in tuxedos or black tie.
As it has been such a great success to go there together as an AIJA group these past few years, we would like to offer this experience once again to all AIJA members.
So why not bring your partner and/or friends to Vienna to enjoy a wonderful weekend and to join us at this unique event?
Vienna is always worth a visit but with the ball in addition, for sure it will be a memorable few days!
If you are not too convinced of your dancing skills but would love to try it anyway, we are organising a dance class on Satuday afternoon before the ball that has proven to be very helpful and lots of fun as well.
And even if you are not so much into dancing it is worth just to come to enjoy the lovely ambiance with the great music performances and stroll through this wonderful palace.
What to do to join us? It is easy:
Please order and pay for your ticket directly via this LINK and please remember bringing the printout of the payment confirmation to the ball as this is your entrance ticket.
Please inform us at presoly@presoly.com if you would like to join the dancing class in the afternoon (20€ per person – to be paid on the spot) as soon as possible, to ensure you have secured a place for you and your partner.
We encourage you to book your accommodation as early as possible as there will be a major doctors' conference taking place in Vienna at the same time.
In order to receive further details on the upcoming event, please confirm your attendance to Christian Presoly at presoly@presoly.com.
An AIJA reception, sponsored by Linde Verlag, is taking place in a separate room at the ball venue, the Hofburg Palace, from 20:15 to 21:00. There will also be a few seats reserved for AIJA participants. The organisers will share further details with the registered participants.
Thank You Linde Varlag:

We are looking forward to seeing you in Vienna soon!
---