Half-Year May Conference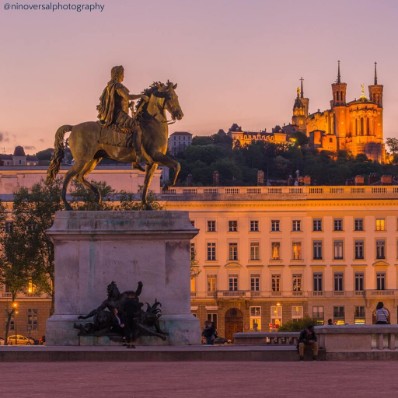 Lyon
27 - 30 May 2020
---
Academic programme overview
Seminar 1 - The FinTech Revolution
FinTech has revolutionised the financial services industry. Disruptors, innovators and pioneers are now established financial services companies deploying greater resources to nurture innovation and growth, form strategic partnerships, and make significant advances in technology.
This new frontier of financial services requires a careful understanding of regulation and risk and a deep knowledge of the FinTech market. Join us for a two day conference in the beautiful city of Lyon, France's capital of gastronomy, where you will have the opportunity to hear from and network with experienced legal and financial professionals. The seminar aims to cover a diverse range of topics including, but not limited to, cryptocurrencies, ICO's, blockchain technology based solutions, M&A in FinTech, payment systems, neobanking, machine learning and trading, and of course the regulatory umbrella under which the entire industry operates.
Seminar 2 - Dealing with a Sovereign State
Increasingly keen to attract foreign investors and capital, sovereign states actively take a large part in economic life worldwide. But dealing with and investing in a foreign state is becoming more and more complex. As investors, businesses and state officials alike face deeper scrutiny than ever before from other states, international institutions and NGOs, disputes arise frequently.
We will gather for two days in Lyon – home of Interpol and Europol – to learn from, exchange and network with international recognised professionals on current issues which regularly make headlines in relation to investing in a sanctioned state, intra-EU bilateral investment treaties, state immunities, ill-gotten assets, international cooperation, human rights and environmental protection.
Picture credit: © NinoVersalPhotography
---
AIJA Commissions

Banking, Finance and Capital Markets
International Business Law
Labour Law
Litigation

---

Full programme Seminar 1 - The FinTech Revolution

Wednesday 27 May 2020

Registration @ Welcome Desk

Welcome Reception

Thursday 28 May 2020

Run for Human Rights

Registration @ Welcome Desk

Welcome to the Half-Year May Conference

Marika Devaux

, MAAT Law & Co-Chair of the Half-Year May Conference, France

Caroline Barbe

, Solucial & Co-Chair of the Half-Year May Conference, France

, FCO Legal Directorate & AIJA President, United Kingdom

Session 1: Capital markets meet crypto assets: From IPOs and exchanges to ICOs and crypto exchanges – Is anything new really going on?

Speakers:
Luca Bianchi

, Niederer Kraft Frey, Switzerland

Marianne Tordeux

, France Digitale, France

Beyond business: Diversity of innovative technologies and their utility at law and legal enforcement

Coffee Break & Exhibition

Session 2: Technology transforming tradition: Fintech disruptions in banking and insurance

Speakers:
David Roche

, Aramis, France

Ronald Kogens

, FRORIEP Legal AG, Switzerland

Joris van Horzen

, Kennedy Van der Laan, The Netherlands

High risk? High Reward? Due Diligence and AML practices
Speakers:

Cecilia Peregrina

, Altenburger, Switzerland

Roberta Di Nanni

, Luminance, United Kingdom

Lunch

Session 3: Keynote - Emerging economies: bridging the gap and increasing accessibility

More than blockchain: Artificial intelligence and machine learning

Speakers:
Chris Hill

, Kemp Little, United Kingdom

Jorma Yli-Jaakkola

, Borenius Attorneys, Finland

John Neway Herrman

, Advokatfirman Delphi, Sweden

Coffee Break & Exhibition

Session 4: Regulation without impediment: Leading jurisdictions and what they are doing right

Speakers:
Naoki Kanehisa

, Atsumi & Sakai, Japan

Stephanie Cabossioras

, Autorité des Marchés Financiers (AMF), France

Robert Jarvis

, Luxembourg for Finance, Luxembourg

Global reach requires global collaboration: Jurisdiction shopping and consumer protection

Speaker:
Liesbet Demasure

, BNP, Belgium

First Timers' Drink

Meeting in the Hotel Lobby & Transfer to Palais de la Bourse (by foot)

Conference Dinner @ Palais de la Bourse

Friday 29 May 2020

Registration @ Welcome Desk

Session 5: M&A in the age of financial technology

Speakers:
Sophie Gilliam

, DLA Piper, the Netherlands

Phil Shepherd

, Taylor Wessing, United Kingdom

Alex Carbonell Real-Salas

, Gómez-Acebo & Pombo Abogados, Spain

Wrap-up

Coffee Break & Exhibition

Lunch

AIJA Commission meetings

Home Hospitality Dinner

Saturday 30 May 2020

Executive Committee meeting

Optional city tour or activity

Gala Dinner

Seminar 2 - Dealing with a Sovereign State

Wednesday 27 May 2020

Registration @ Welcome Desk

Welcome Reception

Thursday 28 May 2020

Run for Human Rights

Registration @ Welcome Desk

Welcome to the Half-Year May Conference

Marika Devaux

, MAAT Law & Co-Chair of the Half-Year May Conference, France

Caroline Barbe

, Solucial & Co-Chair of the Half-Year May Conference, France

, FCO Legal Directorate & AIJA President, United Kingdom

Session 1: With or Without You? – The Impact of International Sanctions on Contracts

Moderator:

David Savage

, Stewarts Law, United Kingdom

Panelists:

Philip Haellmigk

, Haellmigk, Germany

International sanctions in a diverging and converging geopolitical landscape (e.g. Brexit/US foreign policy) – where are we now and what does the future hold?
Enforcement actions against sanctions violations in different states – how do they differ?
How to design an effective sanctions compliance framework for your business/firm
How to risk assess your client base vis-à-vis sanctions

Coffee Break & Exhibition

Session 2: Protectionism in Act – The Impact on cross-border transactions

Moderator:

, TIGGES Rechtsanwälte, Germany

Speakers:

Cheng Chen

, Kellerhals Carrard, China

Friederike Henke

, Buren, The Netherlands

The impact on value chain: from site consolidation to headquarters relocation strategies;
Tariff war and Outbound activity (the China scenario)
FDI strategies (i.e. sensitive sectors, local restrictions)
How to minimize the risks of protectionism in M&A deals (from the due diligence process to CPs and MAC clause)

Lunch

Session 3: Facing a Dead End – Immunity Issues as a Breaking Factor and its Management in Respect of Jurisdiction

Moderator:

, De Berti Jacchia, Italy

Panelists:

Antonius Jonetzki

, GSK Stockmann, Germany

Camilla Gambarini

, Withers, United Kingdom

Michael Avila

, Fisher & Phillips, USA

Sevinç Demir

, Yalçin & Toygar, Turkey

How to negotiate a waiver of immunity from jurisdiction and where to go (arbitration, national court)?
Protection of claimant's right when faced with immunity plea
Where should the line be drawn on immunity from jurisdiction?
How to handle refused access to employment rights through the operation of immunity?

Coffee Break & Exhibition

Session 4: Treading on Thin Ice – What is the Future Arbitral Settlement of Disputes and the European Union?

What is left of intra-EU Bilateral investment treaties?
The implications of EU opinion 1/17 on a multilateral investment dispute settlement system?
Is there an impact to EU treaties with third states and the multilateral treaties where EU is a party? (e.g. CETA-EU and ECT treaty example)

First Timers' Drink

Meeting in the Hotel Lobby & Transfer to Palais de la Bourse (by foot)

Conference Dinner @ Palais de la Bourse

Friday 29 May 2020

Registration @ Welcome Desk

Session 5: Don't Mess with Foreign Relations – How to Enforce Against a Sovereign State?

Moderator:

Emmanuel Kaspereit

, Archipel, France

Panelists:

Rosie Wild

, Cooke, Young & Keidan, United Kingdom

Frédéric Dopagne

, Monard Law, Belgium

Arnoldo Lacayo

, Sequor Law, USA

Antonia Mottironi

, Monfrini Bitton Klein, Switzerland

Asset tracing & taking of evidence – What are the specificities in the context of enforcing against a foreign state?
Current issues concerning the immunity from execution – Enforcement without a waiver; a waiver, what for?
On whom falls the burden of proof and what specific role plays the judge?
Does Enforcing against an alter ego ever work?

Coffee Break & Exhibition

Lunch

AIJA Commission meetings

Home Hospitality Dinner

Saturday 30 May 2020

Executive Committee meeting

Optional city tour or activity

Gala Dinner

---

Sponsors

---

CORPORATE SPONSORS
---
Organising Committee
Agata ADAMCZYK
Adamczyk, Liber & Współpracownicy (POLAND)
José Miguel ALGORTA GARICOITS
ESTUDIO ALGORTA & Asociados (URUGUAY)
Caroline BARBE
SOLUCIAL (FRANCE)
Marika DEVAUX
MAAT avocat (FRANCE)
Romain FRANZETTI
STANCE (FRANCE)
Emmanuel KASPEREIT
Archipel (FRANCE)
Jennifer MAXWELL
Blake, Cassels & Graydon LLP (UNITED KINGDOM)
Joyce PITCHER
Pitcher Avocat (FRANCE)
Christian SAUER
Franklin Société d'Avocats (FRANCE)
National Representatives
Joëlle MUCHADA
GFP Avocats (FRANCE)