Virtual coffee with the AIJA President #16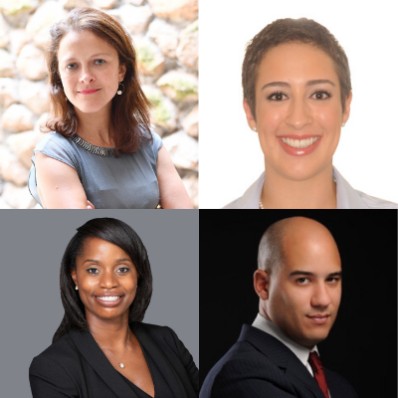 Online
17 July 2020
15:00
- 15:30 CEST
---
July's Virtual Coffee series will celebrate our association's geographic diversity and focus on strategic growth regions.
Please join an informal conversation with Sophia Rolle-Kapousouzoglou, Rodrigo Da Silva and Fernanda Machado.
They will discuss:
1. Existing and future growth of our membership in the US, Caribbean and South America.
2. Reflections on diversity and inclusion in the speakers' home cities/countries and the legal profession.
3. The impact of the global Black Lives Matter movement in the speakers' countries/regions.
Don't miss this interesting virtual coffee on Friday 17 July at 15:00 Brussels time, 14:00 London time, 09:00 NYC/Miami/Nassau time, 10:00 Rio time, 21:00 Hong Kong time.
How to join
Open to everyone. To join, click here.
Guests
Sophia Rolle-Kapousouzoglou is a partner in Lennox Paton's commercial litigation department. She appears regularly as lead counsel before the Bahamian Supreme Court and Court of Appeal. Sophia represents clients in multi-jurisdictional matters and has acted in several prominent cross-border insolvency cases. She is also experienced in shareholder and company disputes and trust litigation. Her overall practice areas include advising clients with respect to contractual disputes, property disputes, fraud and asset tracing, Norwich Pharmacal applications, applications for injunctions and other interlocutory relief.
Fernanda Machado is a Brazilian lawyer admitted to practice in the Rio de Janeiro Bar and in the Paris Bar. She has a Master's Degree in Comparative Family Law from the University of Paris 8 and was an intern at The Hague Conference on Private International Law. Her practice includes cross-border divorce, distribution of assets, marital and child support, maintenance and alimony, issues in relation to children, gender and immigration, protection of persons with disabilities and estates and probates.
Rodrigo Da Silva is an attorney licensed to practice law in the states of Florida, New Jersey and New York. Mr. Da Silva approaches his practice with personal ties with Latin America. Born and raised in Uruguay, he is a native Spanish speaker and has spent considerable time in the region. Mr. Da Silva also works extensively on matters originating in Brazil and is fluent in Portuguese. Mr. Da Silva is a member of the international law sections of American Bar Association and the Florida Bar and is a member of the American Immigration Lawyers Association. He is proud to provide pro bono representation to qualifying low-income individuals and non-profit organisations.
---