Virtual coffee with the AIJA President #18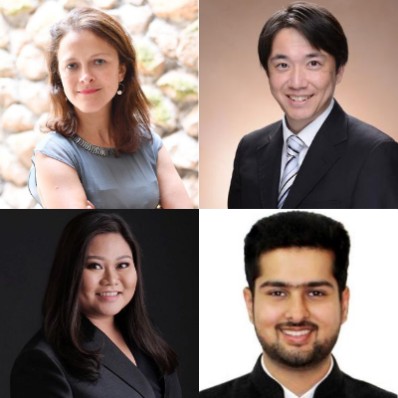 Online
30 July 2020
13:00
- 13:30 CEST
---
July's Virtual Coffee series will celebrate our association's geographic diversity and focus on strategic growth regions.
Please join an informal conversation with Kristin Charisse Siao, Yoshinobu Mizutani and Sunny Deep Joneja.
They will discuss:
1. Existing and future growth of AIJA membership in the Philippines, Japan and India.
2. Reflections on diversity and inclusion in their countries and the legal profession.
3. The impact of the global Black Lives Matter movement in their countries/regions.
Don't miss this interesting virtual coffee on Thursday 30 July at 13:00 Brussels time, 12:00 London time, 16.30 Chandigarh time, 19.00 Manila time, 20.00 Tokyo time.
How to join
Open to everyone. To join, click here.
Speakers
Kristin Charisse Siao is a Corporate and Commercial Law Partner of Villaraza & Angangco (V&A Law), a leading full-service independent law firm based in the Philippines. She specialises in M&A, Taxation, Competition Law, Real Estate, TMT and Private Client. Kristin has advised and assisted clients on a broad spectrum of legal issues in commercial concerns and regulatory compliance. She has extensive experience as transactional counsel and has handled projects ranging from the simple to the highly complex. She joined V&A Law right after finishing her law degree from the University of the Philippines College of Law, and has been with the Firm for almost 12 years. She is also a Certified Public Accountant, with a degree in BS Accountancy from Silliman University. Kristin has been a member of AIJA since 2019 and is the Contact Person for the Philippines.

Yoshinobu is a partner attorney spearheading the cross border department at Matsuda & Partners. He is involved in various international commercial matters representing both Japanese and non-Japanese companies, including matters such as international contracts, joint ventures and M&As. He also provides domestic and foreign clients with legal advice on a daily basis regarding various legal matters involving commercial law. Prior to joining Matsuda & Partners, Yoshinobu has built his legal career at several renowned international law firms in Japan including more than 4 years of practice at Ito & Mitomi / Morrison & Foerster LLP.

Sunny Deep Joneja is Managing Partner at Expert Legal Associates LLP in Chandigarh, India.
---