AIJA News
Kicking off a New AIJA Year!
30 September 2014
Dear AIJA-friends,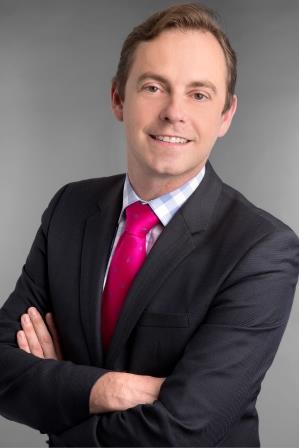 Four weeks ago, at the end of the General Assembly in Prague, I took over the AIJA Presidency from Anita Schläpfer, who fulfilled her Presidency in the most excellent way. Anita serves as an example for me, especially on how she diplomatically coped with the challenges every AIJA President comes across with during his (or her) mandate.
My honeymoon weeks are over now and last week I attended the first AIJA seminar of this working year, which took place in Santa Margherita (Liguria). With an excellent scientific program, almost 70 participants and beautiful weather conditions, Santa Margerita seemed to be the ideal place to kick off the year.
The next part of this year sounds also promising. Seminars will be organised in every corner of Europe, but in the framework of AIJA's expansion plans to the East we will also have a seminar in Shanghai and Tokyo (March and April 2015).
Traditionally we will not leave behind our growing membership in Latin America. With a Half Year Conference and EC Meeting in Santiago de Chile (November) and a seminar in Panama, we hope to attract also a lot of our European and Asian members who want to do business with the Americas.
Our cooperation with the ABA-SIL, IBA and UIA continues and results in several joint seminars. One of these will be the joint AIJA-ABA-SIL seminar on LGBT issues (employment, immigration, estate planning, adoption, marriage,...). It is the first time that AIJA organises a scientific program around this topic and we expect to see you all in April in Brighton.
Our Half Year Conference in May 2015 will take place in Antwerp, which I will always consider as one of the most beautiful cities in the world (and this not because I was born there).
The apotheosis of the year will be our annual Congress 2015 which will take place in London in the first week of September. We expect to beat the record of the Paris 2008 Congress where more than 700 participants attended.
To end my first contribution to the E-zette I want to draw your attention to what happened last week with one of our colleagues in Iraq. Human Rights lawyer and activist Samira Salih al-Nuaimi was tortured and killed by ISIS because she was defending the civil and human rights of her people. This news has shocked all lawyers in the world and together with the Leaders of other International Lawyers Association we are working on a joint and appropriate statement to condemn these barbarian acts. For Samira we hope that she may rest in peace and besides showing our deepest respect for this brave woman, we extend our heartfelt condolances to her husband and three children.
---
Organising PRAGUE AIJA CONGRESS as a life changing experience
30 September 2014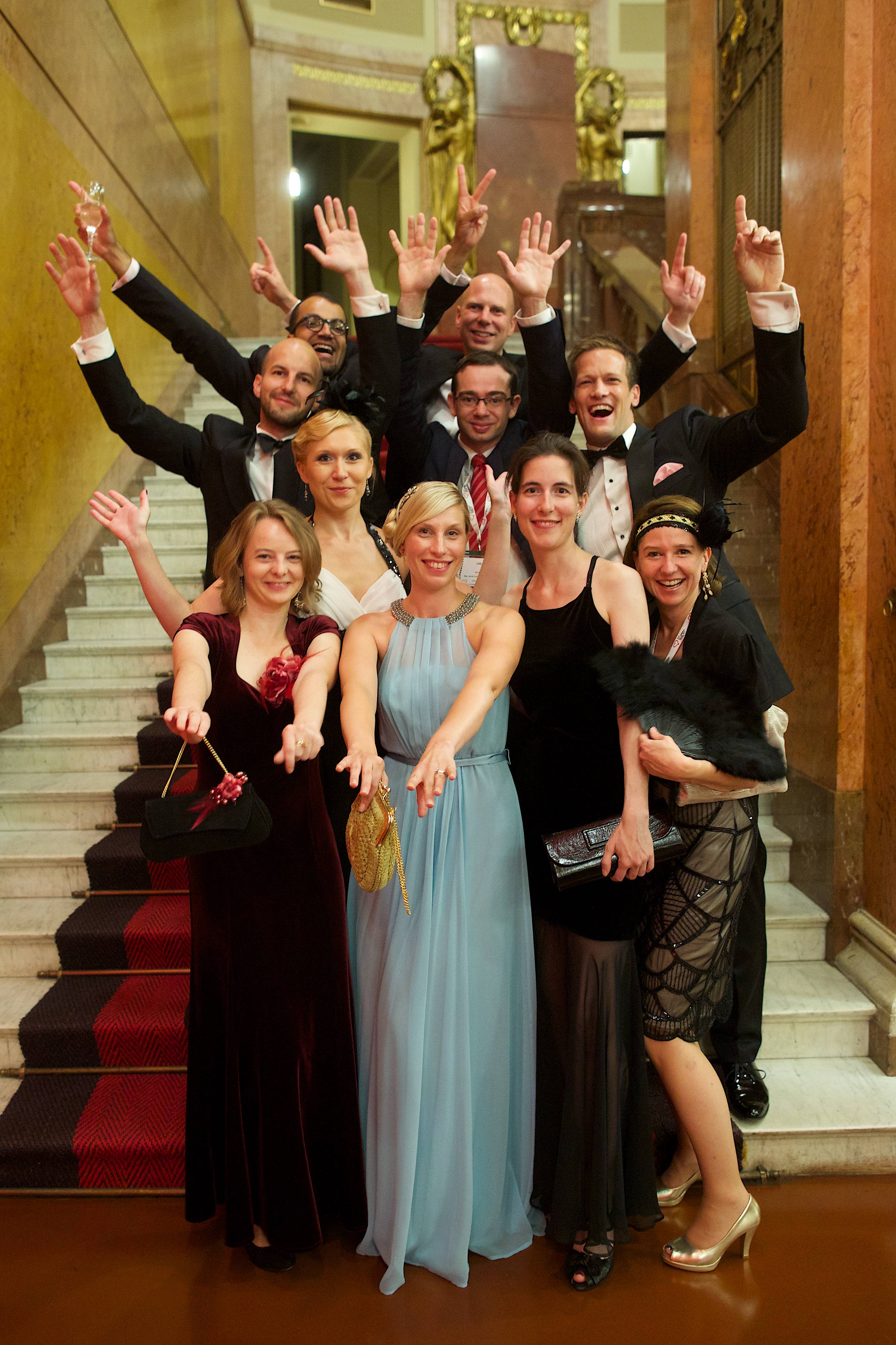 Eva Indruchová, member of the local Prague AIJA Congress Organizing Committee, representative of the Czech Bar Association in Brussels, newly elected member of the AIJA Executive Committee.
When we started to form our local organizing committee (OC) of the Prague AIJA Congress more than two years ago, the whole event seemed so far away! I suspect none of us had a real idea of how BIG this congress would be and what its preparation actually entails. It took a lot of work, time, flexibilty and coordination as several members of our OC, including myself, were based in different parts of the world, such as Dubai, Belgium, Hungary or Sweden. We were indeed local and yet international OC – a true AIJA reflection!
It must have been also the case of all our predecessors in the last 51 annual congress OCs that their enthusiasm, determination and a clear division of work brought every congress to a success. However the personal experience is unique. The possibility to be involved in the decision-making process all along the way, the opportunity to see your own suggestions come true, the chance to learn from your "partners in crime" and to arrive at meaningful solutions after a heated discussion – these are moments in life one never forgets and I am very grateful I lived them through AIJA.
Of course our success as OC would be only partial were it not for the unconditional help of all our partners, including AIJA Secretariat or the Czech Bar Association, which supported the idea of an AIJA Congress in Prague from the very beginning as there are some very enthusiastic former AIJA members in the Bar - including the current President and Vice-President.
We should also not forget the crucial role of the venue: we were lucky to be able to organise the Congress in our "Golden Prague" and we literally basked in all the compliments we received from the participants – even if we knew we were only surrogates, the King Charles IV not being around any more.
However, at the end of the day, it´s all about people. I am glad to say that from OC colleagues two years ago we became friends on the way and for me personally, the greatest satisfaction was then to see AIJA smiling faces from all over the world being HAPPY during our Congress.
---
Discovering the amazing network of AIJA
30 September 2014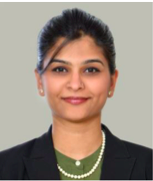 I was thrilled to find out that I had been selected by the AIJA Scholarship Programme to attend the AIJA 52nd Congress, Prague 2014. At 26 years, I am very fortunate to have attended the AIJA Congress which was one of the most phenomenal experiences of my life, both professionally and personally.
Professionally because I believe that while it is crucial to have a thorough and complete understanding of the legal system in one's country of origin, it is equally imperative to understand legal systems around the world. AIJA gave me the opportunity to meet with lawyers from all over the world and through the various working sessions and workshops I had a first-hand opportunity to learn international best practices. I particularly enjoyed the working sessions of the 'Movement of High Net Worth Individuals' and 'Timing, Confidentiality and Strategy in Multi-Jurisdictional Settlement Arrangements'.
Personally, through AIJA, I have created a network of lawyer friends in Sweden, Switzerland, Estonia, Hong Kong, Italy, Czech Republic and America. At the speed dating event, I also met old friends and colleagues from my time spent working as an associate at a firm in London! From hiking up to Krivoklat Castle and participating in the team games to enjoying the parties and after-parties, AIJA ensured that I had a great time socially. The home hospitality evening was a very special experience as our very gracious host; David had organized a lovely barbeque which we enjoyed with Czech wine late into the night, chatting about world and life experiences of all the guests who were from Estonia, Switzerland, Hong Kong and India!
On my return to India all my colleagues and friends were very curious and eager to learn more about AIJA especially after I recounted my wonderful experiences to them. One of the most encouraging aspects of AIJA, especially for young lawyers from non-European jurisdictions is how welcoming and open AIJA is. Right from my selection process, Giuseppe, Anne and Christine were very approachable, encouraging and helpful. At the AIJA Congress, I met various members of the organising committee who welcomed me to contribute to organising various AIJA events and seminars and reassured me that the only requirement was enthusiasm!
After an unforgettable week in Prague, whilst on my flight back home, I found myself wondering if it would be possible to keep up this wonderful network of AIJA friends and colleagues, especially since I was so far away in India. My doubts vanished as soon as I landed in Mumbai. When I switched on my phone I was so pleased to receive messages and emails from my AIJA friends. Thank you AIJA for giving me an opportunity to become a truly international lawyer!
Apoorvaa Paranjpe, AIJA Scholarship winner


---
AIJA, the professional family
30 September 2014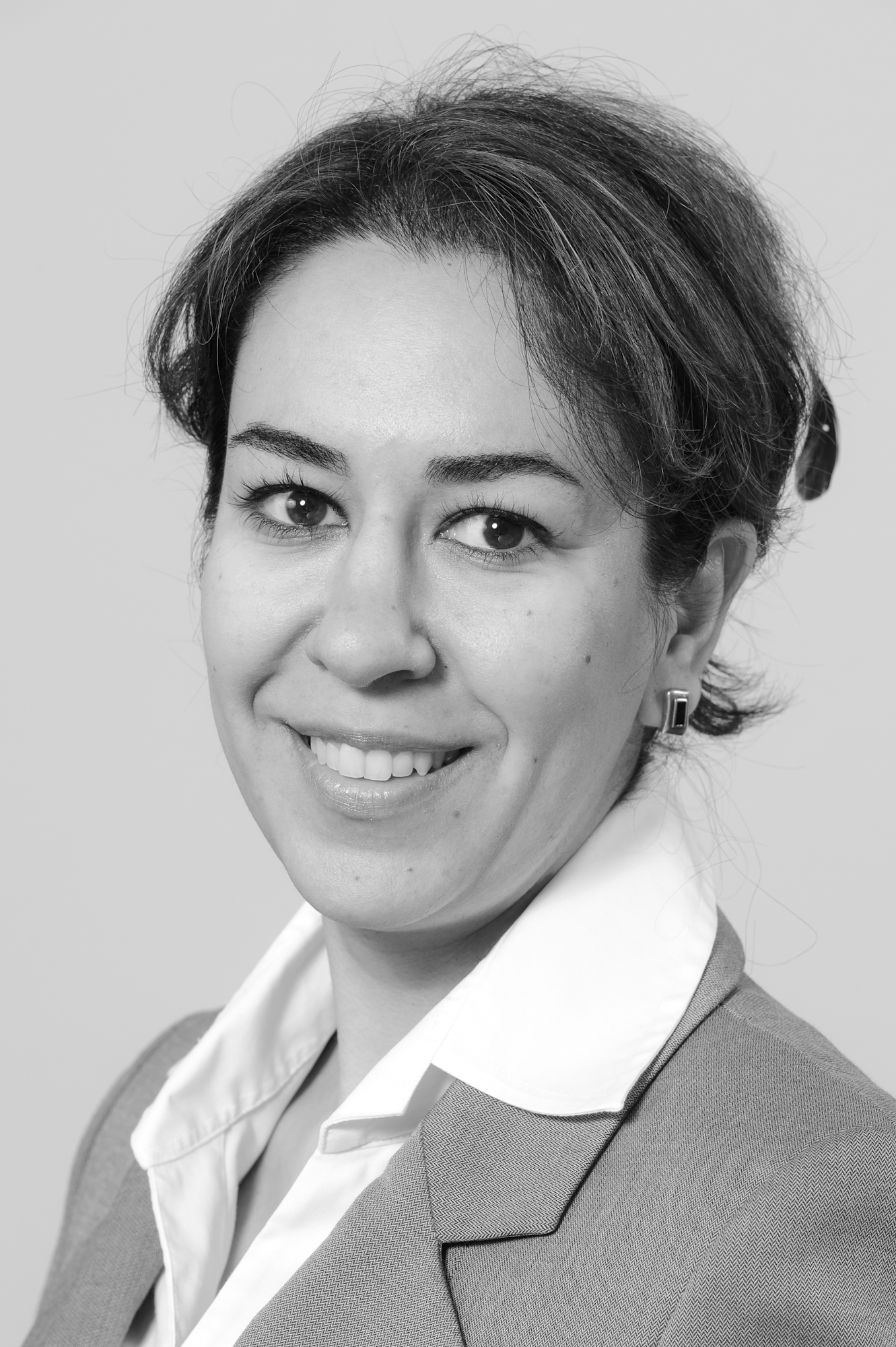 When I was first asked to write about the AIJA as the first-timer, I thought that I am going to write about my professional family and the very exclusive and brilliant week I shared with the leading and young lawyers and partners from round the world. AIJA was combination of different academic, social, networking and deluxe reception and events that could all be offered under great and well-organized management.
I may skip the academic events that per se were very useful, informative and distinct nevertheless since most of the lawyers and professionals have the experience of attending in different conferences and seminars, I prefer to talk about few social and networking events that really impressed me.
I start with the speed dating which was a very creative way of introduction that should have taken place in two minutes under a time supervisor. The speed dating reminded me the first year of study at law school, when you enter the hall of faculty seeing numerous unfamiliar faces with the thirst of getting know your fellows. The speed dating was also practice of networking skill for introduction in very short time. The crowd was well divided by two groups who sat in two rows of face-to-face chairs. By ringing the magical bell the crowd was lead to start and stop talking and to change rows. The speed dating was well scheduled on the first day of Congress so that after 30 minutes I was automatically familiar with considerable people attending the Congress. This event was like a jumping start for me as I could caught up again and talk to the similar faces during the subsequent days and to make good friends and meet great colleagues.
Nowadays doing sport for lawyers and also for other professionals is a must and this was not also ignored from the sharp eyes of the AIJA's directors. Purchasing a good quality red T-Shirt with the logo of SOS Avocats was our ticket for joining the jugging 10k in the third day of the Congress. SOS Avocats (coordinated by the Human Rights Committee of AIJA) organized the run for human rights. Obviously not all the AIJA red team finished the 10k run and few left after 5k and even earlier but the common spirit of the participants that motivated everyone to wake up early in the morning and to join for human rights run was inspiring.
Now that I look back into the papers and catalogues of 52nd AIJA Congress in Prague, I am not only remembering the colorful and happy days of Congress but also feel that I miss my professional family and look forward for the re-join next year in London.
Encyeh Seyed Sadr, AIJA Scholarship winner
Bayan Emrooz Law Firm
Tehran, Iran
---
AIJA HYC Zurich 2014 – Once upon a time...
30 September 2014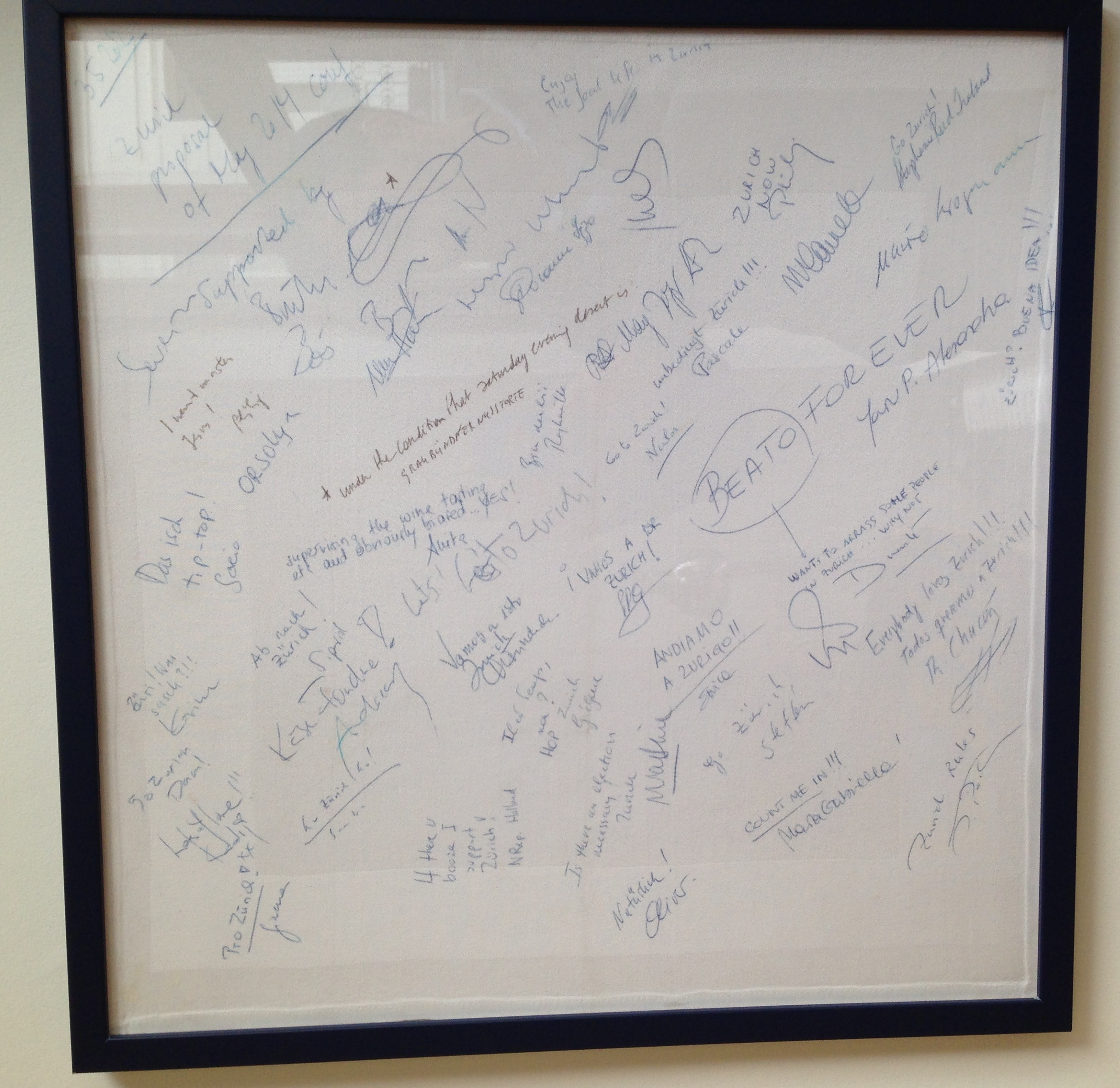 Once upon a time… three AIJAistes, Ines Pöschel, Severin Roelli and Beat Brechbühl, who were (almost/partially) overaged.
Being very sad about having to leave their friends soon, they decided to do a farewell gathering. Yet, how many of their friends would fly to Zurich without having a decent or at least a business reason?
After hours of reflecting, discussing and drinking in London, they concluded univocally: Let's just organize a Half Year Conference. So decided, and within minutes there was a historical high number of supportive signatures on a napkin, and it did not come as a surprise that the Bureau approved both organizing committee and venue.
The other day, the three musketeers noticed that powering up the organizing team is one of the key lessons learned after having organized so many events with AIJA, even more if you are about to overage. Hence they looked around to expand their team with younger ones and found the perfect match in the persons of Raphaëlle Favre Schnyder and Sandra De Vito Bieri.
The remainder is history: They organized the May 2014 HYC in the newly built Renaissance Hotel under the heading "Learning from the Best" which included insights from top notch negotiators, from a Secretary of State, from a seasoned investor and entrepreneur, and from CEOs and former CEOs having experienced personal or professional crises and challenges. Both the participation numbers and the numbers of AIJAistes in the conference rooms (!) were overwhelming, and the feedback of the so many participants was thoroughly positive and highly rewarding, also with respect to the social program and of course the embedded home hospitality…and the three oldies reached their (only..?) goal: to create a perfect opportunity for a big farewell to their friends in AIJA!
Beat Brechbühl, Ines Pöschel, Severin Roelli, Sandra De Vito Bieri, Raphaëlle Favre Schnyder
---
A Nigerian in Zurich
30 September 2014

I was excited to learn that I had been selected for the AIJA scholarship grant to attend the Zurich Half Year Conference. I was happy at the opportunity to make my first visit to continental Europe. Apart from looking forward to attending the Conference, I was also looking forward to experiencing the sights and sounds of Zurich.
I immediately applied for and was issued with a Swiss Visa. I arrived Zurich (via Paris) on May 7 2014 at about 8 am. It was raining. Coming from Lagos, Nigeria with a population of around 17 million people, my first shock was the limited number of people I saw on the streets. I had no difficulty locating the Hotel and settled in immediately.
The welcome cocktail was an interesting experience. I had the opportunity of meeting young and vibrant lawyers from across Europe. I was also excited at the face-face meeting of AIJA's staff who were responsible for planning my trip. Later that evening, we were hosted to a dinner in a beautiful restaurant. Surely, these welcome activities set the right mode for the scientific programmes that were to follow.
The scientific sessions that followed were very educating and enlightening. I particularly enjoyed the story about the United States Department of Justice investigations of Panalpina's operations in Nigeria. In my view, the topics for the sessions I was able to attend were timely and engaging. Also, the organisation of the sessions was near perfect. The speakers arrived on time and each kept to their time limits. Save for the International Bar Association's Annual Conference, I have never seen a conference with so many attendees so well organised. To the organizing committee, I say – very well done!
I also enjoyed the home hospitality dinner. During the dinner, we talked about so many things and I particularly enjoyed the opportunity to listen and learn from the experiences of lawyers working in different jurisdictions. The home hospitality dinner is a great idea!
My trip to Zurich was academically and socially rewarding and I look forward to participating in future AIJA's activities. Chinedum Umeche, AIJA Scholarship winner
ACIArb, Barrister and Solicitor Lagos, Nigeria
---
Be fast and save €50.000 for your clients through investing into Hungarian EU residency permit in 2014
30 September 2014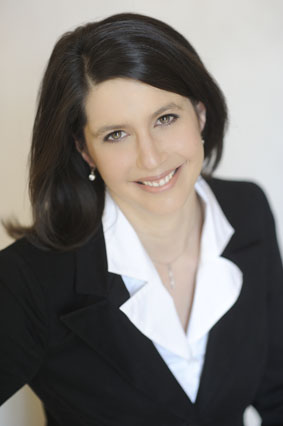 Hungary issued the Hungarian Residency Bonds with a face value of €250,000 and a maturity of 5 years under legislation approved in 2012. The Hungarian Residency Bond system is considered as one of the best residency programs in the world, as other countries offering Residency Investment Programs either require a substantial real estate purchase or a much higher financial contribution.
By investing into Hungarian Residency Bonds, a foreign national - individual or via his/her majority-owned company - can obtain a Hungarian EU residency permit. As a result, the resident and his/her family can travel, work and live visa free in the Schengen area: he/she can stay freely in any Schengen country for a maximum of 90 days from any 180 days. On the other hand, having such a residency permit does not oblige the investor to spend any time in Hungary, if he/she does not wish to do so.
After 6 months of having the initial residency permit, the Hungarian residence permit can be converted into a permanent residence permit which is valid for life. On the other hand, after 5 years when the bond is paid back, the applicant is still qualified for permanent residency, i.e. can keep the permit. This way obtaining the residency permit is rather to be considered as an investment.
The process of obtaining the Hungarian EU residency is simple and very fast. If all the paperwork is in order, the residency permit is issued in 8 days, exceptionally fast within the EU.
By the end of August 2014 the Hungarian Government Debt Management Agency sold 1102 residency bonds. The popularity of the program allowed the government to recently submit a bill to the Parliament that would raise the face value of the residency bonds to €300,000 as of January 1st 2015.
By the end of 2014 the applicants can still buy their Hungarian EU residency permit for €250,000, which is €50,000 less as if they would by it in 2015.
For more information please contact:
Dr. Anna Ranky LL.M, anna.ranky@rankyugyved.hu
Ranky Law Firm, www.rankyugyved.hu
---
Let the data earn, but safely!
30 September 2014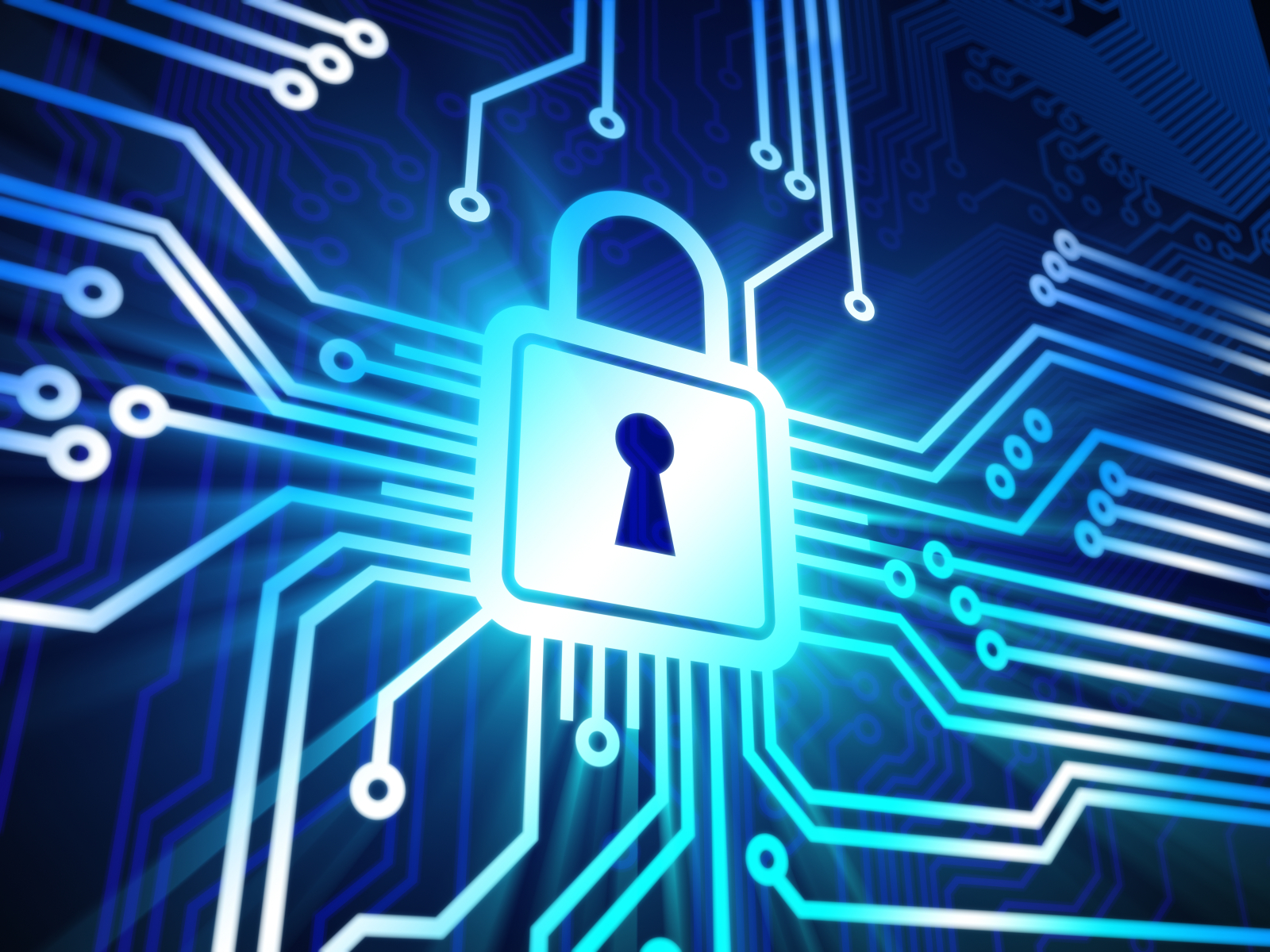 Technology, software and internet-based programs now allow companies to sort and share their data in a sophisticated way in order to increase profits, gain new clients and create more opportunities. But new technologies also come with risks in the area of data storage, especially sensitive data.
Risks
We see potential risks in: (i) the possibility of unauthorized access to data saved in the cloud; and (ii) access to data within the company using "big data" technologies.
Liability of statutory body
Such unauthorized access to data may cause damage to the company. The responsibility for making decisions about using new data storage technologies, whether in fact provided by an IT specialist or CIO, always lies with the statutory body of the company.
Why should the statutory body always pay attention? In the case of insufficient data security the statutory body risks a breach of professional care.
It is very probable that the courts will apply their previous decisions regarding the breach of professional care and the duty of the statutory body relating to the security of data storage in the company. If the statutory body is aware of specific cyber threats or, even worse, if the company has already experienced an unauthorized intrusion, it is necessary to act quickly and reduce the risks of the possible liability of the statutory body. It is possible to ensure the company avoids damages while still being able to use the technology.
Issues to be considered in your company
Company using technology for storage sensitive data in the cloud or using "big data" technology needs to consider following issues and implement them within the company:
Consider what can be done to reduce the risk related to security of company data storage;
Identify measures that had been previously performed in improving the security of data storage and preventing possible breaches. If the measures have not been implemented, they should be implemented as soon as possible. If they have already been implemented, they should be restored or improved;
Contractually regulate the liability of providers of cloud storage so that it is safe enough for the company regarding all the risks;
Negotiate or increase the limit of insurance of data security protection that the company manages or handles.
Rentsch Legal Prague, Czech Republic petra.trojanova@rentsch.cz


---
Force majeure" contractual protection in Israel?
30 September 2014
A brief insight pursuant to Operation "Protective Edge" 2014
Adv. Benjamin Leventhal
Litigation Partner at Gideon Fisher & Co. Tel Aviv Israel
The doctrine of force majeure, meaning a contractual protection/disclaimer for non-performance of a contractual obligation due to unexpected occurrences, usually applies also to instances of acts of war; military acts; hostilities; terrorist activities and more, and in many cases a party invoking said argument (assuming fulfillment of common conditions), will indeed be entitled to protection from breach of contractual obligations.
In Israel, however, while based on the similar principals of law (a rather interesting combination of common law and civil code), the doctrine applies rather differently, and is very limited in providing force majeure protection in cases of acts of war, terrorism, militant hostilities etc., if at all.
Contracting parties regarding an Israeli related matter or party, would NOT be able in many cases to use the argument of force majeure based on act of war or terrorist activity (such as the 2014 "Protective Edge" operation) to justify noncompliance or nonperformance of a contractual obligation – this is because in Israel, the courts perceive the foreseeability of acts of war as something a contracting party must or should take into consideration when doing Israeli related business.
This approach originated in the 1970's, where the courts held that until Israel reaches the peace longed for with its neighbors, the risk of war at any designated time, close or remote, always exist, and the unpredictability of peace and war is actually the predictable for any Israeli (that should always predict a possible state of war).
There seems to be a slight movement in the case law toward applying a more somewhat liberal approach applying the force majeure doctrine.
Thus, in Israel, it is extremely important to be aware of the somewhat different status of the "force majeure" doctrine and the following:
Control the unknown rather than have the unknown control you.
In case of failure of any kind to perform contract, due to the military operation "protective Edge", or such militant occurrences - breaching party may be prevented to raise the "force majeure" defense, and perhaps remedy is in place.
For a breaching party it is important to align the "force majeure" argument with the case law in order to achieve protection from claims of remedy etc.
For the full article please visit the website www.fisher-lawfirm.com
---
New appointments at AIJA
17 September 2014
Please find below the results of the recent elections held at our last General Assembly which took place in Prague on 30 August 2014 as well as the different appointments decided during the Congress which will bring new energy and strong personalities to our (already strong!) community of AIJA Officers.
Bureau
Dirk H. Nuyts, President (new position)
Anita Schläpfer, Immediate Past President (new position)
Orsolya Gorgenyi, First Vice-President (elected by the General assembly)
Nicolas Thieltgen, Secretary General
Philippe Notter, Treasurer (elected by the General Assembly)
Justyna Szpara, Deputy Treasurer (appointed by the Bureau)
Extended Bureau
Marta de Oliveira Pinto Trindade, Co-Chair Law Course Committee
Justus Jansen, Co-Chair Law Course Committee (newly appointed by the Bureau)
Lara Vivas, Co-Chair Law Course Committee (newly appointed by the Bureau)
Renata Antiquera, Co-Chair Membership Forum
David Frølich, Co-Chair Membership Forum (newly appointed by the Bureau)
Pablo Pedrajas Quiles, Co-Chair Membership Forum
Benjamin Borsodi, Co-Chair Forum of the Commissions
Martine Hoogendoorn, Co-Chair Forum of the Commissions (newly appointed by the Bureau)
Mark-Oliver Kühn, Co-Chair Forum of the Commissions
Human Rights Committee
Anita Schläpfer, Chair Coordinator
Anna Birtwistle, Co-Chair
Raphaëlle Favre Schnyder, Co-Chair
Newly elected Executive Committee Members (in alphabetical order)
Ferenc Ballegeer
Michel Bonne
Christian Elbert
Marco Ferreira Orlandi
Paola Fudakowska
Emiliano Ganzarolli
Eva Indruchova
Henna Kinnunen
Jaap Kloppers
Benjamin Leventhal
Rosa Isabel Peña Sastre
Maïte Ottes
Thilo Pachmann
Karen Ramm-Schmidt
Tomas Rybar
Giuseppe Scotti
Babak Tabeshian
Pieter Van den Broeck
Pablo Vinageras
Birgit Wöhren
They will join the other Executive Committee members elected in the past years who are still in office:
José Miguel Algorta Garicoits, Elena Annez De Taboada, Renata Antiquera, Anna Birtwistle, Sergio Calderara, Oliver Cleblad, Aurélien Condomines, Cédric De Pouzilhac, Wiebe De Vries, Stephan Dittl, Nils Doehler, Hilka Eckardt, Jean-Rodolphe Fiechter, David Froelich, Jean-Philippe Jacob, Mark-Oliver Kühn, Esther Martin, Jasvinder Nakhwal, Luis Uriel Perez Delgado, Caroline Pluta, Christian Presoly, Joe Räber, Anna-Kaisa Remes, Jan Rolinski, Rasheka Scott, Simone Stebler, Matias Vagedes, Leo Van Den Hole.
Newly appointed National Representatives
(for a complete list of National Representatives and local contacts, please click here)
Belgium, Marie Brasseur
Chile, Sergio Urrejola
Croatia, Zeljka Filipcic
Czech Republic, Denisa Molnar
Denmark, Nis Marinus Dommergaard
Estonia, Kadri Kallas
Hungary, Anna Ranky
Israel, Yaov Noy
Italy, Giuseppe Cristiano
Latvia, Kristine Zvejniece
Lithuania, Laurynas Lukosiunas
Mexico, Samuel Chacon
Norway, Anita Gerdin
Peru, Diego Huertas
Poland, Ludomir Biedecki
Slovak Republic, Slavomir Cauder
Switzerland, Thomas Peter
Turkey, Kortan Toygar
UK, Mark Beardsworth
Uruguay, Alejandra Garcia
Newly appointed Commission Officers
(for a complete list of commission officers, please click here) Banking Finance & Capital Markets Law Gerard Correig, President Corporate Acquisition & Joint Ventures Jérôme Vermeylen, Vice-President Corporate Counsel Maks Prokop, President Bjørn Krog Andersen, Vice-President Intellectual Property, Technology, Media and Telecommunication Olivier Sasserath, President Arpad Gered, Vice-President Technology Ave Piik, Vice-President Telecom International arbitration Pascale Gola, President Hagit Elul, Vice-President International Business Law Frank Boyle, President Milena Prisco, Vice-President Labour Law Andreas White, President Jan-Ove Becker, Vice-President Emiliano Ganzarolli, Vice-President Real Estate Law Carolijn Kuipers, Vice-President Skills, Career, Innovation, Leadership and Learning (SCILL) Henrietta Mason, Vice-President Transport Law Niels J. Friborg, President Scott Pilkington, Vice-President Javier Zabala, Vice-President You can see here the official communication by the Secretary General


---
Annual Congress 2014 - Press release
04 September 2014
Last week more than 550 international lawyers coming from 55 different countries visited Prague and took part in the AIJA Annual Congress 2014.
Over 5 days with more than 50 hours of training and lectures and a number of social events held in the most prestigious locations of the Czech Republic Capital made this another Break-The-Record event, with the highest participation at AIJA Congresses since 2008.
Congress participants appreciate the div
ersification of working sessions offered, addressing all areas of international law practice, as well as the possibility to network in a friendly environment with global business partners.
At the AIJA General Assembly, convened in Prague on 30 August, Dirk Nuyts became the new President of the International Association of Young Lawyers. Nuyts, Partner at Fragomen Global LLP , is a Belgian lawyer based in Zurich, where he assists Swiss and multinational corporate clients and HNWI's with all aspects of their immigration needs. After a long career within AIJA, including being National Representative for Belgium and Secretary General of the Association, Dirk is now leading AIJA for the upcoming year.
"With an increasing number of young, motivated and talented members all around the world, AIJA is today an institution for the international legal community. Our membership is strong and our events are an outstanding platform for career-building lawyers' personal and professional development. Our passion for the rule of law must be the lighthouse leading our actions and protection of human rights. If there is one profession in the world that consists of people who have the privilege and the talent to speak out loud about anomalies in the respect of every human being, it is the profession of lawyer".
Download here the Press release
---
Load more