AIJA News
AIJA members to vote electronically this year
15 July 2019

E-voting is an electronic system that allows members to log in to a secure voting platform and cast their votes electronically within their web or mobile browsers from any location.
AIJA adopted e-voting in 2018, with the aim to increase accessibility to its internal democratic processes and facilitate new forms of direct participation for its members.
How e-voting works
Members will first vote for the First Vice-President. This year, there are two candidates, François Barré (co-chair, National Representatives Committee) and David Diris (co-chair, Officers of the Commissions Committee). The e-voting process is as follows:
Members receive a link to a secure electronic voting platform the first week of September.
Vote opens on Thursday, 5 September, 13:00 CET, and closes on Saturday, 7 September, 11:30 CET.
Members log in to the electronic voting platform using their AIJA Membership ID Number and the email address shared with the Association for communication.
Once logged in, members simply have to choose their preferred candidate.
The debate between the two candidates will be streamed online on Thursday, 5 September, from 12:00 to 13:00 CET.
Members will also vote for a new treasurer, partial renewal of the Executive Committee, and any Resolutions proposed to the General Assembly on Saturday, 7 September. They will again log in to the electronic voting platform, but using a different link. Vote opens at 11:00 CET and closes the same day at 11:30 CET.
If members are unable to vote electronically, they can still assign a proxy to a fellow Member who can vote on their behalf. Members are invited to visit their member dashboard MyAIJA for more information.
Read elections programme - François Barré
Read elections programme - David Diris
---
Nasrin Sotoudeh and all Iranian lawyers arbitrarily detained should be immediately and unconditionally released
04 July 2019
On the occasion of the L5 Meeting, convened in Barcelona, Spain, on June 3, 2019, the undersigned organisations express their deepest concerns about the sentencing and continuing arbitrary detention of several Iranian lawyers, including prominent Iranian and award-winning human rights lawyer Nasrin Sotoudeh.
Attacks on lawyers have intensified in Iran in recent years. Lawyers are facing judicial harassment as a consequence of their legitimate professional activity.
The most emblematic case is that of Nasrin Sotoudeh who was recently sentenced to a shocking conviction of 38 years in prison and 148 lashes for national-security related offences [stemming from seven charges, including "assembly and collusion against national security"; "spreading propaganda against the State"; and "appearing at the judiciary without the Islamic hijab."].
Ms Sotoudeh is known worldwide for her unwavering commitment to the defence of human rights, her opposition to the death penalty, and her courageous advocacy for the independence of the legal profession and the judiciary system. As a result of her tireless work as a human rights lawyer, Ms Sotoudeh and her family have been repeatedly targeted by Iranian authorities, and
subject to harassment, intimidation, imprisonment, as well as a ban on practising law, her profession. Prior to her last arrest in June 2018, she devoted herself to the defence of young Iranian women who have been arrested and prosecuted for peacefully protesting against the compulsory veiling in Iran.
Other human rights Iranian lawyers are being targeted. Earlier this month, Amirsalar Davoudi, a well-known lawyer representing human rights activists and other individuals detained for their social and political activities, was sentenced to 30 years in prison and 111 lashes for "collaborating with an enemy of the state through interviews," "propaganda against the state," "insulting officials", and "forming a group to overthrow the state." Lawyer Mohammad Najafi, was recently sentenced to a total of 17 years in prison and 74 lashes in three separate cases for the charges of "disturbing the state" and "publishing falsehoods." Other lawyers have been arrested or have faced prosecution such as Arash Keykhosravi, Ghassem Sholeh-Sa'di, Farokh Forouzan, Mostafa Daneshjoo, Mostafa Tork Hamadani, Payam Derafshan and Zeynab Taheri. Furthermore, even though his case is less recent, lawyer Abdolfattah Soltani should not be forgotten. He was conditionally released on November 21, 2018 after serving more than seven years in prison in Tehran. Abdolfattah Soltani is one of the co-founders of the Centre for Human Rights Defenders and has devoted most of his career to defending political prisoners.
The undersigned organisations strongly condemn the detention of Nasrin Sotoudeh and other Iranian lawyers, as well as the charges brought against them, as the charges appear to be solely related to their legitimate work as lawyers, and aimed at curtailing their peaceful human rights activities.
We respectfully urge the relevant Iranian authorities to immediately take any and all appropriate steps to annul the convictions and sentences against arbitrarily detained lawyers, including Nasrin Sotoudeh; to ensure their immediate and unconditional release; and to put an end to all forms of harassment, including at the judicial level, against lawyers in Iran.
The statement is available for download in English, French and Spanish.
---
Leaders of international lawyers' organisations remind of the importance of self-regulation and the independence of the legal profession
02 July 2019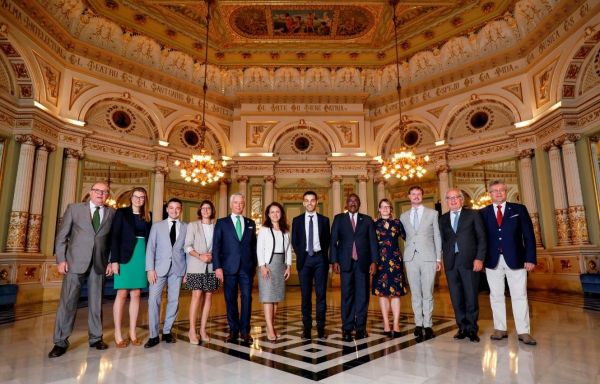 'Self-regulation and independence of legal professionals ensure the trust and protection of citizens, and provide guarantees for the rule of law.'
The message comes from the Union Internationale des Avocats (UIA), the Council of Bars and Law Societies in Europe (CCBE) and the International Association of Young Lawyers (AIJA) in response to the growing deregulation movement and immediate threats to lawyers' independence. During their latest L5 meeting, they analysed the current status of the legal profession, particularly lawyers' safety and independence and self-regulation as an essential safeguard of the rule of law. Together, they concluded that deregulation poses serious threats to public interest and democracy. Any reform leading to deregulation risks hampering the quality and integrity of the delivery of legal services and above all, citizens' access to effective justice and legal protection.
The meeting was held in Barcelona in June and organised by AIJA. It also included contributions from two other members of the L5, namely the International Bar Association (IBA) and the American Bar Association (ABA).
'"No Lawyer, No Justice". The role of lawyers and the practice of law may be changing and adapting to the current times but deregulation and loss of independence are not the solution. Our citizens and our democracies need independent and self-regulated lawyers. Regulation should focus on fostering innovation and improving access to effective justice', says Xavier Costa, AIJA President and Partner at Roca Junyent (Spain).
During the discussions, the leaders of the three international lawyers' organisations also recognised the role of bar associations in steering the legal profession into the future and the importance of ensuring high professional standards in the delivery of legal services to citizens.
'The capacity of lawyers to regulate themselves and remain independent is today at stake. The role of the bar associations will be to find new ways for lawyers to show their value and ensure that the public interest remains a priority', adds José de Freitas, CCBE President and Partner at Cuatrecasas (Portugal).
'Lawyers are advocates for citizens. And the purpose of regulation is to protect their fundamental and basic rights to effective justice. Without the right regulatory environment, the biggest impact would be on them and their trust in the legal services market', concludes Issouf Baadhio, UIA President and Avocat à la Cour (Burkina Faso).
During the meeting, the three leaders also issued a common statement (in English, French and Spanish) to express their concerns about the sentencing and continuing arbitrary detention of several Iranian lawyers, including promiment Iranian and award-winning human rights lawyer Nasrin Sotoudeh.
About the L5
The so-called 'L5' is the annual meeting held by the leaders of the main international Associations of Lawyers and Bar Associations (in alphabetical order: ABA (American Bar Association), AIJA (International Association of Young Lawyers), CCBE (Council of Bars and Law Societies in Europe), IBA (International Bar Association) and UIA (Union Internationale des Avocats). During the meeting the leaders update each other on the main developments on the legal profession and discuss how to best ensure and promote the rule of law.
For more information, download the full statement.
---
Load more