AIJA News
AIJA calls on Duterte Government to protect lawyers against escalating attacks
26 September 2019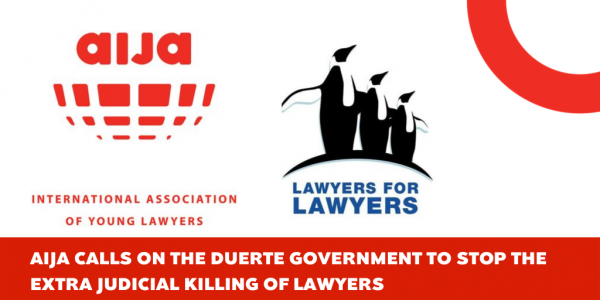 AIJA is proud to announce that it has signed the petition aimed at raising concerns about the situation of lawyers in the Philippines. AIJA has joined more than 150 international and national bar associations, lawyers' organizations and individuals from across the globe in signing the petition.
AIJA has taken this action to express its deep concern over the increasing harassments, intimidations and attacks against lawyers in the Philippines and the oppressive working environment they've faced since the start of President Duterte's administration in June 2016. Here at AIJA we call on the Duterte Government to adequately protect the safety and independence of lawyers and end the culture of impunity in which these attacks occur.
Since June 2016, the number and intensity of attacks against lawyers has risen significantly. There have been at least 46 jurists killed between July 2016 and 5th September 2019, including at least five serving and retired judges. Its believed that most of these killings took place as a result of discharging professional duties. The lawyers especially at risk are those representing individuals accused of terrorists or drug related crimes, but also government critics such as journalists, opposition leaders and human rights defenders.
The attacks against and extra-judicial killings of lawyers and the impunity shielding perpetrators significantly impair the ability of lawyers to provide effective legal representation, making lawyers increasingly wary of working on sensitive cases. Consequently, this severely undermines the proper functioning of the rule of law and the adequate protection of rights, including the right to remedies and fair trial.
Therefore, AIJA demands that the Duterte Government upholds the United Nations Basic Principles on the role of lawyers. To find out more, check out the petition (in English) here.
---
2019 General Assembly: AIJA makes new appointments
26 September 2019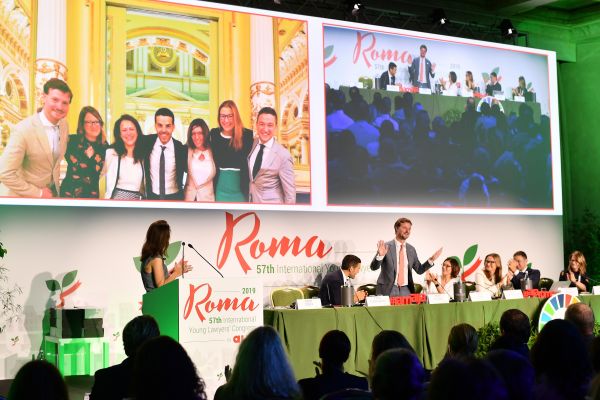 During its 57th Annual Congress in Rome, Italy from 3 to 7 September 2019, AIJA, the International Association of Young Lawyers brought together 800 legal professionals from around the world to debate ideas surrounding sustainability and the legal profession in today's digitalised and globalised world.
It is with great pleasure that we officially communicate the results of the recent elections held during the AIJA General Assembly in Rome last September 7th, together with the new appointments in the different bodies of our Association approved by the Executive Committee during their meeting on the same day. We are also pleased to announce the creation of a new commission: Healthcare and Life Sciences.
Let's welcome together the outstanding commitment and essential contribution of these newly elected Officers!
Bureau
• Paola Fudakowska, President
• Xavier Costa, Immediate Past President
• François Barré, First Vice-President (elected by the General Assembly)
• Anna Wyrzykowska, Treasurer (elected by the General Assembly)
• Emiliano Ganzarolli, Secretary General
• Jean-Philippe Arroyo, Deputy Secretary General (appointed by the Bureau)
Extended Bureau
Academic Programme Committee
• Anouk Rosielle (newly appointed)
• Babak Tabeshian (newly appointed)
• Kristine Zvejniece
Officers of the Commissions Committee
• Aurélie Conrad-Hari (newly appointed)
• Jean-Rodolphe Fiechter
• Rebecka Thörn
National Representatives Committee
• Michaela Pelinka
• Tomas Rybar
• Arthur Stüssi Neves (newly appointed)
Human Rights Committee
• Gülsüm Aslan
• Martijn Burgers (newly appointed)
• Pia Padfield (newly appointed)
• Ülkü Solak
Sponsorship Committee
• Eduardo de la Peña Bernal (newly appointed)
• Rainer Kaspar (newly appointed)
• Gianluca Massimei (newly appointed)
• Yan Pecoraro (newly appointed)
Diversity Officer
• Matthew Cullen (newly appointed)
Newly elected Executive Committee members
(For a complete list of Executive Committee members, please click here)
• Alexander Bork
• Milena Charnitzky
• Helen Figurelli
• Philipp Haymann
• Kazuma Higuchi
• Zlatina Iliev
• Elena Kadelburger
• Laura Manz
• Jeroen Mues
• Sophie Püschel-Arnold
• Lars Raedschelders
• Jens Uwe Rügenhagen
• Dino Serafini
• Andres Sotomayor
• Thomas Thiébaut
• Louise Wong
In addition, five members will take office and replace those who had to leave the Executive Committee due to other appointments in the Association or resignation.
• Ruben Masar, with a mandate for two years until the General Assembly in 2021
• Alessandro Paci, with a mandate for two years until the General Assembly in 2021
• Alessia Giaccari, with a mandate for two years until the General Assembly in 2021
• Giuseppe Salsarulo, with a mandate for one year until the General Assembly in 2020
• Kajal Patel, with a mandate for one year until the General Assembly in 2020
Tom Arntz has been invited to the Executive Committee for a period of one year.
Newly appointed National Representatives and contact persons
(For a complete list of National Representatives and local contacts, please click here)
China: Steven Zhou
Colombia: Jose Azpurua Alfonzo
Estonia: Kadri Kallas
Germany: Rebekka Stumpfrock
Italy: Francesca Salerno
Japan: Takuo Misaki
Netherlands: Paul Van Lange
Norway: Lilly Kathrin Relling (reappointed)
Poland: Agata Adamczyk
Russian Federation: Alexander Katzendorn
Slovenia: Jera Majzelj
Spain: Alejandro Yufera
United States: Perry Maclennan
Regional Representative Berlin: Donata Störmer
Regional Representative Hamburg: Johannes Struck
Regional Representative München: Carolin van Straelen
Southwest Germany: Rebekka Stumpfrock
Contact person, Cyprus: George Manikas
Contact person, Dutch Caribbean: Roderik van Hees
Contact person, Kenya: Evelyne Nzuki
Contact person, Philippines: Kristin Charisse Siao
Contact person, Serbia: Natalija Popovic
Contact person, Ukraine: Oleksii Prudkyi
Newly appointed Commission Officers
(For a complete list of Commission Officers, please click here)
Commercial Fraud
Commercial Fraud President: James Le Gallais
Commercial Fraud Vice-President: Charlotte Tregunna
Environment and Energy Law
Environmental and Energy Law President: Daria Capotorto
Environmental and Energy Law Vice-President: Carlos Del Razo
In-house Counsel
In-house Counsel President: Anda Mize
In-house Counsel Vice-President: Narjess Naouar
In-house Counsel Vice-President: Jérôme Debras
Insolvency
Insolvency President: Marine Simonnot
Insolvency Vice-President: Elaina Bailes
Insolvency Vice-President: Paulo Nasser
Intellectual Property, Technology, Media, and Telecommunications
Intellectual Property, Technology, Media, and Telecommunications Vice-President: Chloe Taylor
Intellectual Property, Technology, Media, and Telecommunications Vice-President: Cristina Hernandez-Marti Perez
International Arbitration
International Arbitration President: Eduardo de la Peña Bernal
International Arbitration Vice-President: Silvia Pavlica Dahlberg
International Arbitration Vice-President: Lukas Rusch
Litigation
Litigation President: Arnoldo Lacayo
Litigation Vice-President: Rosie Wild
Litigation Vice-President: Chiara Caliandro
Real Estate
Real Estate President: Bernd Hauck
Real Estate Vice-President: Johannes Meyer–Myklestad
Real Estate Vice-President: Christoph Nöehles
Skills, Career, Innovation, Leadership and Learning
Skills, Career, Innovation, Leadership and Learning President: Friederike Henke
Skills, Career, Innovation, Leadership and Learning Vice-President: Max Maillet
T.R.A.D.E
T.R.A.D.E President: Benedikt Rohrssen
T.R.A.D.E Vice President: Jelle Bloom
Tax
Tax Law Vice-President: Gertjan Verachtert
Healthcare and Life Sciences
Healthcare and Life Sciences President: Tomás García Navarro
Healthcare and Life Sciences Vice-President: Tímea Halkó
Healthcare and Life Sciences Vice-President: Jan Henning Martens
---
AIJA welcomes new President and First Vice-President for 2019/20
24 September 2019
AIJA, The International Association of Young Lawyers, elected at its 2019 General Assembly a Vice-President for the 2019/20 term of office. Paola Fudakowska (UK Foreign and Commonwealth Office) will take on her role as President, as First Vice-President François Barré (Azam-Darley Associé), as Immediate Past President Xavier Costa (Roca Junyent), as Secretary General Emiliano Ganzarolli (Audisio e Associati), as Deputy Secretary General Jean-Philippe Arroyo (JP Karsenty & Associés), and as Treasurer Anna Wyrzykowska (WKB).
At the General Assembly, Paola Fudakowska, President of AIJA set out her outlook for the association with a focus on Diversity, Development and Dialogue.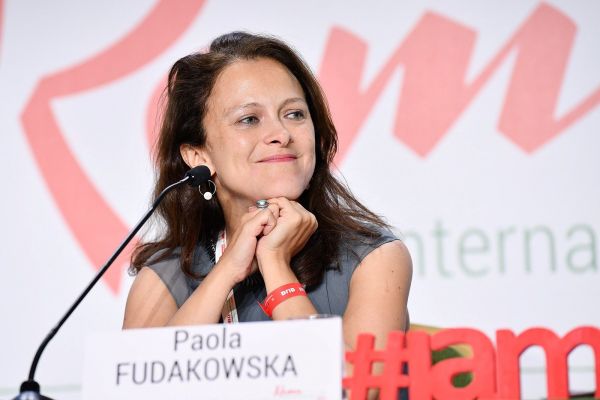 The association's diversity is going from strength to strength. I will harness this enthusiasm and success by continuing to offer local members the support to host events in their home country in line with the association's strategic growth in the Americas and the Asia-Pacific region. Our forthcoming November half-year conference will be hosted in Miami and our annual congress next year takes us to Rio', Paola explained.
Paola will join four female presidents elected in the last decade to focus on diversity. 'Diversity will always be at the heart of our association's activities and the theme of our Rio congress: 'United in Diversity: Empowering our Future'", she added.
In respect of development, Paola has promised to 'continue to work closely with our colleagues in the IBA, ABA, UIA, IPBA, ELSA and other organisations to identify regular opportunities for collaboration. The success of forging links between our members is already evident in the numbers of former AIJA members who are active in these associations, not least the president of the IBA and our dear friend Horacio Bernardes Neto'.
Paola argues that 'dialogue is at the heart of the association's raison d'être to provide an international networking platform for young lawyers. By offering members the opportunity to get involved in the association from the outset as a speaker, to organise a seminar or to take on an official role is instrumental to our future growth and represents the heart of the AIJA spirit.
I am grateful to the members for their trust to lead our thriving association. With the support of a fantastic and dedicated Bureau, Extended Bureau, Commission officers and our team in Brussels, I am confident of our collective success', Paola concluded.
Moreover, we are pleased to welcome François Barré, AIJA's First Vice-President for the year 2019/20.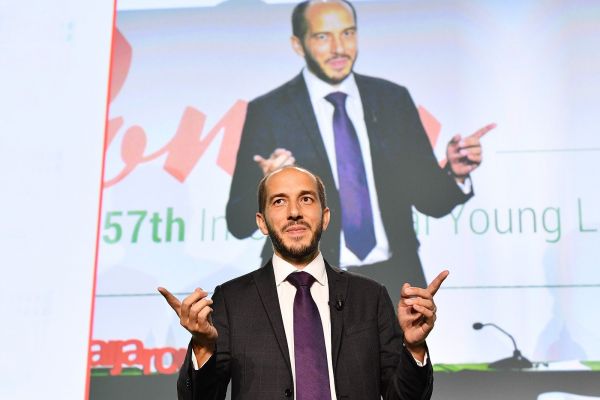 'I would like to thank all the members for the trust and confidence they have vested in my candidacy, and I feel my message of devotion for the association was heard by the members. Hard work and exemplarity are key in our profession. It is essential for me to position AIJA as the main voice for young lawyers through an inclusive, modern, sustainable strategy that looks at maintaining credibility and creativity as well as professionalism and trustworthiness.
I look forward to working hand in hand with the Bureau, Extended Bureau, Commission officers and AIJA team from Rome to Rio, and watch Paola anchor Development, Dialogue and Diversity to our beloved Association.'
AIJA would like to thank Xavier Costa of Roca Junyent for his pragmatic leadership of the association and commitment to promoting sustainability in the practice of law during his presidency (2018/19). The association would also like to acknowledge Wiebe de Vries (Outgoing Immediate Past President 2018/19) and Lara Vivas (Outgoing Treasurer) for their continuous dedication to AIJA.
The General Assembly took place on 7 September 2019 at the 57th AIJA Annual Congress in Rome (rome.aija.org). The Congress brought together more than 750 law practitioners, law firms, companies and future lawyers from around the world to Rome to debate and discuss the interaction between sustainability and the law on the planet, people and the future.
Background information:
About Paola Fudakowska, AIJA President 2019/20
Paola is a senior legal adviser at the Foreign and Commonwealth Office in London, advising on Europe and human rights matters. With 15 years' experience as a trust litigator at an international law firm in London, Paola moved to Geneva in 2017 to complete an LL.M. in International Humanitarian Law and Human Rights at the Geneva Academy to shift the focus of her legal practice to public international law. Paola divides her time between London and Geneva.
About François Barré, AIJA First Vice-President 2019/20
François Barré specialises in advising company managers in their business in France and abroad. He developed a specific practice in structuring and implementing investments together with their funding (loans, securities, acquisitions and asset management). He acquired recognized competence in the field of start-ups, and assists high-growth potential companies throughout their business. Azam-Darley & Associés also provides foreign companies with pragmatic solutions for the establishment of their activities in France.
---
Pre-registrations open for the Rio Congress
24 September 2019
It's AIJA's great pleasure to welcome you to the 58th Annual Congress in Rio de Janeiro from 24-28 August 2020!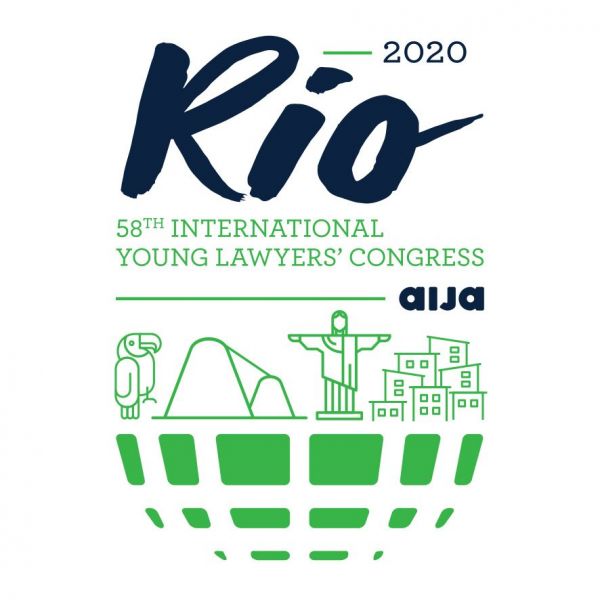 The South American continent and one of Brazil's most colourful cities epitomise some of the values at the heart of AIJA – energy, connection, innovation and equality, thus the theme of this year's congress is Diversity. Or Carioca – the name for Rio residents or natives. But being Carioca is more than that: it's a state of mind, a state of being, a form of living, a definition of personality. Rio celebrates New Year's eve in white to mark equality, while it's legendary Carnival is an array of festival colour to celebrate diversity. So, whatever your birthplace, ethnicity, religion, age, gender or sexuality, anyone can be Carioca.
We'll have the privilege of hosting our Congress in one of the most iconic hotels in the world – The Copacabana Palace, stage of countless movies, stories and songs. Across the street from our hotel is Copacabana Beach, the most famous beach in Brazil and natural habitat of poets, song writers, surfers, movies and TV celebrities.
Choosing diversity as the main theme of the 58TH International Young Lawyers Congress in Rio responds to AIJA's undertaking to promote and advance the principle of equality, to provide insights into the complex and multidimensional nature of our society, and to work together with its members to support a dynamic and wide-ranging profession. Participants will also enjoy a wide variety of social events and tours through our beautiful city.
Pre-registrations for the Rio Congress are now open! By pre-registering before 31 January 2020, you can register at the early bird fee with no deadline! You will also receive the official congress gift from the Organising Committee as well as an entry to the prize draw which will be taking place at the Welcome Reception in Rio on 24th August 2020.
Find out more and pre-register for the congress here.
We can't wait to see you in Rio, a city that by itself represents the mixture and variety that diversity is all about.
---
Xuejun Zhao is awarded the Best Future International Lawyer Award for her outstanding academic prowess
14 September 2019
AIJA's Best International Future Lawyer Award (BIFLA) seeks to develop law students understanding of the global development agenda. AIJA believes that encouraging young lawyers to provide solutions to major challenges in the world is vital if we are to adequately prepare them for their future careers. The BIFLA strives to prepare young lawyers for the testing road ahead!
This year's competition was focused on the United Nations Sustainable Development Goals (SDG) in line with the 57th Congress's sustainability theme. The essay question that entrants responded to was 'If I could change the world…how can I, as a future lawyer, contribute to a more sustainable world?'.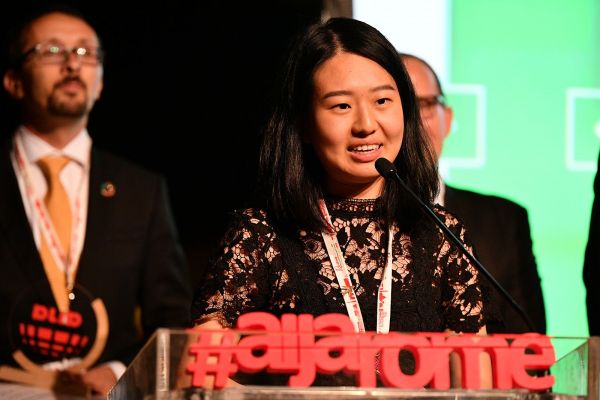 The 2019 winner is Xuejun Zhao. Xuejun graduated from the University of Groningen in September 2015 with a bachelor's degree in International and European Law. Due to her interest in sustainability, Xuejun continued her studies at the same university by pursuing a Master's degree in Climate and Energy Law.
Her essay delves specifically into SDG 13: Climate Action, where the current trend of climate litigation is analysed. The essay explores the feasibility of climate litigation, and considers the existing domestic cases, as well as the possibility of turning to the international realm.
The essay illustrates that, while the courts may be our best hope of reversing the damage done to our planet, the domestic context may not be the solution. Hence Xuejun's essay analyses the possibility of creating of an International Environmental Court as a means of achieving SDG 13. In doing so the issue of jurisdiction is considered, in addition to private party access.
In response to her astounding achievement, Xuejen says 'almost half a year since hitting the submit button, I can safely say that entering the BIFLA competition was one of the best decisions I have ever made. During the Rome congress, I learned from (and even met!) experts in a field that I hope to break into someday, cultivating skills applicable to my future career. It was also in Rome that I found out about Loyola Law School's generous offer, which will allow me to further deepen my legal knowledge. Entering the BIFLA competition made all this possible, and I am immensely grateful to AIJA for that!'
Xuejun was presented with the BIFLA at the Gala Dinner at the glamorous Villa Medici at the 57th Congress in Rome. Her award was honoured with an array of prizes, including free AIJA membership until 2022, publication of her essay across AIJA's channels and an invitation to attend the 57th Annual Congress free of charge with travel and accommodation included, as well as a one-year scholarship with our prestigious sponsor Loyola Law school.
Loyola Law School, Los Angeles is one of the top law schools in the United States. Loyola is home to prominent faculty, dedicated students, and cutting-edge programs, with a strong sense of social justice. Our 18,000+ alumni network reaches across the United States and into 35 different countries and includes current and former ambassadors, high level government officials, and more than 800 partners at major law firms.
'We are delighted to sponsor this year's award for Best Future International Lawyer. Loyola seeks to educate women and men who will be leaders in our globalised world. We look for students who will be demonstrating in their practice of law and public service the highest standards of personal integrity, professional ethics and a deep concern for social justice and society. Members of AIJA represent the perfect example of the above and the winner of the Award, with her focus on sustainability, will surely be affecting with her work the advancement of society. It was an honor for Loyola to play a small role during this year's AIJA Congress and we look forward to welcoming Xuejun to our campus in the near future!'', said Professor Michael Waterstone, Fritz B.Burns Dean, Loyola Law School.
This year, AIJA also awarded two special mentions in addition to the Best International Future Lawyer Award. The two special mentions were awarded to Rebeca Spuch for her essay on the intersection between education and the Sustainable Development Goals and Judith Creppy for her essay 'Would legal personhood help to ensure a better protection for the environment?'. The two essays have proven great quality, as well as a good understanding of the SDGs and law.
The Best Future International Lawyer Award competition reopens in February 2020. To find out more, follow the updates on the website here. To read this year's winning essay, click here.
---
Load more