AIJA News
Have a wonderful festive season!
13 December 2019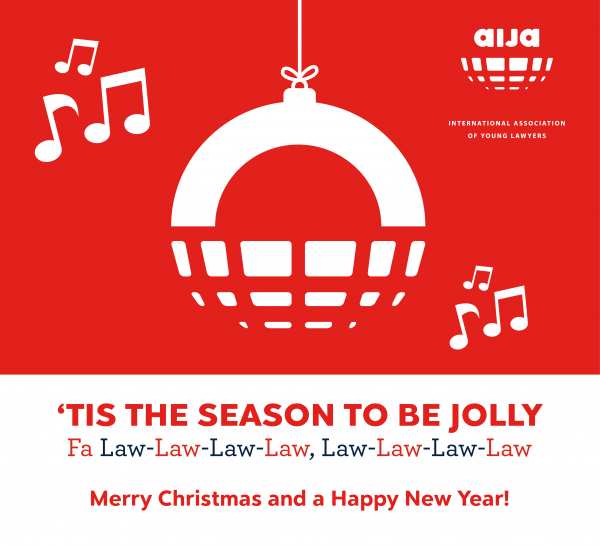 Deck the halls with boughs of holly,
Fa Law-Law-Law-Law, Law-Law-Law-Law!

'Tis the season to be jolly,
Fa Law-Law-Law-Law, Law-Law-Law-Law!
Have a wonderful festive season and celebrate it in full glitz and glamour!
We look forward to another fabulous year of learning, sharing and networking around the world!
---
OBE awarded Emma Playfair: An advocate for human rights
10 December 2019
Today marks the International Day of Human Rights. It commemorates the day in 1948 when the United Nations General Assembly adopted the Universal Declaration of Human Rights.
On this occasion, AIJA's Human Rights Committee invited Ms Emma Playfair to speak about her career path to becoming a lawyer specialised in human rights.
"The events of 'Bloody Sunday' (where on 30 January 1972, British soldiers shot 28 unarmed civilians during a protest march against internment during the Troubles in Ireland) really influenced me to think about human rights. However, in the 1970s, working in human rights was not a very well-known career path. I thought that by becoming a lawyer, I could work in human rights more effectively", she explained. Ms Playfair has been actively involved in human rights since 1984 and was awarded the prestigious Order of the British Empire in 2002 for her work. Read on to learn more.
Working for one of the first Palestinian human rights organisations
You worked in Palestine as a researcher with Al-Haq, one of the first Palestinian human rights organisations. What were the main challenges you faced and how did you and your colleagues overcome them?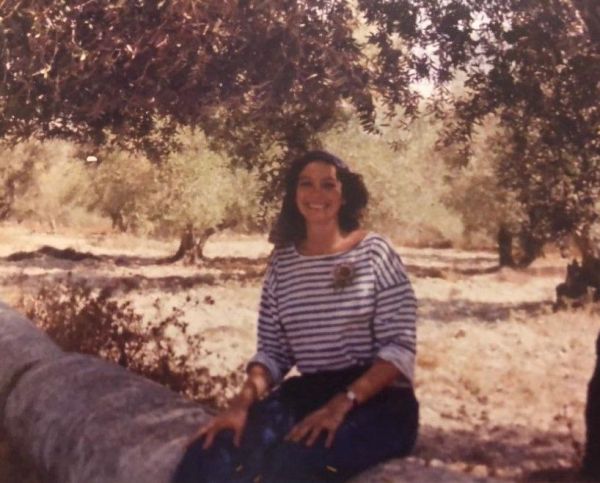 Emma Playfair: I started at Al-Haq as a volunteer, after having worked as a lawyer for 6 years in London. As a volunteer, I helped to develop the organisation, but I also conducted legal research for the organisation. Al Haq sought a British lawyer since the applicable law is a combination of Ottoman law, British Mandate law and Jordanian law, to which Israel added military orders.
The major challenge Al Haq faced was in countering the image projected by Israel that it respected international law in its governance of the West Bank and Gaza Strip. Israel has never conceded that its control of the territories is an occupation, rather referring to them as 'administered'. It does not accept, as the rest of the international community does, that the Fourth Geneva Convention is applicable.
To counter this, our field workers scrupulously monitored and documented violations of human rights, such as the demolition of houses, military trials, taking affidavits from victims of human rights violations. We would then prepare legal analyses as to how the action taken and the laws applied were in contravention of international humanitarian law.
Another major challenge was working under military occupation – there were soldiers in the streets, and often the roads were closed off by military blockades. As there were few telephones then, we had no means of communicating if delayed by road blocks, or even if arrested. For our field workers, the work was challenging and risky as they were repeatedly subjected to administrative detention, for months or even years without any idea how long they would be held.
How did the landscape of human rights in Palestine change during your time with Al-Haq?
Emma Playfair: It is difficult to measure the impact of human rights work. Unfortunately, the illegal occupation and associated human rights violations continue to this day. However, one change Al Haq is responsible for is that Palestinians became aware that they have rights and that it is worth asserting those rights. We issued booklets to inform the people what their rights were and also developed a legal advice program to help them.
Establishing the human rights programme at the Ford Foundation in Cairo
What were the programme's significant achievements during your time in Cairo?
Emma Playfair: The Foundation was already supporting Al Haq and the Tunisian League for Human Rights which had led to the decision to launch a human rights programme. From this basis we were able to provide support to an expanding number of human rights organisations around the region. We facilitated networking around the region and enabled Arab activists and lawyers to attend international courses and programmes on human rights and promoted human rights studies in several universities in the region. We supported work on economic and social rights and developed a programme on reproductive rights, addressing such issues as FGM and early marriage, fields little explored then in the region, as well as on refugees and migrants' rights.
We hosted a renowned scholar on Islam and human rights who deepened dialogue on the cultural legitimacy of international human rights standards in Islam. We supported training for judges and lawyers in international human rights law and mechanisms in Arabic, including preparation of materials. Since the Ford Foundation supports human rights around the world, we were able to ensure that Arab activists, organisations and scholars were able to participate in programmes at the international level and interact with others working on similar issues around the world, particularly in Africa.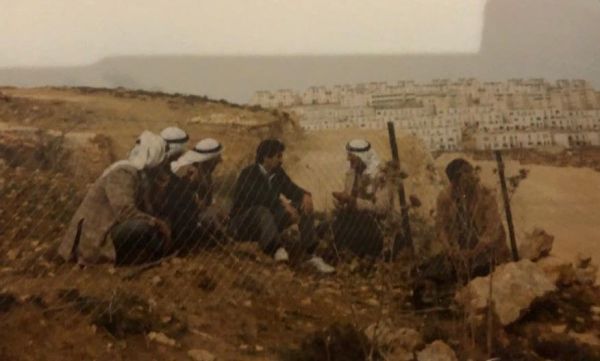 What issues arose from operating a politically sensitive program within an organisation that commanded such a global presence?
Emma Playfair: Although the Foundation had long had a programme in Israel, the programme in Palestine came under sustained attack from supporters of Israel in the USA, who claimed that the Foundation supported organisations whose work was anti-Semitic. These allegations were based on false reports and we were able to refute each of them strongly. However, they were disseminated widely and pressure built and some US senators threatened to take the Ford Foundation to the Senate Finance Committee. If the Committee had found against the Foundation this could have led to the closure of the whole foundation and the confiscation of its assets, ending its work around the world. Under this pressure, the Foundation's leadership regrettably decided to phase out its Palestine programme.
How to start your human rights career
In 2002 you were awarded an OBE in recognition of your work. I think it is safe to say that you have and will continue to be a source of inspiration to many who aspire to work in the field of human rights. As an experienced lawyer who has worked on human rights, what advice would you give to human rights lawyers who are at the start of their career?
Emma Playfair: The world today is of course very different from the world I grew up in because human rights is much more of a recognised field than in my day. However, it is still not easy to get paid work in human rights. I would suggest that people find a way to volunteer in human rights in the areas that they are interested in. It was through my voluntary work for Al Haq that the Ford Foundation became aware of me and I became qualified for the job offered to me by the Foundation.
Today's climate crisis is a human rights emergency
What do you believe to be the biggest human rights crisis facing the world today?
Emma Playfair: I think that climate change, which involves many human rights issues, is a pressing issue that needs to be addressed by human rights organisations.
__________________________
Additional background information
About Al- Haq: Al-Haq (formerly Law in the Service of Man) is an independent Palestinian non-governmental human rights organisation based in Ramallah, West Bank, in which Emma Playfair volunteered as a legal researcher from 1984 until 1988. Established in 1979 to protect and promote human rights and the rule of law in the Occupied West Bank, the organisation has special consultative status with the United Nations Economic and Social Council. This was the first organisation working on law and human rights in the West Bank. Al Haq has very recently awarded the 2019 Human Rights and Business Award by the United Nations Forum on Business and Human Rights in Geneva.
About the Ford Foundation: The Ford Foundation is a private American foundation with the mission of advancing social justice at home and abroad. Emma Playfair, as Programme Officer from 1988-1993, established the human rights programme at the Foundation's Cairo office for North Africa and the Middle East. She returned as Regional Representative from 2002-2008.
---
Labour law and M&A at the centre of discussion in Lisbon, October 2019
09 December 2019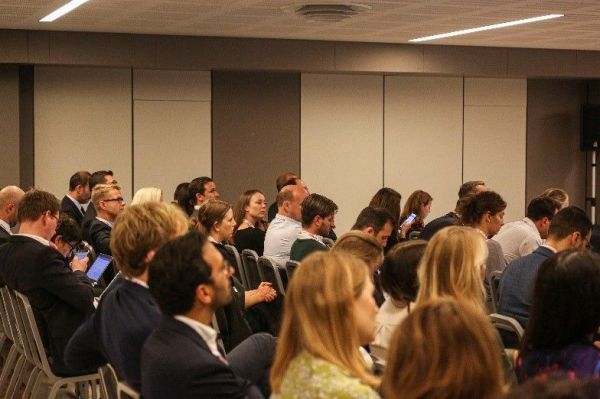 From Thursday 24 October until Saturday 26 October 2019, the Annual Labour Law Conference and M&A seminar took place in Lisbon. For three days, 200+ lawyers from all over the world discussed the latest trends and developments in labour law and M&A.
Upon arrival participants enjoyed a welcome cocktail and dinner at TOPO Chiado, with breathtaking views of Portugal's metropolis. The next day kicked off with a welcome address from AIJA President Paola Fudakowska and an interview between Pia Padfield (Ogletree Deakins) and keynote speaker Tarun Tawakley (Head of Employment and Litigation at Deliveroo) on the gig economy. We explored how Deliveroo differs from other on-demand economy models and discussed the legal challenges worldwide at a time where the law is still struggling to catch up with reality. This was followed by panel discussions on a wide range of topics such as the impact of Brexit on immigration and labour law and how the #metoo campaign changed work environments. Moreover, the joint M&A/Labour Panel on 'Marriage Counselling for Lawyers – Everything you have ever wanted to say to your M&A and Labour Lawyer' prompted an interactive discussion amongst panellists and delegates.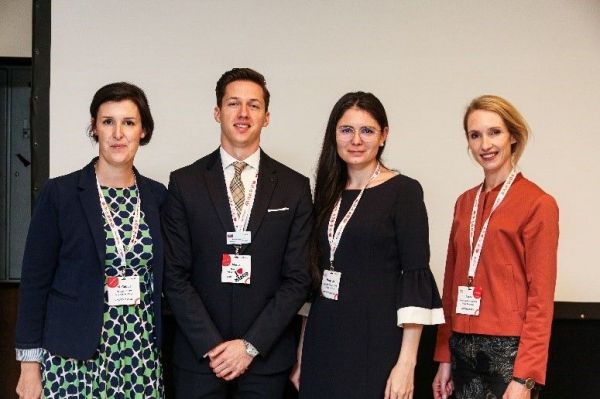 The two-day event concluded when Marek Laca from bnt attorneys in CEE, a full-service international business law firm based in ten Central and Eastern Europe countries and the event's gold sponsor, together with panellists Sanne van Ruitenbeek (Netherlands) and Margarita Egiazarova (Russia) discussed with moderator Cabell Clay (USA) the topical issue of 'How to keep your workforce happy?'. In today's hectic life, when forced positivity is becoming a problem, employee mental health is more important than ever. Marek argued that the prevention of stress-related illnesses costs less than losing valuable employees to resignation or dismissal.
In line with this topic, our attendees could also attend a rich social programme to supplement their academic schedule, including dinners at venues such as Palácio da Cruz Vermelha or Bairro do Avillez, or a boat tour with wine tasting. All in all, the event was a great success, and the number of participants proves a rising interest and need to share and exchange ideas and legal views in a cosmopolitan world.
The 2020 Annual Labour Law Conference will take place in Amsterdam, from 29 to 31 October.
---
Diverse matters – Yasmin Sheikh opens up the conversation surrounding disability in the legal profession
03 December 2019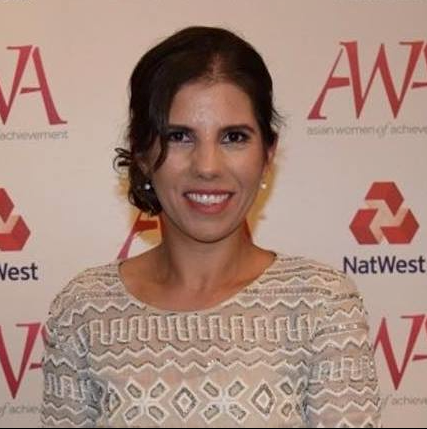 AIJA's president, Paola Fudakowska, recently spoke with Yasmin Sheikh, founder of Diverse Matters, a consultancy firm which trains organisations and people to approach diversity and disability (both visible and non-visible) with confidence and strength. Yasmin is also Vice-Chair of the UK Law Society's Lawyers with Disabilities Division, lawyer, public speaker, mentor, and coach.
She talked to us about her journey and how opening up the conversation around disability is critical to breaking down the boundaries in the legal profession. Read on to learn more.
Could you tell us a few words about yourself and your journey from being a lawyer to becoming an entrepreneur and diversity advocate?
Yasmin: I qualified as a lawyer back in 2003 and at that stage I didn't have a disability but I am now a wheelchair user. In 2008 I sustained a spinal stroke at just aged 29, I went to bed one day and within hours I couldn't get out of bed at all. At that point I was working at a big international law firm and had been there for three years, the irony was at that time I was working in the personal injury department. Following on from my injury I had a year off where I went through rehabilitation and learnt how to use my wheelchair as well as adapt to my new body.
It was a smooth transition physically at work, we had lifts and disabled facilities. But I did notice that there was a lower expectation of me, which consequently meant I had lower confidence in my own ability. I was perceived differently, I'm mixed race so I've been aware of my racial difference but it never acted as a barrier. Whilst working as a disabled individual in the legal profession I felt like I was a square pin trying to fit into a round hole and that my disability had to be specially accommodated, I felt very different. I had started talking about the issue at work and at workshops. I could see that there was a real interest so I started a disability network and I began telling legal partners about how we could make disabled people more visible and how we could approach conversations around the subject. This started my journey as an entrepreneur and I set up Diverse Matters four years ago.
How is disability viewed and talked about in law firms today? What's your experience?
Yasmin: Many law firms' response to how they treat disabled people or people with health conditions in the past has sometimes been we don't have any disabled people working here or disabled people don't apply. But law firms are beginning to stop the narrow-minded thinking and that disabled people aren't just those in wheelchairs, 97% of disabilities aren't visible. It's all about removing the stigma and starting the dialogue. Over the last few years there has been a greater appetite to tackle the subject, due to the opening up of conversation surrounding mental health and wellbeing.
How can law firms build a more inclusive culture?
Yasmin: It comes back to starting the conversation, learning and listening to individuals, rather than not doing anything at all. In my workshops I talk about the four B's: business, bias, behaviour and belonging. The first is business where we educate organisations on how to be inclusive and embed diversity and disability inclusion in decision making. We also assess structural bias, such as if the business is doing anything which is preventing disabled people from applying and how they are retaining disabled talent.
To eradicate bias, we look at behaviour, particularly at how organisations behave towards individuals with disabilities and what is acceptable. Doing so will then achieve a sense of belonging, encouraging an environment where people feel they belong, and where they can share their disability free from judgement.
What would you say to someone who is facing discrimination in the workplace due to their disability?
Yasmin: I would say if you are already employed in the firm, consider if there is somebody you trust and can confide in. I would also try where possible to deal with the issue internally. Consider an off the record conversation with a member of the HR team. Also, look if you have access to a disability network at work whom you can contact.
I welcome individuals to contact the Lawyers with Disabilities (LDD) at the Law Society Lawyers with Disabilities Division and we can match you with a mentor with a disability similar to yours, which can be of great support.
Reaching out is incredibly important, I know how isolating it can be when people don't understand.
Could you share with us an example of your work with law firms, advising about disability related issues?
Yasmin: I'm Vice-Chair of LDD and we have been running events for law firms and disabled individuals plus providing mentors for almost 30 years. There's been a been a vast array of success over the decades!
At the Law Society we are currently working on Legally disabled, a project being run at Cardiff University. The UK-based researchers have been doing extensive interviews with both disabled individuals whom are about to enter the profession and those already working within it. The project will be delivered on 24th January and we hope this will shine a light on the barriers and how they can be removed, we are very excited!
United Nations' International Day of Disabled Persons is annually held on 3 December. This year's theme "The Future is Accessible" means that we must all, together, look towards a future where the barriers which stand in people's way no longer exist. What is one message you would send to the world on the occasion of this international day?
Yasmin: My message is simply to just listen to people. Everybody's experience is different and we all have blind spots about what challenges others may be experiencing and what barriers stand in their way. It's really important to use this day to start the dialogue, recognise the barriers and how they can be broken down.
---
AIJA supports the LEGAL ®EVOLUTION Expo & Congress 2019
02 December 2019

The LEGAL ®EVOLUTION is Europe's groundbreaking exhibition and congress for the entire legal department, compliance department and law firm. More than 1,100 participants – mainly in-house counsel, law firms and compliance departments – are expected with 90 exhibitors and partners, 40 lectures and partners as well as 15 workshops and 75 coaching sessions. This year, the congress takes place from 4-5 December in Kap Europa, the Congress House of Messe Frankfurt (Germany).
One of the main topics is the substantive law of the digital economy, including lectures from Prof. Sebastian Omlor, LL.M. (NYU), Prof. Martin Ebers, Dr. Martin Fries and other academics and practitioners. Exhibitors from ten countries will show the leading services, IT-solutions and managed legal services for law and compliance.
Our partners from LEGAL ®EVOLUTION offer AIJA members a 20% discount on all tickets. For more information about how you can access this discount, please contact the AIJA team.
The programme of the congress is available here.
---
Load more