Dîner Allemagne-Benelux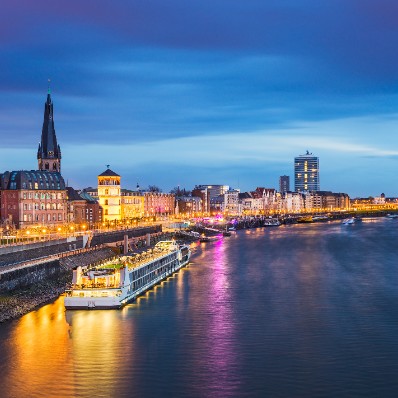 Düsseldorf
15 May 2020
---
Dear AIJA members, friends and colleagues in Germany and the BeNeLux region,
Make your reservation now for the next GeBeNeLux-Dinner! This year we will meet in Düsseldorf, the capital of the German "Bundesland" of North Rhine-Westphalia (NRW).
Belgium, the Netherlands, Luxembourg and Germany share a living and economic area in the heart of Europe. As neighbours, we are closely bound by strong economic relations. There is active cooperation at the political, economic and cultural levels which we would like to foster with our traditional GeBeNeLux dinner.
With a population of approx. 600,000, Düsseldorf is not a "Dorf" (village) anymore, but an international business and financial centre, renowned for its fashion and international trade fairs. Düsseldorf is located close to Germany's largest urban and industrial area, the Ruhrgebiet, and many large companies have their worldwide or European headquarter here. You can see, Düsseldorf is the perfect place to meet for international business lawyers to exchange views, make new contacts and find ways to generate new business opportunities.
Join us for the GeBeNeLux-Dinner and find out yourself!
Date: Friday, 15 May 2020, from 7:00 pm (welcome drinks)
Place: Franks Restaurant, Andreas Quartier, Ratinger Str. 9, 40213 Düsseldorf
Price: 80€ (excl. 19% VAT) including a welcome drink, 3-course dinner and drink package (water, soft drinks, beer, wine and coffee)
If you wish to join this promising event, please register by 7 May 2020 at the very latest.
A place for informal pre-drinks will be announced at short notice (depending on the weather). Our restaurant is located in the former building of the regional court and the DJ will try its best to keep you on the dancefloor - and away from the surrounding bars and pubs in the "Altstadt"
Why don't you extend your stay and make a weekend trip out of it? Düsseldorf is also known for its historic centre aka the "longest bar in the world", the Kunstakademie, its influence on electronic/experimental music and not to forget its large Japanese community. The weekend is perfect to find out more since the Japanese community in Düsseldorf organises its annual Japan Day on 16 May 2020. The Japan Day has become one of the regional highlights – you can not only expect a huge firework over the Rhine in the evening, but cultural activities and a giant street party throughout the day. You might want to bring your manga outfit – you will not be the only one wearing a special costume celebrating the Japanese culture!
Please let us know when registering if you are interested in an optional sightseeing excursion on Saturday.
We look forward to welcoming you all soon!
Rebekka Stumpfrock (NR for Germany) & Beatrice Stange (RR for Germany - North Rhine-Westphalia)
---
Event fees
+ VAT if applicable

---

GeBeNeLux Dinner
80,00 €

---
---
Informations pratiques
Accommodation 25hours Hotel Düsseldorf Das Tour

Louis-Pasteur-Platz 1
40211 Düsseldorf
https://www.25hours-hotels.com/en/hotels/duesseldorf/das-tour
General contact: p +49 211 900 91 00 - dastour@25hours-hotels.com
Reservations: +49 211 900 910 255 - res.dastour@25hours-hotels.com
Preferential rates have been negotiated at the 25hours Hotel Das Tour for AIJA Participants:

Fri. 15 May 2020:
Single or Double occupancy Room: 90 € per night incl. service & taxes - Breakfast: 21€ per person
Sat. 16 May 2020:
Single or Double occupancy Room: 120 € per night incl. service & taxes - Breakfast: 21€ per person
To book your accommodation at the 25hours Hotel Das Tour , please return the attached Booking Form to res.dastour@25hours-hotels.com or make your reservation by phone (+49 211 900 910 255) with the code AIJA_150520_ABK.
Reservations will be accepted on a first come first served basis and subject to hotel availability. Deadline for preferential rate: 3 April 2020
Parking: A limited number of parking spaces are available at the hotel. Parking fee for 24 hours: EUR 21 - The parking garage is located at Toulouser Allee 3.
Public Transport: The hotel is located just a few minutes' walk away from the S-Bahn commuter railway station Wehrhahn (S1, S6, S11) and the U-Bahn underground stop Uhlandstraße (U71, U72, U73, U83). Trains depart from there for the airport, the city centre and beyond the city itself.
Comité organisateur
Beatrice STANGE
Heuking Kühn Lüer Wojtek PartmbB (GERMANY)
Rebekka STUMPFROCK
AVANTCORE Rechtsanwälte (GERMANY)