AIJA News
International Young Lawyers' Congress shortlisted at the European Association Awards 2017 for the Best Association Conference
09 December 2016
A prestigious panel of judges, experts of community and association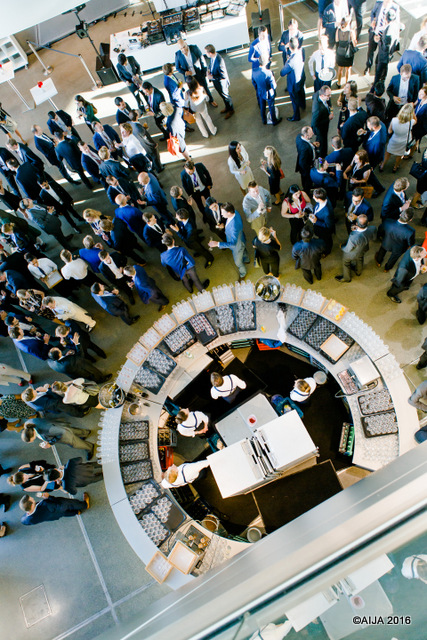 management, have included the highlight of the AIJA year, the annual International Young Lawyers' Congress, among the top events in the association world.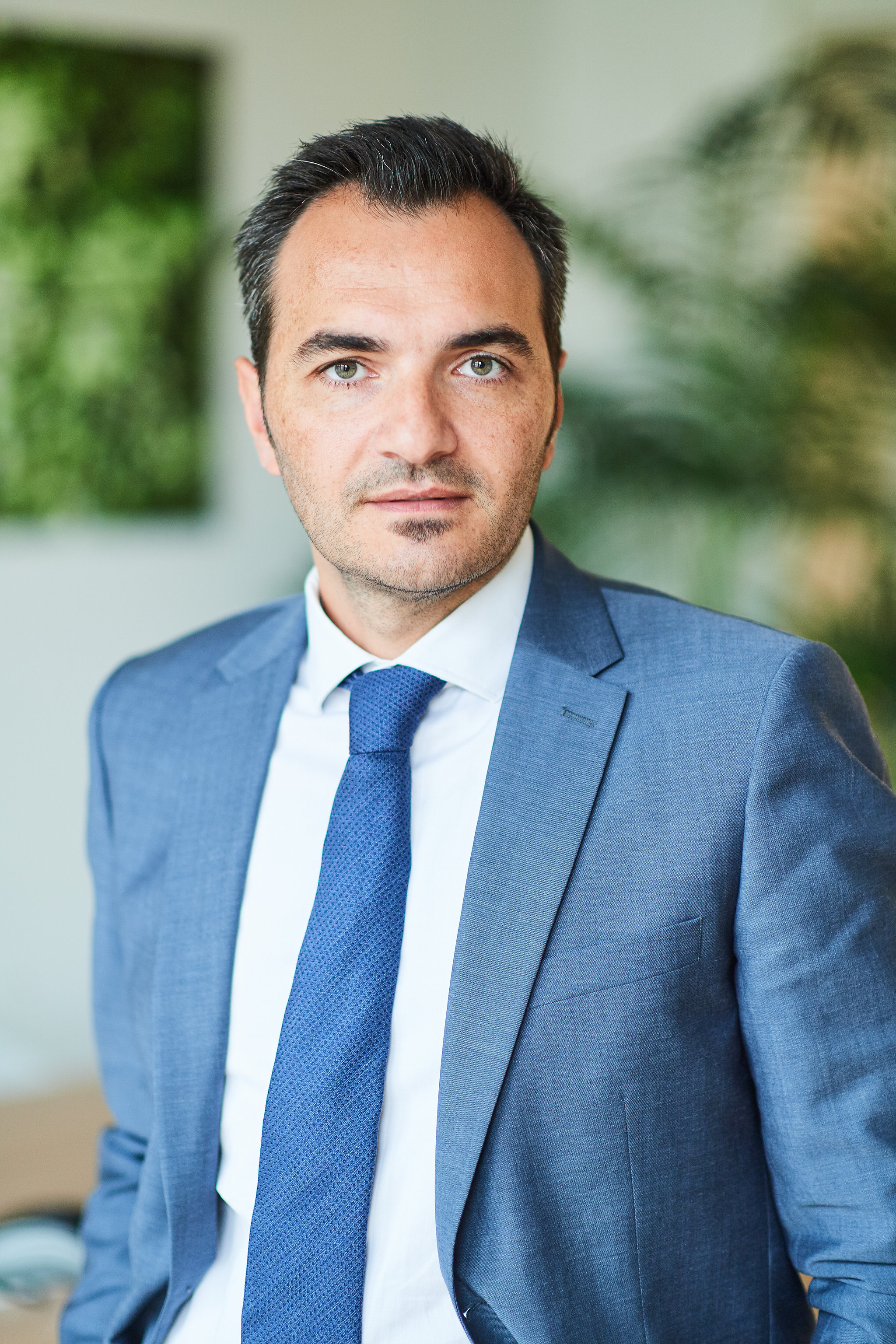 Giuseppe Marletta, AIJA Association Manager, says that "The International Young Lawyers' Congress is not just another annual event of one of the many associations out there. It is an innovative concept that changes every year and adapts to the needs of the membership base". An elaborated puzzle of informative sessions, together with an outstanding social programme, make this event a must-attend for the international young lawyers' community. Giuseppe adds that "all those extras, like home hospitality at locals' houses, flashmob and sports activities, a top-notch mobile application, coaching sessions…are all direct benefits to attendees who find the best networking opportunities all under one roof".
The award ceremony will take place on 24 February 2017 in Brussels at the Radisson Blu Royal Hotel.

---
Another AIJA story, François Barre - the new National Representative of France for AIJA
24 October 2016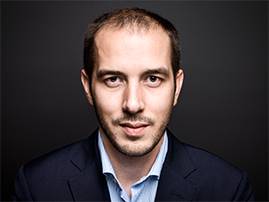 His compatriot Edith Piaf may have famously sang "Je ne regrette rien", but François Barre, the new AIJA National Representative of France, does have one regret, he says: "It's not joining AIJA earlier in my career."
"AIJA is a long-term gold mine," he enthuses. "When I attended my first conference in Barcelona, it was very impressive. Everybody seemed to know everyone, talking on a first name basis, laughing and hugging. When I asked some of them 'how long have you been here' and they answered 'I started a couple of years ago', it blew me away! I couldn't believe you could connect so quickly and easily with other lawyers. AIJA makes it easy."
Barre was appointed along with other incoming National Representatives at this year's AIJA General Assembly (all the national appointments can be found here. Having previously worked in the UK for several years, Barre has long known the value of international connections. "An international network is mandatory if you want to help a client throughout his business," he says. "Whilst checking out the international associations available in France, AIJA was always my preference as it was focused on 'young' lawyers." Now an Attorney at Azamdarley Associes in Paris, he is a regular face at AIJA events. "Behind every drink, every social event, every glittery gala, hides an inexhaustible source of knowledge, held by smart, brilliant, proactive lawyers from around the world," he says. "AIJA makes you smarter. You start thinking globally, you exchange on various topics and realise how little you know regarding your fields of intervention, you draft a map of international issues in your core specialty – whilst having fun and developing a precious international network of top quality professionals."
However, he also believes that "you can't limit AIJA to just a networking organisation. It goes much deeper. This experience is always hard to describe to newcomers, family, or even to your firm! People welcome you with open arms. You travel the world to meet young friends, sharing privileged moments."
As France's National Representative, François' role is to recruit new members, be the liaison with local and national Bars, and be an ambassador of AIJA. All of which clearly comes naturally to him. His message to potential new members is simple: "Join us. NOW! You'll travel, you'll learn, you'll have fun, you'll meet tons of interesting people, discuss mind-blowing topics, establish durable contacts and start doing serious business." And you'll regret it if you don't.
---
Opportunities on Being an AIJA Scholar
30 September 2016
[caption id="attachment_7658" align="alignleft" width="165"]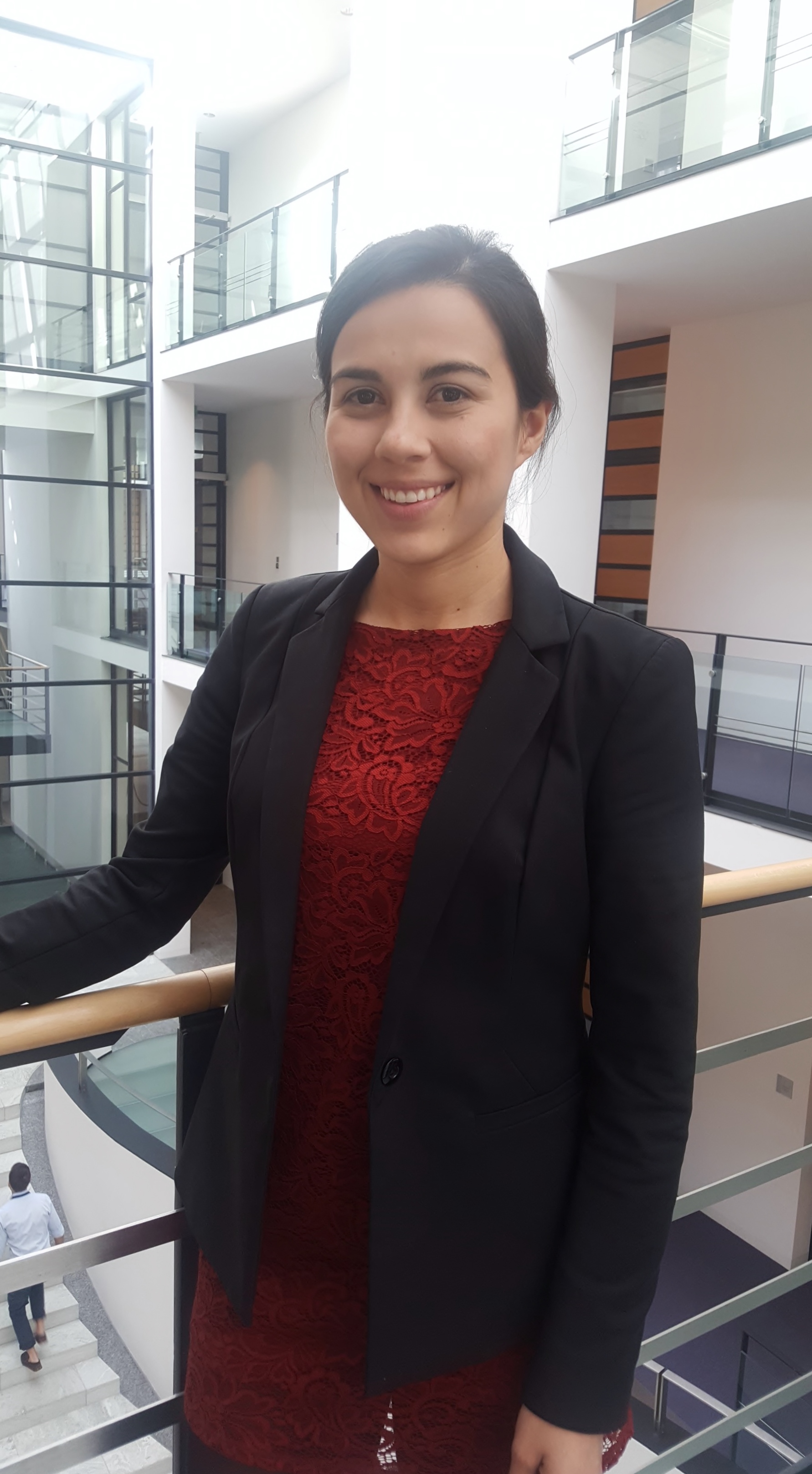 Tatiana Abarca[/caption]
Did you know that AIJA sponsors international scholarships? The AIJA scholarship programme allows young lawyers with limited financial resources to attend the annual congress and other events free of charge. In order to be considered for the AIJA scholarship, applicants need to submit an application which demonstrates how attending the AIJA events will benefit them, the absence of alternative financial means, and how their participation would serve the overall objectives and goals of AIJA.
In 2016, scholarships were awarded to Tatiana Abarca of Costa Rica, and Brenda Mwango Kemunto from Kenya.
Tatiana Abarca worked in corporate and labour law in Costa Rica before retraining in environmental law, completing a two-year Masters degree at the Australian National University (ANU) on an Australian Awards scholarship. Currently undertaking a legal internship at the International Tribunal for the Law of the Sea (ITLOS) in Hamburg, she describes her experience as an AIJA scholar as "an enormous privilege". "Upon arriving to the Annual Congress in Munich, I felt immensely grateful – the opportunity to network with over 500 lawyers was invaluable not only from a career perspective, but to also understand some of the latest initiatives and advancements that are being made in my field,"
Brenda Mwango, a State Counsel at the Kenyan Office of the Attorney General and Department of Justice attached to the Ministry of Transport and Infrastructure, is currently undertaking a Master of Laws in International Trade and Investment Law at The University of Nairobi, Kenya. "Being a scholar was a rewarding experience," she said. "I met inspirational people, people of different cultures and traditions from all over the world, I was offered great hospitality, and had stimulating discussions on European Law."
For both young lawyers, the scholarship offered invaluable international experience. Brenda described it as an "educational adventure": "AIJA gave me the opportunity to visit Switzerland and Germany for the first time – it has given me a perspective on the advanced infrastructure especially in the transport sector (road, air and rail), compared to what is available in Kenya."
[caption id="attachment_7657" align="alignright" width="235"]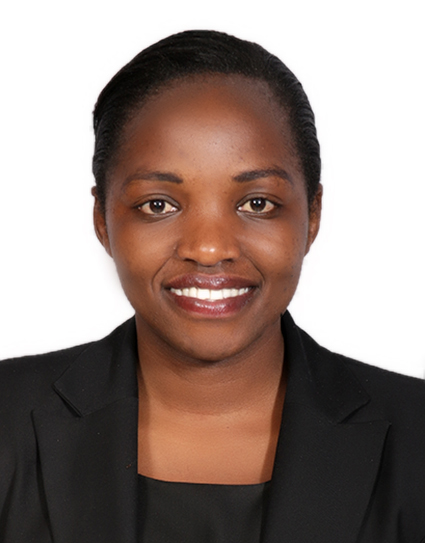 Brenda Mwango Kemunto[/caption]
Tatiana believes that, "as globalisation intensifies, the reliance on expertise from different jurisdictions is becoming a fundamental component of work in the legal space, especially in environmental and maritime law. I have maintained contact with many of those I was lucky enough to meet and hope to collaborate further in the future."
"For me, President Gorgenyi's opening speech was the highlight of the event. Her words about the work AIJA is doing to help young professionals in more disadvantaged societies were incredibly uplifting and reinforced the power the legal community has through associations like AIJA," she said.
For more information on the scholarship programme and how to apply, please visit: /scholarships
---
AIJA goes to Verona, Italy
30 September 2016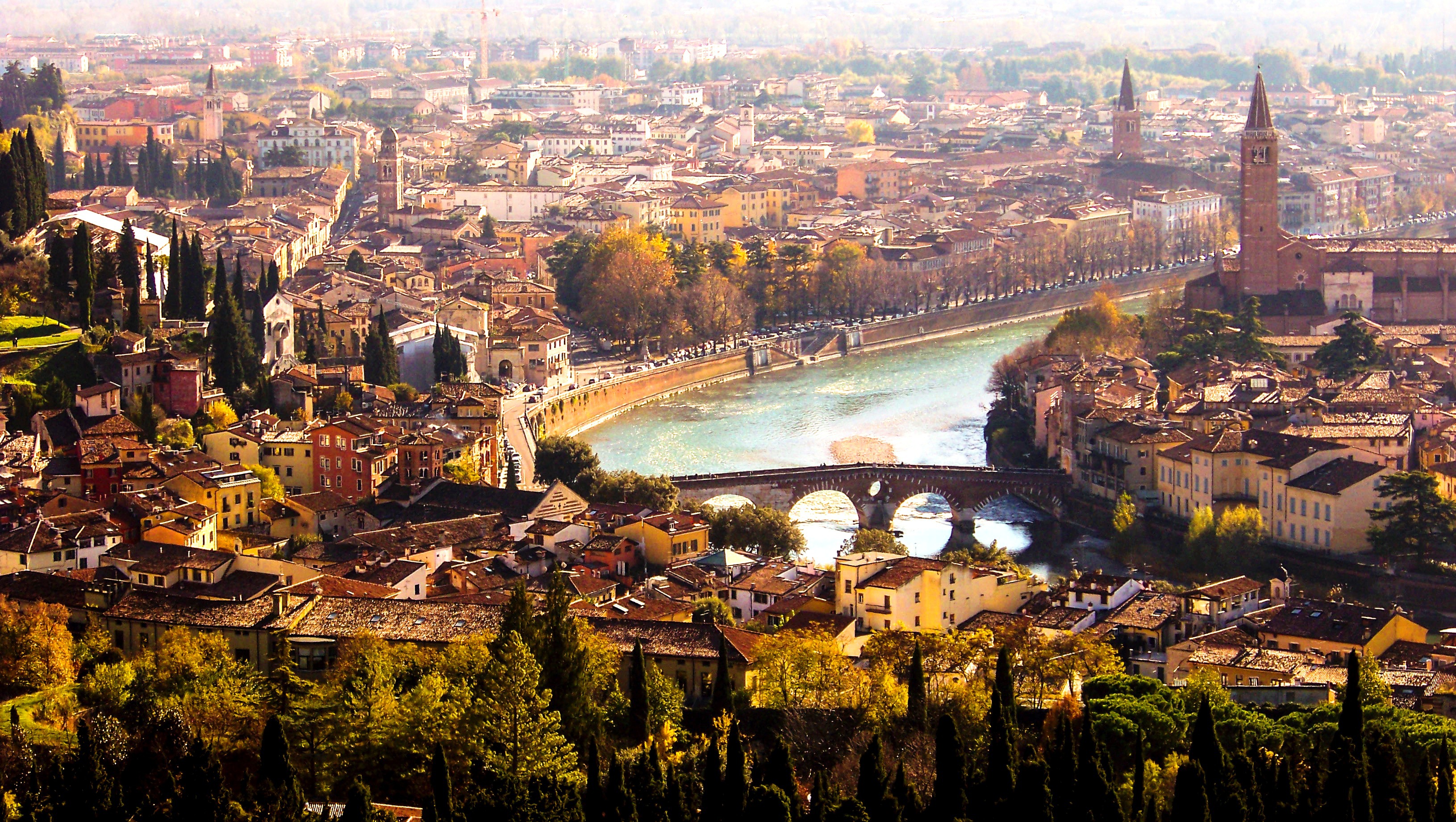 For this year's 2016 Half Year Conference, AIJA is exploring its romantic side. Verona, the city of Romeo and Juliet, is playing host. And it promises to be a truly spectacular location.
A Roman colony in the first century BC., it remains a well preserved Roman town - including the Arena, one of the most famous Roman amphitheatres that is still in use today. Visitors can also take a walk through the Medieval city, with the beautiful Basilica of San Zeno (one of the masterpieces of Romanesque architecture in Italy) and Piazza dei Signori, leading to the elegant Venetian-era palaces Palazzo Canossa and Palazzo Maffei.
Awarded World Heritage Site status by UNESCO, Verona was an easy choice of venue, explains Atty. Roberto Luzi Crivellini, Partner at Macchi di Cellere Gangemi, and Chair of the Organising Committee at the Conference: "following the success of the AIJA Half Year Conference in Parma in 2010, we wanted our AIJA friends to have a chance to discover another little Italian jewel," he says. "We could not find a better candidate, as Verona is located in a strategic position, its airport is well connected with the main European hubs. It is also close to Milano and Venice, which can be reached with a 1-hour fast train ride."
Participants will be immersed in a truly Italian experience. The conference venue - Hotel Due Torri at Piazza Sant'anastasia – is in the heart of the old city, surrounded by masterpieces of Roman, medieval and Venetian heritage, all within walking distance. AIJA dinners will be hosted in some of the most prestigious 17th century buildings, including one with a special theme. "The theme for the gala dinner on Saturday is 'Romeo and Juliet', "explains Atty. Giuseppe Cristiano, also a member to the OC, partner at De Berti Jacchia . "Verona is the city of Shakespeare's masterpiece, and this is a fun opportunity to meet other lawyers and experience the best traditions of AIJA."
For those more interested in Italian fashion, there are also seminars on the industry during the conference. "Italy is worldwide known for its fashion industry, but must compete in times of globalisation," explains Manuela Cavallo, Partner at Portolano, Cavallo. "This seminar programme focuses on the different aspects and trends in the sector, with some important in-house counsels who shall share their insights". Legal issues range from protecting IP in fashion contracts, to arbitration clauses and awards.
The second seminar running during the conference will be on enabling and securing international business: "we will offer a complete overview on the topic of secured transactions in the international commercial arena. In house counsels and international attorneys will discuss about the different types of securities, liens and priorities rights in a cross border context", says Giuseppe Scotti, counsel at Macchi di Cellere Gangemi.
So whether you're into Roman architecture, Venetian palaces, Shakespearean romance, stiletto heels – or simply want an 'Overview on conflict of laws regarding international securities' (Thursday, 11.30am) – then the AIJA 2016 Half Year Conference in Verona is the perfect place for you.
For more information and a full conference programme, please download the conference programme HERE
---
Adieu AVERY
31 August 2016
Un courriel de Louise Lévêque nous a appris un matin triste de janvier le décès d'Avery GLIZE KANE qui avait courageusement lutté contre la maladie.
Depuis quelques mois je ne recevais plus de courriels d'Avery et je m'inquiétais de son silence.
AVERY était une grande Dame de l'AIJA elle rehaussait nos congrès et réunions avec son sourire, sa bonne humeur, sa classe naturelle et sa bonne éducation.
Elle prenait le micro à la fin de nos diners festifs et chantait notamment New York New York avec talent.
Elle savait nous réjouir avec un verre de champagne à la main.
Sa maison de Cannes était toujours ouverte aux amis en particulier de l'AIJA
Elle nous avait formidablement aidés pour organiser un bureau élargi de l'AIJA à Cannes à l'hôtel MARTINEZ avec un mémorable diner dans la villa du peintre Domergue sur les Hauts de Cannes devenue propriété de la mairie.
Dans cette villa aux magnifiques jardins à l'italienne délibère à présent chaque année le Jury du Festival de cinéma de Cannes.
Elle était l'ambassadrice de l'AIJA sur la Côte d'Azur.
Elle était appréciée par la communauté américaine vivant sur la Côte d'Azur et s'était dévoué à la direction de la « Navy League » qui organisait l'accueil des officiers de marine américains quand les navires de guerre US faisaient escale à Cannes.
Elle était Consul des Etats Unis à Cannes.
Avery tu nous manqueras, toutefois ce n'est qu'un au revoir !
Jean Frédéric MAURO
Avocat au Barreau de Paris
CLEVERY Avocats
---
Sharefah Almuhana is the Best International Future Lawyer 2016
05 August 2016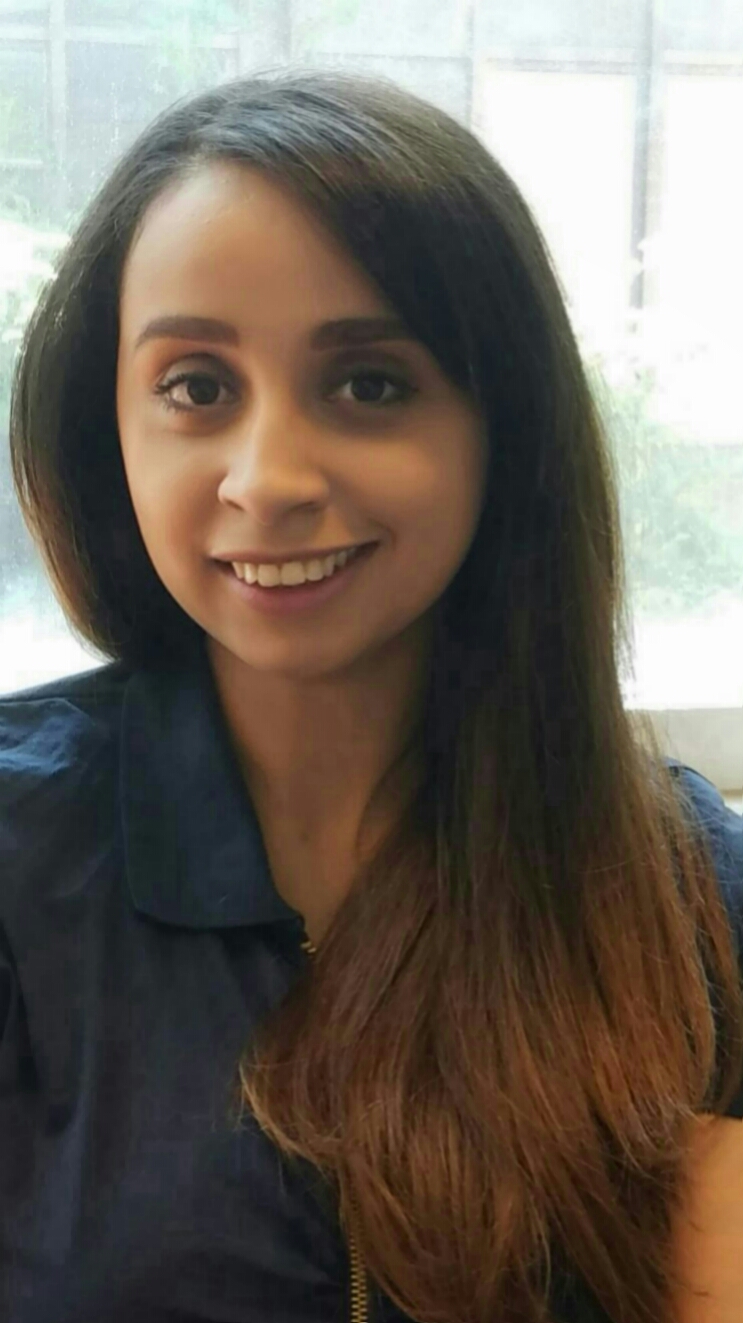 Le Best International Future Lawyer Award 2016 (Prix du meilleur futur juriste international 2016) a été remporté par Sharefah Almuhana pour son essai intitulé « Governing Shared Natural Resources of the International Seabed Area » (Gérer les ressources naturelles partagées des fonds marins internationaux). Le jury, composé de trois membres du comité exécutif de l'AIJA, a considéré à l'unanimité ce document comme le meilleur de la sélection de cette année.
Les recherches de Sharefah Almuhana se concentrent sur l'élaboration d'une stratégie de répartition des produits potentiels de l'exploitation des ressources naturelles présentes dans les zones appartenant à la communauté mondiale, à savoir la Zone internationale des fonds marin (« la Zone ») située au-delà des limites des juridictions nationales et riche en gisements de minéraux précieux comme le nickel, le cuivre, le cobalt, le fer et le manganèse. Les énormes gisements découverts au fond des océans sont commercialement exploitables et l'on estime qu'ils pourraient couvrir les besoins mondiaux en énergie pendant des siècles.
Sharefah Almuhana a obtenu en mai 2016 un doctorat en sciences juridiques de la Case Western Reserve University School of Law (école supérieure de droit) de Cleveland, Ohio, États-Unis. Elle est également titulaire d'une licence et d'une maîtrise de droit de la University School of Law du Kowait. Avant son départ aux États-Unis, elle a travaillé pour le gouvernement koweitien en qualité de chercheur en droit au ministère des travaux publics du Koweit. Elle est actuellement juriste stagiaire dans un cabinet spécialisé en droit américain de l'immigration à Laramie, Wyoming, États-Unis, où elle se familiarise avec cette branche du droit américain et défend des affaires humanitaires liées aux réfugiés, aux demandeurs d'asile et aux victimes de la traite des personnes. Les travaux de recherche de Sharefah incluent tous les aspects du droit public et international.
---
L'AIJA lance le Best International Future Lawyer Award
14 April 2016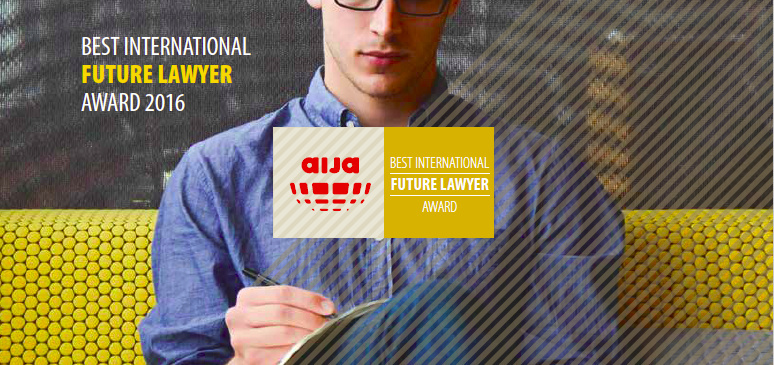 Le Best International Future Lawyer Award est décerné par l'AIJA, l'Association internationale des jeunes avocats, et récompense le meilleur Mémoire sur un thème relevant d'un domaine du droit lié au droit international. Ce prix prestigieux est une occasion unique pour les étudiants de montrer leur potentiel à leurs futurs collègues et employeurs. Il est ouvert à tous les étudiants en droit âgés de 45 ans ou moins toujours inscrits dans une université, dans n'importe quelle région du monde, au moment de la présentation du mémoire. Participer est facile et peut vous mener très loin! Le site de l'Award


---
Load more