AIJA News
AIJA-TRIAL International Talks on Human Rights
05 April 2022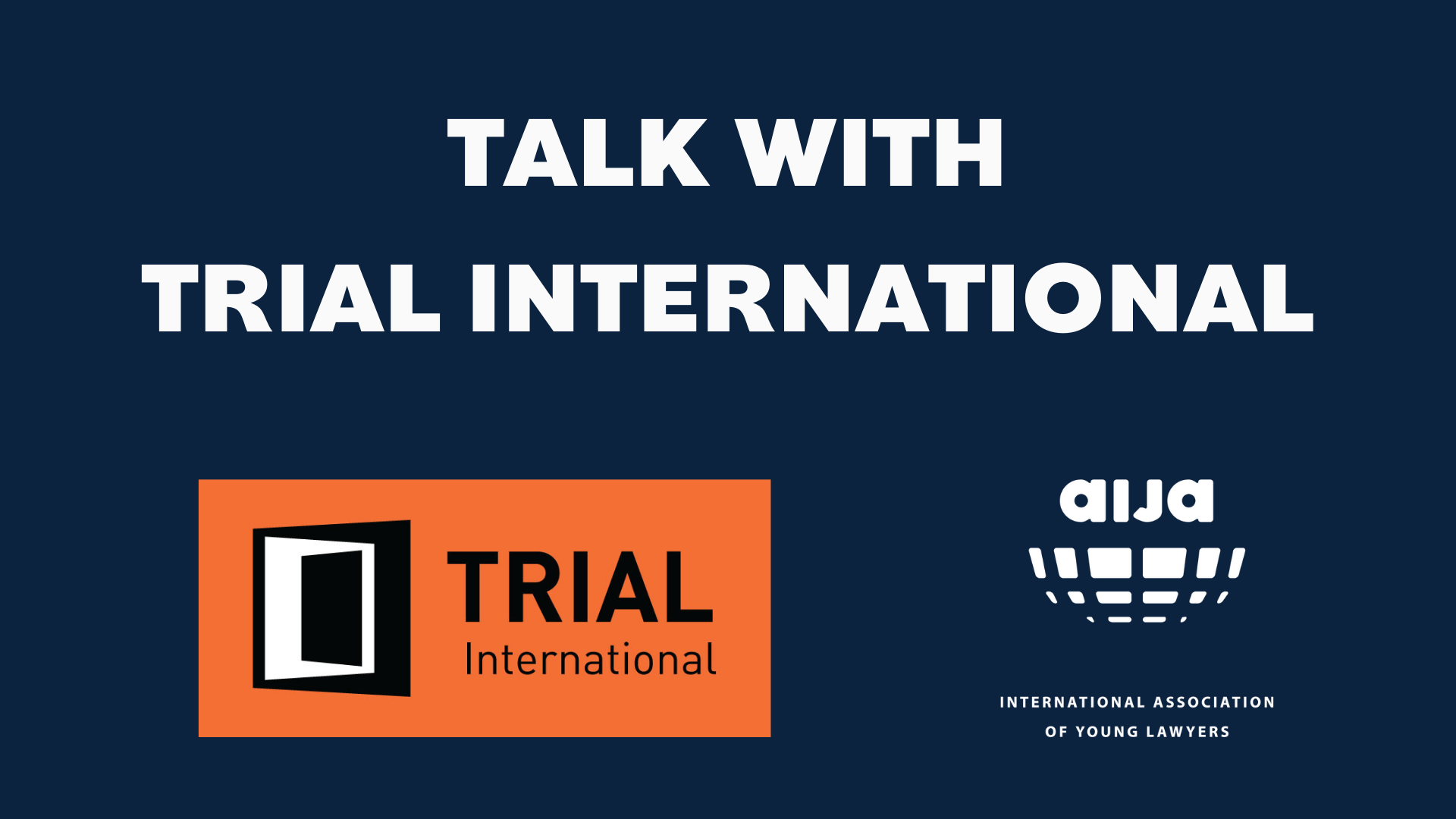 AIJA and TRIAL International are collaborating to launch a few short talks on Human rights to present the organisation, some projects it is working on and new initiatives. This year, TRIAL is celebrating its 20th Anniversary.
What is TRIAL International?
TRIAL International is a non-governmental organisation that fights impunity for international crimes and supports victims' quest for justice. International crimes include genocide, crimes against humanity, war crimes, enforced disappearances and torture. They work to give victims the opportunity to obtain justice and reparation.
TRIAL International is one of those rare new-generation of NGOs that go further than reporting on human rights violations and undertaking advocacy work. We investigate cases, often going to conflict zones, draft and file, criminal, civil and human rights cases, bring direct legal support to victims, as well as training partners on the ground, judges, prosecutors and especially lawyers, in legal and investigative techniques.
Watch the first video between Elsa Taquet, Senior Legal Advisor at TRIAL International, and François Barre, AIJA Immediate Past President, below.
The second interview with Elsa Taquet, Senior Legal Advisor at TRIAL International, and Martijn Burgers, AIJA Human Rights Committee Co-Chair, explains how a legal assistance or legal case works, what TRIAL International's impact is and how to support the association.
The third interview with Philip Grant, Founder and Executive Director at TRIAL International, and François Barre, AIJA Immediate Past President, explores how and when the organisation has been founded, the impact that TRIAL has had over the years and the way it can be supported.
---
International Women's Day - Break the Bias
08 March 2022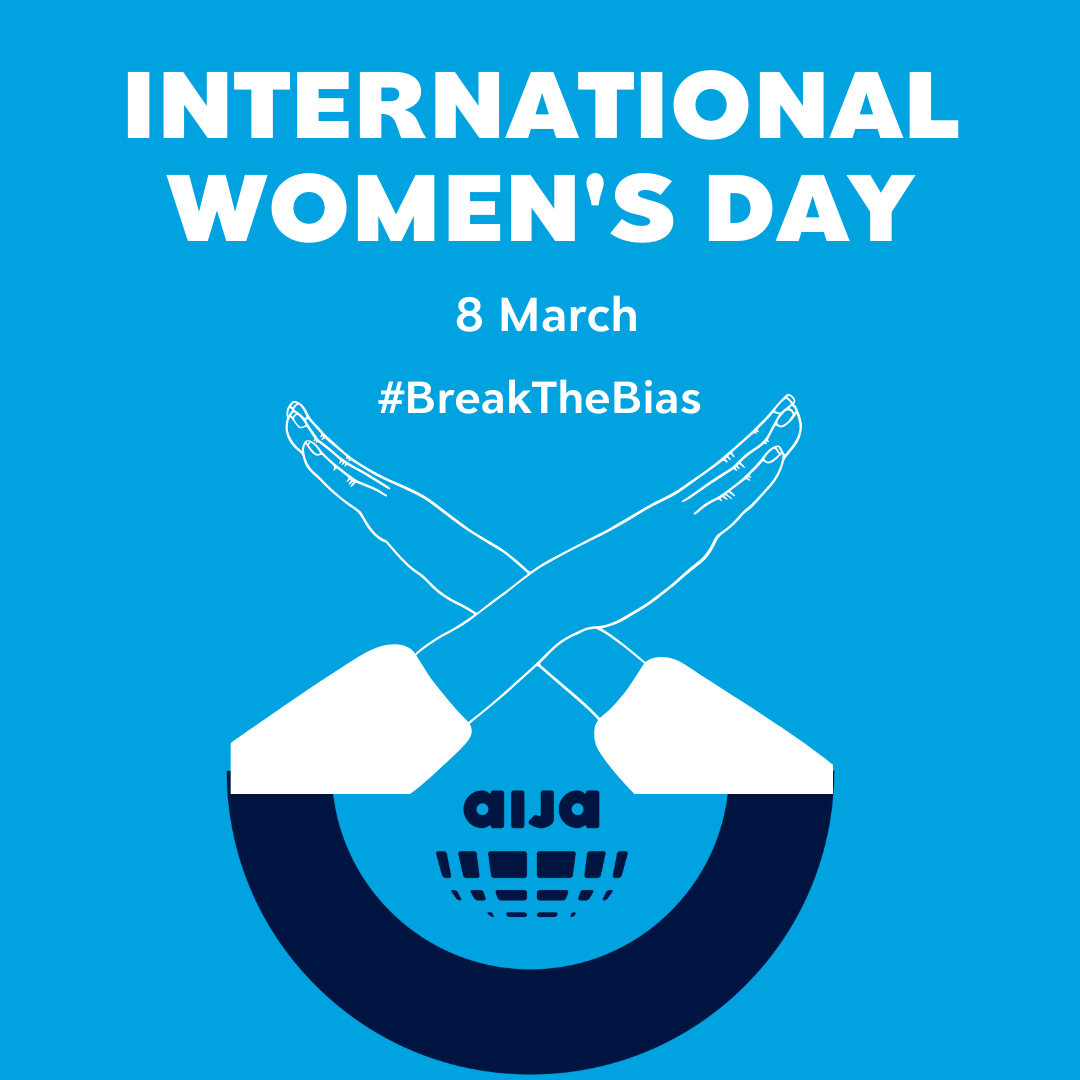 Happy International Women's Day to all. Are you ready to #BreakTheBias?
This year's IWD campaign advocates for a world free of bias, stereotypes, and discrimination. In the context of the climate crisis, the theme "Gender equality today for a sustainable tomorrow" recognises the contribution of women and girls around the world to climate change response, to build a more sustainable future for all.
At AIJA we are privileged to welcome a nearly equal amount of female and male members, with 50% of women currently in leadership positions. But there is still so much we can do, every day.
Within our community, the Diversity Officer and the AIJA Women Network (AWN) lead the efforts to raise awareness and initiate dialogues around key issues such as the power and benefits of diversity and inclusion, tools to effectively advocate D&I efforts, allyship and mentorship of women in the legal profession.
Most recently, at our November Half-Year Conference in Dubai, a panel of women leaders in law and business shared the start of their professional journey and the opportunities, challenges and choices that they have faced along that journey allowing them to excel to their fullest potential. They also gave their perspective on the essential ingredients to harness the future success of women business leaders in the Middle East region.
The network has also mobilised itself in the most efficient manner to organise immediate support to those impacted by the war in Ukraine. Our female leaders are a stellar example of strength and dedication. These are only a few highlights of their actions:
Launching the AIJA initiative to connect our legal community with people needing help as a consequence of the war. Read more here.
Setting up the "Swiss aide to Ukraine Association" to deliver fast humanitarian help to Ukraine. You can contact them here.
As an independent board member of the foundation, raising awareness of the activities of SOS Bambini housing refugees crossing the border towards Romania. You can donate here.
Organising humanitarian aid with the help of local bar associations
Offering pro bono legal aid for refugees arriving in European countries
Would you be interested in becoming part of the AWN? Please send us an email at office@aija.org and we will connect you with the group. Men and women are welcome.
UP NEXT
Save the date for upcoming events by AIJA's Diversity Officer and the AWN.
AIJA Women Network webinar
05 April 2022 – 14:00 CEST
Parental bias webinar with Laura Langner, expert on parental career success and research leader and big data scientist with the University of Oxford.
Toolkit for change webinar
13 April 14:30 – 15:30 CEST
Diversity & Inclusion workshop with the Diversity Officer.
Half-Year May Conference
18 – 21 May 2022, Gothenburg
'Working Parents Making It Work: Overcoming Maternal and Paternal Bias' workshop with Chelsea Mullarney, DEI Partner and sponsor of BR's Women's Initiative and Parents Forum and Litigation Partner at Brown Rudnick. More information here soon.
60th Annual Congress
Thursday 25 August 2022, Singapore
Being an ally – Building a successful international business. Please see more here.
---
AIJA supports Ukrainian lawyers and their families
28 February 2022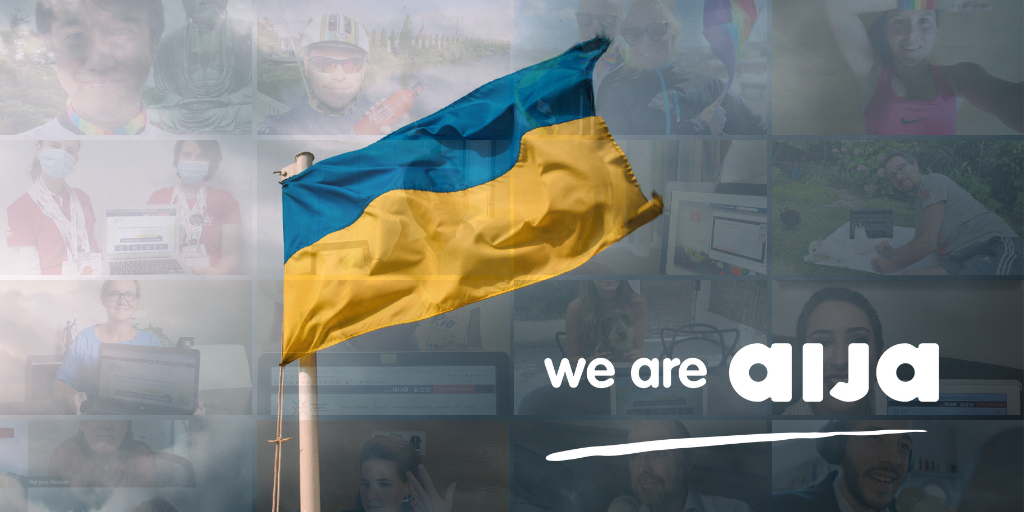 Following our joint statement with UIA on condemning Russia's invasion of Ukraine, AIJA desires to provide the entire Ukrainian civilian population, in particular all members of the Ukrainian National Bar Association, their families and friends with tangible help.
In case any of the bar members need assistance, s/he can contact AIJA at president@aija.org or office@aija.org and we will immediately forward the message to an AIJA member who will further assist, including finding respective advocates, notaries, or local humanitarian organisations.
Many AIJA members have already joined the special assistance programme to help the Ukrainian nationals, in particular the Ukrainian lawyers, and their loved ones.
---
UIA and AIJA condemn Russia's invasion of Ukraine
24 February 2022
The International Union of Lawyers (UIA) and the International Association of Young Lawyers (AIJA) note with deep dismay and great concern the military invasion of the territory of the State of Ukraine by the army of the Russian Federation that took place yesterday, a military aggression that we strongly condemn.

This unprovoked, armed attack on the Ukraine violates the Rule of Law, public international law, and the numerous agreements to which the Russian Federation is subject through international conventions and treaties, all of which recognise the sovereignty of States and safeguard the fundamental rights and freedoms of human beings, especially of civilian populations and that we, as international associations of lawyers, aim to protect.

Ignoring all diplomatic attempts at international mediation to avoid this grave outcome will surely claim a large number of victims and result in an unacceptable humanitarian catastrophe of great proportions, generating a dangerous instability in the world. Thus, we urgently request the Russian Federation to uphold the Rule of Law and respect the international conventions, treaties, accords and principles which it has previously ratified and to which it has previously agreed to be bound. We further entreat the Russian Federation to reconsider, immediately cease all hostilities, and order the peaceful withdrawal of its troops from the sovereign territory of the State of Ukraine, thereby returning to the world the peace in which all human beings desire to live.

We extend our full support to the entire Ukrainian civilian population, especially those who are in the invaded zones in which the Russian military aggression is currently taking place. We also express, in these terrible moments, our unconditional support to all members of the Ukrainian National Bar Association, to our individual organisation members, their families, and their friends, wishing with all our might that the barbarism and disaster that an armed conflict always generates cease immediately, thus avoiding more suffering than that already caused and returning to normality and understanding. As associations actively engaged for many years in bringing together lawyers from different countries, including both Ukraine and Russia, we urge that violence give way to dialogue, aggressiveness to calm, conflict to diplomacy, in defence of the Rule of Law and fundamental values and rights, all of which we protect and today are in grave danger.

The international community of lawyers stands with the Ukrainian nation!
| | |
| --- | --- |
| | |
---
The 12th Edition of the Day of the Endangered Lawyer - Colombia
18 January 2022

The 24th of January marks the annual International Day of the Endangered Lawyer. This day is a call to bring attention to the situation of lawyers from all around the world, who have been harassed, silenced, pressured, threatened, persecuted, tortured, as well as murdered and often disappear. The reason for such brutal treatment is simply being committed to their professional obligations and helping those in need.
Why the 24th of January? The date has been chosen as a memorial day towards four trade union lawyers and a co-worker, who were killed on 24 January 1977 in their office in Madrid for only doing their job.
The Day of the Endangered Lawyer has been founded in 2009, while its first edition was organised in 2010. Since then, the Day of the Endangered Lawyer focused on the situation and threats to lawyers in such countries as Honduras, Egypt, Turkey, China, Pakistan and Azerbaijan. The year 2022 brings attention to the situation of Colombian lawyers for the second time.
The Observatoire International des Avocats en Danger (OIAD) recently issued the report on Colombia illustrating threats that lawyers there have to face every day. The report lists the number of concrete cases of lawyers and human rights organisations, which were prosecuted for actions taken towards defending human rights in the past years. In order to defend the Colombian human rights lawyers in this report 10 demands and recommendations have been set, among others calling the Colombian state to:
- comply with the United Nations Basic Principles on the Role of Lawyers
- urgently address the many attacks on human rights lawyers and guarantee their free and independent exercise of their professions, in accordance with Principles 16 and 18 of the U.N. Basic Principles on the Role of Lawyers
- conduct impartial, independent, and effective investigations into, and, where appropriate, seek prosecutions of the perpetrators of, crimes against human rights lawyers, to bring an end to impunity.
This year, AIJA has joined the coalition in recognising the Day of the Endangered Lawyer along with other 27 organisations.
To learn more about the Day of the Endangered Lawyer, please visit the website here.
To find out more about the situation in Colombia, please read the full report here.
---
Load more