German Speaking Regional Meeting – SCILL seminar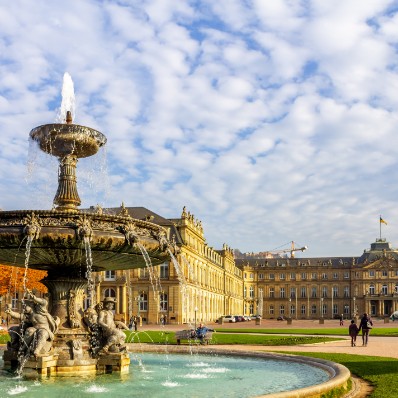 Stuttgart
29 April - 01 May 2021
Add to Outlook / iCal calendar Add to Google calendar
---
Die Tradition des deutschsprachigen Regionaltreffens geht weiter. Dieses Mal in Deutschland, genauer gesagt in Stuttgart, der stressfreisten Stadt der Welt! Wie auch in der Vergangenheit werden wir auch in diesem Jahr ein spannendes Thema aus dem Anwaltsalltag abseits der rechtlichen Themen wählen, diesmal gemeinsam mit der SCILL-Commission. Details folgen noch, das OC hast schon viele Ideen, ist aber natürlich auch noch offen für Anregungen.
Die Region Stuttgart liegt im Herzen Europas und ist einer der bedeutendsten und erfolgreichsten Wirtschaftsstandorte Europas. Global Player sind hier genauso beheimatet wie innovative kleine und mittelständische Unternehmen. Ein idealer Treffpunkt für Wirtschaftsanwälte aus aller Welt. Aber auch an Kultur- und Freizeitangeboten hat Stuttgart viel zu bieten: Ob Opernhaus, Staatsgalerie, Kunstmuseum oder die Weißenhofsiedlung – Für jeden Geschmack ist etwas dabei. Und die großen Museen von Daimler und Porsche stellen eindrucksvoll unter Beweis, dass Stuttgart die Stadt der Tüftler und Denker ist. Auch wenn die Schwaben als besonders sparsam gelten, lässt es sich in Stuttgart bestens shoppen und genießen. Für den Samstag ist ein Besuch auf dem Cannstatter Frühlingsfest mit Bierzelt, Göckele (=Brathähnchen) und Auf-den-Bänken-Tanzen geplant. Bringt also Dirndl und Lederhosen mit!
English version
The tradition of the German speaking Regional Meeting sets to continue!
This time the seminar will take place in Stuttgart with the collaboration of the SCILL-Commission. Similar to previous editions, we will choose an exciting subject from the lawyers' daily routine, beyond legal topics. Details are yet to come and we remain open to suggestions.
The city of Stuttgart lies in the heart of Europe and is one of the continent's leading business locations. Many global players and SMEs have their headquarters here in Stuttgart, making it an ideal meeting point for business lawyers from all around the world.
Stuttgart has a vast array of cultural activities on offer: the opera house, the state gallery, the art museum, the famous Weissenhof Estate, the international showcase of the style of modern architecture. As well as the big museums of Mercedes-Benz and Porsche, which showcase Stuttgart's innovation and creativity.
Even though Swabians are mainly known for their thriftiness, Stuttgart is the perfect shopping destination. We have planned a visit to the Cannstatter spring fair on Saturday with beer tent, broiler ("Göckele") and some dancing on the benches. So come along with your Dirndl and Lederhosen!
---
AIJA Commissions

Skills, Career, Innovation, Leadership and Learning (SCILL)
---
Become a sponsor
If you would like to receive more information about the sponsorship opportunities for this event, please fill out the form* and we will contact you in the coming days.
* Filling out this form does not obligate you to become a sponsor.
---
Organising Committee
Milena CHARNITZKY
Rittershaus Rechtsanwälte Partnerschaftsgesellschaft mbB (GERMANY)
Friederike HENKE
Buren N.V. (NETHERLANDS)
Sara IANNI
VISCHER Ltd. (SWITZERLAND)
Christian RITSCHKA
DORDA Rechtsanwälte GmbH (AUSTRIA)
Rebekka STUMPFROCK
AVANTCORE Rechtsanwälte (GERMANY)