AIJA News
New AIJA President Wants To "Spice Up Your Life!"
27 October 2017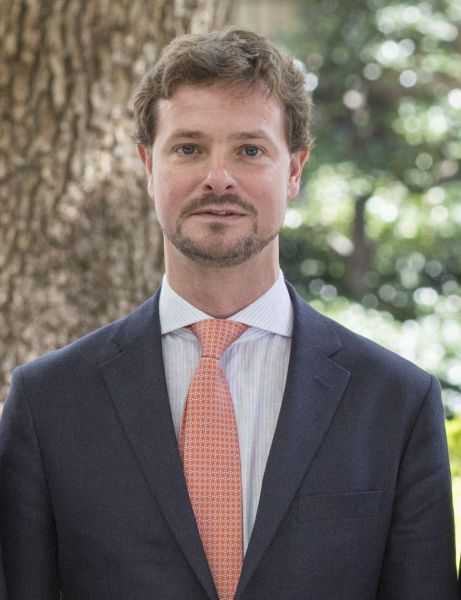 Newly elected AIJA President Wiebe de Vries may have grown up in the family bookshop but the 2004 graduate from the University of Amsterdam plans to shake things up in his upcoming presidential year.
AIJA needs to be "more global" and maintain its "quality", says de Vries. In the coming year, he intends to: "challenge our members to keep our high quality as a standard which sets us apart from other international organisations. I have been to a couple of events hosted by other organisations in my year as First Vice President, and in comparison we are really doing a very good job. We must however remain ambitious, critical and keep an open eye for improvements."
One improvement he has in mind is to make AIJA more accessible to members around the world. Having recently returned from the IBA conference in Sydney, "it was clear that we should be able to service members in Australia, New Zealand and anywhere in that region much more", he says. "Tokyo was a great move in that direction and I believe through holding such kind of events we attract membership and share the AIJA life with more people around the globe. Obviously this also applies to the Americas, and maybe the most challenging of continents for AIJA to grow: Africa."
Due to the 45-year-old age limit, says de Vries, "We are the only international legal organisation that loses members every anniversary, which means that we must continue to improve, innovate, keep being attractive to current and new members and make sure we as AIJA members are all ambassadors for AIJA."
Born and raised in Haarlem, between Amsterdam and the Dutch coast, de Vries moved to Leiden to study civil law, later combining with tax law in Amsterdam. He first worked as a tax lawyer with a big four firm, before joining Dutch law firm Van Doorne in 2005. He attended his first AIJA seminar in 2008, and soon joined the organising committees of a tax seminar in Amsterdam and the annual congress in Amsterdam in 2011.
"The best part of AIJA is that there is actual real interest in each other", he says. "I always see it as a small village that is built up wherever we go… Both professionally and personally members are aware what is going on and help each other to further their professional careers and enjoy life together."
That has certainly been de Vries' experience. In 2014, he left Van Doorne to set up his own successful tax boutique firm. Now AIJA President, his message for members is: "Spice up your life, both professionally and privately, and come to AIJA as much as you can!"
---
'Sayounara' Tokyo, and Thanks for the Memories
27 October 2017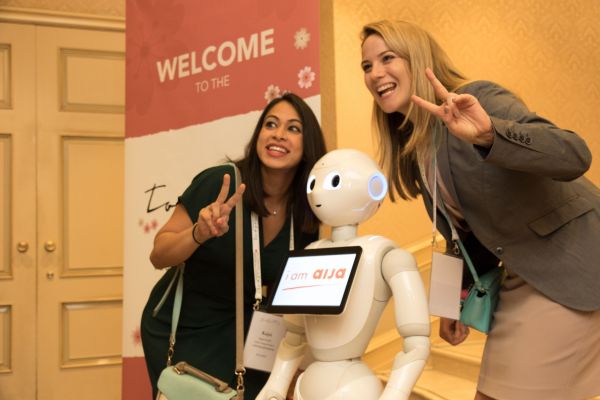 The biggest AIJA event ever held outside of Europe recently came to a close: the annual congress in Tokyo. Unsurprisingly it attracted a huge number of members, eager to visit arguably the world's most advanced megacity. And the 500 participants in Tokyo were further immersed in technology with the overarching theme of the Congress: AI and Innovation.
The AI theme, covered by every commission, "was a new element of the Congress", explained Giuseppe Marletta, Association Manager at AIJA. "Usually every commission organises a session independently on hot topics in their legal practice. But this new way of organising it ended up being a real success. It was useful to 'tell the story' and give the whole congress an integrated content, looking at the same issue from a number of perspectives."
Other highlights included the Japanese food hospitality dinner ("the best way to discover Japanese culture from the inside", said Giuseppe), an e-book project looking at how young lawyers perceive and work with AI today, and top-rated sessions including 'The Smart Lawyer Leverages AI: Practical Thoughts and IT Tools For Lawyers'. The Congress mobile app was also rated as 'very useful' by most attendees.
As ever, the number one reason for attending (cited by 85% of attendees who responded to the Congress Survey), was 'networking and exchange of views'. The global friendships and contacts made in Tokyo will benefit members' careers for many years to come. The general organisation of the congress was rated excellent or good by 96% of attendees, while almost 99% said they would be likely to attend another AIJA Annual Congress in the future.
The Tokyo Congress also signalled AIJA's intention to grow globally, and attract Asian members. "A strong presence of Japanese lawyers as well as Asian participants confirmed a strong interest for AJIA in Asia", confirmed Giuseppe.
"A special thank you goes to the Japanese hosts who made us all experience Japan in an amazing way", continued Giuseppe. "Everybody was so impressed and the location gave this congress a very unique flavour. I'd also like to thank all participants for their active participation and the AIJA team who worked hard two years prior to the event and during a busy week in Tokyo and ensured a smooth and enjoyable event for everyone (always with a smile!)." And given they had all the delights of Tokyo – and the AIJA congress – at their disposal, there was a lot to smile about.
---
Sail Away with AIJA to Bilbao
27 October 2017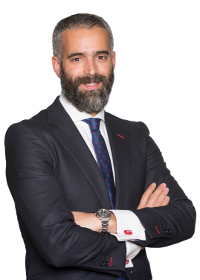 Is your knowledge of marine & energy companies insolvency 'all at sea'? Then the recent cross-commission seminar in Bilbao could have been for you. The Seminar is the result of the shared efforts of three different AIJA Commissions – Transport Law, Insolvency Law and Energy Law – and was devoted to the topic marine & energy companies insolvency.
Following the financial crisis in 2008, both the maritime and energy sectors have been seriously and adversely affected, resulting in remarkable cross-border insolvencies of large or leading corporations in the field.
"The international legal practice has been shocked in the last few years with international insolvency cases that have affected both energy and maritime companies around the globe", explains Javier Zabala, Member of the Organising Committee. "The implications, difficulties and need of professional advice are huge and the different approaches that we are seeing from the different jurisdictions require an overview to provide legal practitioners the full picture of what is going on and how to better assist either the debtors or the creditors´ needs". The Organising Committee has therefore put a lot of effort into booking speakers, both from the private practice and from the industry, who have the relevant experiences with in-depth knowledge.
The modernisation of the Bay of Biscay makes Bilbao - a metropolis of more than one million people - a very suitable setting for this seminar. "In the heart of the Basque Country, Bilbao is a cosmopolitan, open, welcoming, lively, elegant and modern city just a few kilometres from the sea", says Javier. "It is a natural destination for congresses and conventions thanks to, amongst other things, its international reputation in trade, shipping and industry." The event was also strongly supported by different Basque institutions such as Deusto University, the Basque Government, the Port Authority, and many others.
Alongside a "truly interesting scientific program" there was also be "an epic bunch of social activities that left all participants with a smile from ear to ear on their way back home", enthuses Javier. This included a cocktail reception at the Port Authority Palace, a 'pintxos' food tour of the city, a river cruise, and a guided tour of the amazing Guggenheim Museum.
Dinner at the "Sociedad Bilbaina", a well-known and respected English social club in the city, was also followed by a live rock concert in the club´s discotheque. If the maritime topic failed to leave you with 'sea legs', then Javier's hospitality certainly didn't!
---
Career Barriers for Women Highlighted in Tokyo
27 October 2017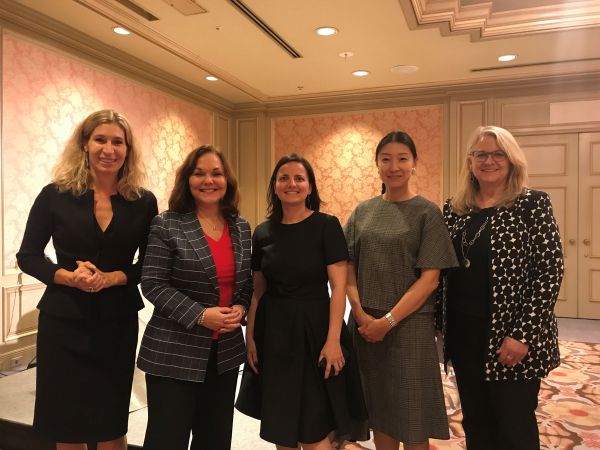 For many who attended the Tokyo conference, the prestigious Voice of the Profession session on Women in Law & Innovation was a stand-out event.
The impact of innovation on the future of the legal profession and gender equality in leadership positions is a topic of crucial importance to young lawyers who are building careers and families simultaneously. With many firms experiencing intake rates of 50% women or more, limiting their career advancement would cause a distinct competitive disadvantage.
The keynote speaker Tsukiko Tsukahara, vice-president of Catalyst Japan, a leading global non-profit organisation accelerating progress for women through workplace inclusion, covered everything from how the gender landscape differs in the US versus Japanese Law firms to how inclusion predicts rates of innovation (clue: there is a strong link). She also provided her top takeaways for audience members to advance their career, including "be an inclusive leader, challenge stereotypes in yourself and others", and "make this everyone's problem to solve." Additionally, Tsukiko pointed out that "gender diversity is not only women's issue but an issue for creating innovation." Regarding how inclusive leadership behaviours could result in innovation, she believes "inclusive leadership behaviours realize psychological safety in people's minds that enable people, team, citizenship and individual innovation. Everyone, not only the people at the very top of the organisation, can role model as an inclusive leader, yet you can start with EACH behavior to influence people and create an inclusive workplace."
In the following interactive debate that was moderated by Orsolya Görgényi, Immediate Past President of AIJA, Partner at Szecskay in Budapest, some strong views exchanged regarding gender inequality. Sara Sandford, Immediate Past Chair of International Law and Owner Garvey Schubert Barer, US, commented on her previous experiences of working in Japan: "When I first worked in Japan, I definitely experienced different treatment than men. In fact, I was told they wanted to hire me but needed to get permission from others to hire a woman, because they had recently hired two other women and maybe the partners didn't want so many women."
While being clear that women are no more or less innovative than men, "I absolutely believe that adding diversity increases the quality of what we do because more people with varied perspectives bring varied ideas", said Sara. "Also, diversity of our firm's lawyers and staff allows our firm to relate to different clients, bringing greater understanding of a clients' goals and objectives." During the debate Hilarie Bass, President of the American Bar Association, Partner of Greenberg Traurig in Miami spoke on the unconscious bias and the ABA's initiatives in gender issues.
The second keynote speaker of the night, Dana Denis-Smith, added: "in the US and the UK, countries with a longer history of women being allowed to practise law, the challenge is one of leadership... Leading by example and getting women involved with the regulators, in the international debate and generally with policy making is important in order to shape the future landscape of the profession."
Taking inspiration from the surroundings, Dana believed that maintaining equality and diversity is akin to tending a formal Japanese garden: "equality can easily fall out of shape at the drop of a stone. So we must continue to pursue equality but recognising its fragility."
---
AIJA's Half Year Conference (HYC) to Visit the Land of Game of Thrones
27 October 2017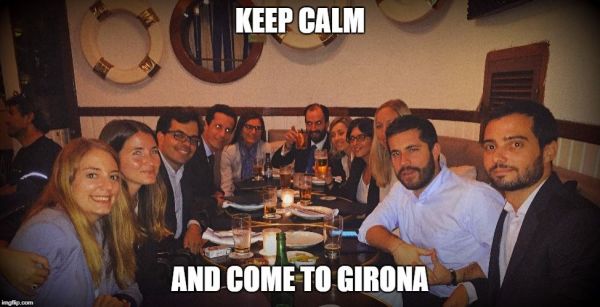 The AIJA November Half Year Conference (HYC) will deal with two striking topics "Crowdfunding & Alternative Financing" and "Film Industry Law", in an equally striking destination: Girona, Spain.
The seminar programme, jointly hosted by the Banking, Finance and Capital Markets Commission the Intellectual Property, Technology, Media, and Telecommunications Commission and the M&A and International Business Law Commission (among others), tackles innovative topics and emerging trends.
"The economy is changing on an ongoing basis, and the models of economy and sources of financing are not an exception", explains Cristina Hernandez-Marti, Co-chair of the OC. "Nowadays, alternative financing including crowdfunding is an essential topic to discuss and understand." The seminar will include sessions on fintech and regulated financial entities, angel investors, and accelerators vs incubators.
The Film Industry Law seminar will focus on cinematographic rights, from an IP perspective and private law intricacies governing the copyright of the audio-visual work. "We intend to deal with the latest court decisions and new laws, not only from a European perspective", says Hernandez-Marti. "We thought Girona would be a great venue for hosting this topic after Game of Thrones was filmed in this city."
But Game of Thrones is far from Girona's only claim to fame. Rich in history, gastronomy and medieval architecture, it is an experience not to be missed. Girona is home to one of the best restaurants in the world and some of Spain's wildest coastal scenery is just half an hour away (la "Costa Brava").
"The HYC is one of the most cherished AIJA experiences for members", enthuses Pablo Vinageras, Co-chair of the OC. "It has a great scientific program but also highlights the substance of AIJA: networking opportunities through an enriching gathering of young lawyers."
"We are excited about showing Girona to AIJA and eager to show all the charm Girona has to offer to its visitors", says Vinageras. The social programme certainly aims to do just that, starting with a cocktail dinner at the private club "Casino of Girona" in the centre of Girona, founded in 1848. On Thursday, dinner will be served in Mas Marroc, owned by the world-renowned Roca Brothers (of Celler de Can Roca, the third best restaurant in the world). On Friday, local attorneys even open their houses to AIJA attendees to sample the local hospitality – "this is one of the best moments of the HYC, says Vinageras, "where a diverse melting pot of young lawyers get to know each other tasting local gastronomy and sharing AIJA's spirit". And finally on Saturday the closing dinner will be held in the breath-taking San Gregori Castle.
You don't have to be a Game of Thrones fan to enjoy this one! With around 200 lawyers expected to attend from around the world, the HYC in Girona will truly live long in the memory.
To register, please visit: www.aija.org/en/event-detail/361
---
Open Your Own Law Firm and Let It Grow
27 October 2017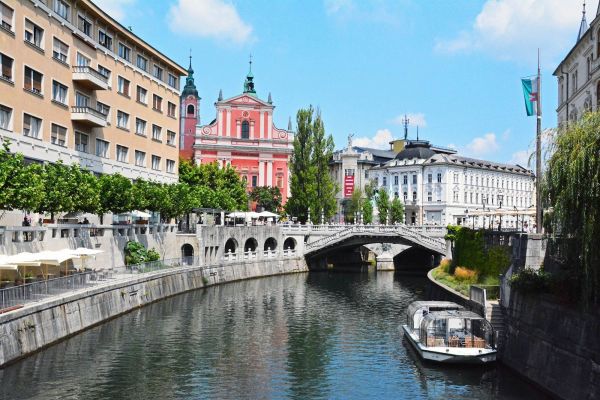 A recent joint seminar in Ljubljana, organised by the Skills, Career, Innovation, Leadership and Learning Commission (SCILL) and the Corporate Council Commission (CC), aimed to attract lawyers who like the idea of opening an independent practice. The location itself also attracted lawyers from Central and Eastern Europe and from ex-Yugoslavia, and purposefully mixed older alumni members with the younger AIJA intake.
"The programme was structured to provide business knowledge – preparing the business strategy, developing the market, etc. – with practical insights and the steps one needs to take", informs Maks Prokop, Local Organising Committee member.
The inclusion of older Alumni members also proved an unexpected bonus for some of the younger members, says Maks: "the main point of the seminar turned out to be the exchange of views and experiences and the sharing of tips and tricks. It was an interesting panel that, in my opinion, brought something useful to every participant."
For Agnès Proton, Alumni Member and AIJA Honorary Secretary General, this was the first AIJA seminar she had attended since 2015. "I realised how much I missed the very special atmosphere of the AIJA seminars where a maximum 50 people attend. They are more intimate, so you get to meet and exchange with all attendees", she says.
Those in attendance were able to share topics of interest, such as when and how to form a partnership, building up a clientele, attracting new potential clients while keeping current clients satisfied, and setting up an efficient network (both local and international). "Regarding networking, as a solo practitioner myself", says Agnès, "I made the point of demonstrating that 'solo' does not mean 'alone' and that networking is crucial. From that perspective I, along with other "oldies" who were speakers at this seminar, confirmed that joining AIJA had been the best move we had ever made in our legal careers!"
The mingling between young members and alumni made for a special event, says Agnes. "It really felt like there was no gap between newcomers and older members (like me), and I could see that everyone enjoyed equally the high quality of the scientific and social programs, the beautiful venue, the perfect organisation, and the warm welcoming from the locals." An optional food tour on the Saturday also proved a big success, she says.
"People visibly enjoyed the programme", agrees Maks, adding that friendly debates continued even throughout the coffee breaks. The location was a hit too. "People were positively surprised with Ljubljana and its energy – for a majority of attendees, this was their first time in Ljubljana. The atmosphere was great, and the whole group was very connected."
---
AIJA Supports Syrian Lawyers with English Courses
27 October 2017

For the past two years, AIJA has proudly sponsored English classes for Syrian refugees from the legal profession. The classes in Turkey are organised by ILAC, an association co-founded also by AIJA, aiming to empower lawyers, judges other legal professionals who had to flee their country because of the war.
"After the circumstances that took place in Syria, many lawyers and judges left Syria because of many tough reasons", explains Mazin Al-Balkhi, ILAC Syria Team Leader. "The idea was to start an English language course that to help many Syrian lawyers and judges to cope with the difficult circumstances, find new jobs in their fields, and ultimately contribute to rebuilding the legal system in Syria."
The location of the school - Gaziantep in Turkey – was chosen because of its high concentration of lawyers and judges. The participants were nominated by ILAC according to their legal qualifications in the field and a recruitment process for teaching which saw Ammar Abu Hemeda successfully apply.
"The results are good and we have achieved positive progress", informs Abu Hemeda."The number of students is increasing and we have had strong numbers until now. The goal is to reach an intermediate level by September 2017 so that we can begin with a new more advanced level providing advanced grammar and texts to achieve the mission of the program successfully."
The participants, aged between 20 and 49, and a mix of both men and women, are all lawyers, judges and legal activists. The course is divided into two main parts: general and academic English, and legal texts.
"The course helps the participants in improving their jobs and communicating and reading legal texts in English as much as they can", says Abu Hemeda."The course also helps them in keeping them up to date with the latest news in English language. The participants are keen to learn English in order to read more about European law hoping that they can participate in hammering out new laws in the future."
Amongst the many inspirational stories, the most remarkable one is Mr. Al Hassan's story, says Al-Balkhi. "Mr. Nasser Al Hassan is a judge from Homs, Syria, and he is 49 years old. He attended the classes regularly and showed great commitment to learn the language, although he has not dealt with it for 25 years! Amazingly he coped with the difficulties and achieved great success. He got a new and appropriate job in the legal field". He made it, he says, thanks to AIJA.
---
Load more