AIJA/UIA Seminar: Antitrust and Unfair Competition Developments Forum
Brussels
24 - 25 April 2009
---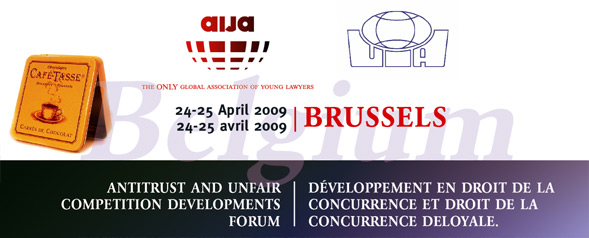 OBFG (for the French speaking Belgian attorneys) accreditation points 24 April : 6 points / 25 April : 2 points This seminar is also accredited by the Orde van de Vlaamse Balies The Competition Law Commission of UIA and the Antitrust Commission of AIJA with the support of LIDC decided to join forces of leading competition lawyers and organize a forum to discuss antitrust and unfair competition law developments and trends. The organizers invite all interested colleagues to join the discussion and exchange ideas.
The topics for the discussions will be:
The evolution of leniency and private enforcement (legislation and practices) in the EU and individual Member states
Enforcement rights versus rights of defense - how to balance the interests
Assessment of economics behind unilateral conduct, such as exclusionary abuse, predatory pricing, margin squeeze
The evolution of vertical relationships and the conflict of exclusive rights and competition claims
Unfair competition law in light of the implementation of the UCP Directive.The aim of UIA, AIJA and LIDC is to bring together distinguished experts of the European Commission, private practitioners and industry experts to lecture and debate via panel discussions the most relevant and up-to-date legislative developments and jurisprudence in the fields of the above specified topics.
The selection of the venue in Brussels, the capital of European Competition law, meant to connect local competition lawyers with colleagues from all over Europe and the World.
---
AIJA Commissions
---