2017 Half-Year Conference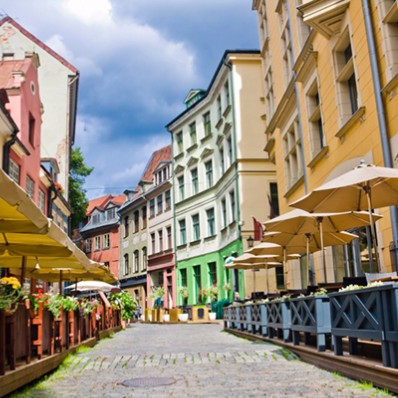 Riga
17 - 20 May 2017
---
The organizing committee for the Spring 2017 half-year Conference looks very much forward to welcome you to unexplored and captivating Riga which presents a fascinating mix of various traditions due to the location that historically has served and still serves as one of the gateways between cultures.
Riga, the capital of Latvia, is a modern city that has managed to retain its historical roots and remains green; it is clean and safe and is slowly becoming a desired destination with a reputation of a hidden gem. For a location so accessible, the city is still relatively unknown to most.
Riga is indeed a treasure to behold – the Old Town, combining history and lively entertainment, numerous parks, newly built National Library and Latvian National Museum of Art – all of these are in a walking distance from the envisioned site of the conference. The Old Town, with its enchanting modern medieval cityscape, architecture that spans tastes and cultures of a millennium of foreign influences, and proportions comfortably nestled between the boring and the overwhelming, with its abundance of bars and restaurants, has plenty to offer in terms of inspiration.
The Old Town, site of the conference and conference hotel is easily accessible from Riga International Airport, which is located just 10 km away from the city center and you can book a standard room at the 5 Stars Radisson Blu Latvija for 99 €.
Social program will be just wonderful! Choosing the best places was a difficult task, as there are too many excellent places to visit, but a great mixture of venues – ranging from the rooftop terrace, best-rated restaurant next to the Baltic Sea and amazing place for the gala dinner – have been chosen and secured. On top of that the home-hospitality dinner is experience not to be missed, where in AIJA best traditions local lawyers will open their doors to show true hospitality to the delegates.
Come and join us on this captivating journey! The HYC offers two seminars:
The start-up world – From seed to crop: current trends and developments
Environmental & energy transactions – how to conduct / avoid litigation?
Local lawyers from Baltic Countries are granted the lowest AIJA Member rate at early bird.
---
AIJA Commissions

Antitrust
Banking, Finance and Capital Markets
Commercial Fraud
Corporate and M&A
In-house Counsel
Environmental and Energy Law
Insolvency
Intellectual Property, Technology, Media, and Telecommunications
International Arbitration
International Business Law
Labour Law
Litigation
International Private Clients and Family Law
Real Estate
Skills, Career, Innovation, Leadership and Learning (SCILL)
T.R.A.D.E. (Trade, Retail, Agency, Distribution, E-commerce)
Tax Law
Transport Law

---

Full programme The start-up world - From seed to crop: current trends and developments

Wednesday 17 May 2017

Registration at the hotel Radisson Blu Latvija Conference & Spa Hotel

Public Speaking Coaching

at Gutenbergs

Welcome Cocktail

, "Gūtenbergs" rooftop terrace sponsored by Legaroo

Optional get-together

dinner

Thursday 18 May 2017

Registration at the hotel Radisson Blu Latvija Conference & Spa Hotel

SCILL Coaching session breakfast

Chris Jensen:

Founder, Legal Writing Coach


Legal Writing - Three Key Skills

In this short workshop, we will briefly discuss three common problem areas in legal writing: tone, usage, and style.

AIJA welcome address and introduction to the seminar

David Frølich

, Lund Elmer Sandager, Denmark, President of AIJA

Michael Lind

, Wolf Theiss, Austria, OC

Nicolas Mosimann

, Kellerhals Carrard, Swizerland, OC

, Heuking Kühn Lüer Wojtek, Germany, OC

The Start-up World – Current Trends and Developments on the European Market

Speaker:

Cristobal Alonso

, Startup Wise Guys (Estonia)

Starter kit for start-ups - The suitable legal setting for your business idea: basic considerations, key drivers and corporate structure

Moderator:

, Heuking Kühn Lüer Wojtek (Germany)

Speakers:

Caroline Conrad-Behr,

microsTECH AG (Switzerland)

Roberta Draper

, Kingsley Napley LLP (United Kingdom)

Patrik R.Peyer

, Niederer Kraft & Frey (Switzerland)

Bureau Meetings / Extended Bureau Meetings

Coffee Break
sponsored by Castren & Snellmann

Investment and Financing Strategies for Start-ups: How to fund your business idea – an Overview

Speaker:

Karim Maizar

, Kellerhals Carrard (Switzerland)

Investors at the gate: Do's and Don'ts for start-ups when negotiating term sheets with investors

Moderator:

Karim Maizar

, Kellerhals Carrard (Switzerland)

Speakers:

, Garrigues (Spain)

Milena Prisco

, Studio Previti Associazione Professionale (Italy)

, Monard Law (Belgium)

Lunch
sponsored by WKB Wiercinski, Kwiecinski, Baehr

Venture capital / private equity - investors vs founders: Who is the boss?

Moderator:

Michael Lind

, Wolf Theiss (Austria)

Speakers:

, Gómez-Acebo & Pombo Abogados (Spain)

Tyshanti de Jonge

, Loyens & Loeff (the Netherlands)

Moritz Maurer

, Niederer Kraft & Frey (Switzerland)

Bureau Meetings / Extended Bureau Meetings (continued)

Protecting and marketing the crown jewels: IP right strategies for start-ups

Speakers:

Nicolas Mosimann

, Kellerhals Carrard (Switzerland)

, Porzio, Rios & Ascociados (Chile)

Ingrida Karina-Berzina

, Cobalt (Latvia)

Christoffer Bjerknes

, Simonsen Vogt Wiig (Norway)

Coffee Break
sponsored by Castren & Snellmann

Start-up 4.0 – FinTechs and the Online World

Speakers:

Martin W. Viciano Gofferje

, Gleiss Lutz (Germany)

Natalia Danilova

, Alrud (Russia)

Christian Leuenberger

, Pestalozzi (Switzerland)

End of day one of scientific program

Opening night

– dinner in Jūrmala, 36.līnija Restaurant

Friday 19 May 2017

Registration at the hotel Radisson Blu Latvija Conference & Spa Hotel

Corporate Counsel Breakfast

Human Rights session - Fake news: an insidious threat to human rights
Moderators:
, Loyens & Loeff (Netherlands)
, RA Christian Presoly (Liechtenstein)
Speakers:
Asoc. Prof. Artūrs Kučs, judge at Constitutional Court of Latvia and associate professor at University of Latvia (Latvia)
Inga Spriņģe, investigative journalist at "The Baltic Center for Investigative Journalism Re:Baltica" (Latvia)
Rita Ruduša, executive director at the Baltic Centre for Media Excellence (Latvia)

Management and employee incentive programs for start-ups

Speakers:

Ernesta Žiogienė

, Primus (Lithuania)

Constant van Tuyll van Serooskerken

, VanDoorne (the Netherlands)

Esther Goldschmidt

, Altius (Belgium)

Advising start-ups – a profitable business for law firms?

Moderator:

Florian Gunz Niedermann

, Walder Wyss (Switzerland)

Speakers:

, PHH Prochaska Havranek Rechtsanwälte GmbH

(Austria)

, Friedrich Graf von Westphalen (Germany)

Coffee Break
sponsored by Pestalozzi

Successful start-ups in the Baltics – founders vs business angels
Case studies and interactive panel discussion
Moderator:
Alice Salumets , Rödl & Partner (Estonia)
Speakers:
Ivars Stankēvičs, Creamfinance - Head of Legal (Latvia)
Marti Soosar, SPORT ID (Estonia)
Rita Stražinska, Bio2You (Latvia)

SCILL Coaching session lunch

sponsored by Bratschi Wiederkehr & Buob

Chris Jensen:

Founder, Legal Writing Coach

Legal Writing-Plain English

In this short workshop, we will briefly discuss style – the most common problem in legal writing. Using samples from practice, participants will learn how to transform their style from "legalese" to plain English in two steps: (1) cut words/syllables and (2) simplify sentences.

End of day two of scientific program

Home Hospitality

: local lawyers invite the world

After party

at Club "Coyote Fly" sponsored by

Omega Corporate Services

Saturday 20 May 2017

Registration at the hotel Radisson Blu Latvija Conference & Spa Hotel

Corporate Governance Meeting

Optional Activity,

Riga Old City Treasure Hunt (optional)

A competition between AIJA HYC participants. The rules are simple: break off into teams, follow a Riga story or legend, search the beautiful area of Old City, obtain the most points and win a special prize. Click on the flyer below for more information.

Gala Dinner at House of the Blackheads (Melngalvju nams) sponsored by Latvijas Balzams AS

Dresscode: elegant. We will be glad to see elements from your country incorporated in your dress

Environmental & energy transactions - how to conduct / avoid litigation?

Wednesday 17 May 2017

Registration at the hotel Radisson Blu Latvija Conference & Spa Hotel

Public Speaking Coaching

at Gutenbergs

Welcome Cocktail

, "Gūtenbergs" rooftop terrace sponsored by

Legaroo

Optional

get-together dinner

Thursday 18 May 2017

Registration at the hotel Radisson Blu Latvija Conference & Spa Hotel

SCILL Coaching session breakfast

Chris Jensen

: Founder, Legal Writing Coach


Legal Writing - Three Key Skills

In this short workshop, we will briefly discuss three common problem areas in legal writing: tone, usage, and style.

AIJA welcome address and introduction to the seminar

David Frølich

, Lund Elmer Sandager, Denmark, President of AIJA

Agnese Hartpenga

, Tark Grunte Sutkiene, Latvia, OC

Eoin Cassidy

, Mason Hayes & Curran, Ireland, OC

Bernd Hauck

, Kellerhals Carrard, Switzerland, OC

Setting the scene: what makes disputes in the field of environmental and energy different?

Eoin Cassidy

, Mason Hayes & Curran (Ireland)

War stories on disputes in environmental and energy cases

Moderator:

Alex Fox

, Penningtons Manches (United Kingdom)

Speakers:

Tobias Kohler

, Rödl & Partner (Lithuania and Belarus)

, Haymann von Erlach Attorneys (Switzerland)

, Enyo Law (United Kingdom)

Niels Jørn Friborg

, Hafnia Law Firm (Denmark)

Alexander Amann

, Schwärzler Rechtsanwälte (Liechtenstein)

Michael Kariya

, Blakes (Bahrain and United Kingdom)

Bureau Meetings / Extended Bureau Meetings

Coffee Break
sponsored by Castren & Snellmann

Warranties and Indemnities in Environmental & Energy Deals

Moderator:

, Benvalor (The Netherlands)

Speakers:

Emanuel Dettwiler

, Kellerhals Carrard (Switzerland)

, Friedrich Graf von Westphalen (Germany)

Lunch
sponsored by WKB Wiercinski, Kwiecinski, Baehr

Language and different legal concepts as obstacles - common law principles in E&E contracts under continental European law

Bernd Hauck

, Kellerhals Carrard (Switzerland)

Bureau Meetings / Extended Bureau Meetings (continued)

Can insurance mitigate the risk of a E&E transaction?

Moderator:

Alexandre Malan

, Belot Malan & Associés (France)

Speakers:

Laura Manz

, Kellerhals Carrard (Switzerland)

Delphine Hauguel

, BOPS Avocats (France)

Energy, licensing, consent and support schemes - disputes with States and public authorities. Avoiding them and litigating them

Moderator:

Christian Thomas

, Hoffman Liebs Fritsch & Partner (Germany)

Speakers:

Dorota Zabłocka

, Peter Nielsen & Partners (Poland)

Maria Gritsenko

, Bryan Cave (United Kingdom)

Coffee Break
sponsored by Castren & Snellmann

When negotiations fail - what in-house counsels take into account before starting an arbitration or litigation

Moderator:

, Siegel-Goldshmidt & Leventhal (Israel)

Speakers:

Evita Goša

, Cemex (Latvia)

Rytis Valūnas

, Klaipedos Nafta (Lithuania)

Māris Onževs

, Latvijas Gāze (Latvia)

End of day one of scientific program

Opening night

– dinner in Jūrmala, 36.līnija Restaurant

Friday 19 May 2017

Registration at the hotel Radisson Blu Latvija Conference & Spa Hotel

Corporate Counsel Breakfast

Human Rights session - Fake news: an insidious threat to human rights
Moderators:
, Loyens & Loeff (Netherlands)
, RA Christian Presoly (Liechtenstein)
Speakers:
Asoc. Prof. Artūrs Kučs, judge at Constitutional Court of Latvia and associate professor at University of Latvia (Latvia)
Inga Spriņģe, investigative journalist at "The Baltic Center for Investigative Journalism Re:Baltica" (Latvia)
Rita Ruduša, executive director at the Baltic Centre for Media Excellence (Latvia)

Compliance and governance pitfalls leading to litigation

Speakers:

, Brown Rudnick (United Kingdom)

Alexander von Saucken

, Amelung Albrecht (Germany)

Matthias Gstoehl

, LALIVE (Switzerland)

What is the damage? Quantifications of damages, M&A purchase price adjustment and the application of liquidated damage provisions

Moderator:

Hans-Georg Schreier

, Loschelder Rechtsanwälte (Germany)

Speakers:

Gian-Andrea Caprez

, Vischer AG (Switzerland)

Brandusa Tataru-Marinescu

, Kingsley Napley (United Kingdom)

Jerzy Sawicki,

DZP (Poland)

Coffee Break
sponsored by Pestalozzi

Alternative dispute resolution mechanisms in E&E contracts - can they avoid or resolve disputes?

Moderator:

Nicoletta Kröger

, Corvel (Germany)

Speakers:

Valeriya Kirsey

, Allen & Overy LLP (United Kingdom)

, RA Dr.Christian Presoly (Liechtenstein)

Justyna Szpara

, Łaszczuk i Wspólnicy sp.k. (Poland)

Donata Freiin von Enzberg

, Taylor Wessing (Germany)

SCILL Coaching session lunch

sponsored by Bratschi Wiederkehr & Buob


Chris Jensen

: Founder, Legal Writing Coach

Legal Writing - Plain English

In this short workshop, we will briefly discuss style – the most common problem in legal writing. Using samples from practice, participants will learn how to transform their style from "legalese" to plain English in two steps: (1) cut words/syllables and (2) simplify sentences.

End of day two of scientific program

Home Hospitality:

local lawyers invite the world

After Part

at Club "Coyote Fly" sponsored by

Omega Corporate Services

Saturday 20 May 2017

Registration at the hotel Radisson Blu Latvija Conference & Spa Hotel

Corporate Governance Meeting

Optional Activity

, Riga Old City Treasure Hunt (optional)


A competition between AIJA HYC participants. The rules are simple: break off into teams, follow a Riga story or legend, search the beautiful area of Old City, obtain the most points and win a special prize. Click on the flyer below for more information.

Gala Dinner at House of the Blackheads (Melngalvju nams) sponsored by Latvijas Balzams AS

Dresscode: elegant. We will be glad to see elements from your country incorporated in your dress
---
Practical information
Organising Committee
Eoin CASSIDY
Mason Hayes+Curran (IRELAND)
Elina GIRNE
Squalio (LATVIA)
Agnese HARTPENGA
TGS BALTIC (LATVIA)
Bernd HAUCK
Kellerhals Carrard Basel KlG (SWITZERLAND)
Martin IMHOF
Heuking Kühn Lüer Wojtek PartmbB (GERMANY)
Michael LIND
Raiffeisen Holding Niederösterreich (AUSTRIA)
Nicolas MOSIMANN
Kellerhals Carrard (SWITZERLAND)
Kristine ZVEJNIECE
Rödl & Partner Legal ZAB (LATVIA)