Consumer goods and services – from global production to local consumption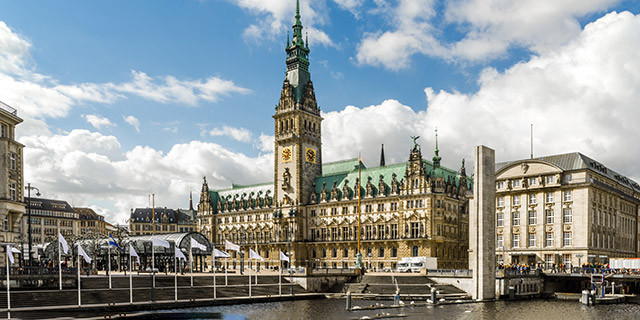 Hamburg
27 October
17:00 CEST

- 29 October 2022

13:00 CEST

Add to Outlook / iCal calendar Add to Google calendar REGISTER NOW
---
Moin and welcome to Hamburg! The largest non-capital city in the European Union is not only home to Europe's third largest seaport, but also the commercial center of Northern Europe. The vibrant city holds large representations of multinational producers of consumer goods and services – for example of the foods and beverage, fashion, and cosmetics industry – as well as large retail organisations and advertising agencies. It is therefore the perfect spot to host a seminar that touches upon current IP and tech related aspects following consumer goods and services along their path from global production to local consumption.
The academic program will be dedicated to questions around building and managing consumer trust when producing and selling goods and services in a globalised world. In sessions focused on advertising trends, labeling requirements, and new developments in the constant fight against counterfeiting, we will discuss how issues like climate awareness, social movements or ethical production standards influence and affect the way goods or services are presented to local consumers. Also, we will shed some light on recently introduced compliance requirements concerning the global organisation of supply chains, paying particular respect to the business perspective as well as the needs and concerns of In-house counsel. Consumer goods and services regularly aim at reaching large audiences. Hence, platforms, legal tech and AI are playing an ever increasing role for managing large numbers of similarly laid out demands, which still differ greatly in the details. We look at how new technological solutions enable businesses to stay on top of such cases and help them handle the arising (legal) issues in connection with consumer goods and services. Finally, our seminar comes full circle (from local to global to meta) and closes with an outlook on one of the newest frontiers: the Metaverse!
The seminar will be hosted by the IP/IT & TMT Commission in cooperation with the In-house Counsel Commission.
Of course, there will be an attractive social program: Get a scent of the history of global trading by taking a boat tour through the harbor and the old warehouse district. Join us for a lovely dinner at the world-famous Elbphilharmonie or a tour around the sinful mile, the famous Reeperbahn, with its throbbing nightlife. Rumor also has it that the hard-nosed can enjoy a fish bread on the "Fischmarkt" on Sunday morning at 5 am (whether you get up early or prefer to pull an all-nighter will be at your own discretion).
---
AIJA Commissions

In-house Counsel
Intellectual Property, Technology, Media, and Telecommunications

---

Event fees
+ VAT if applicable
<= 2022-09-22
> 2022-09-22
<= 2022-10-13

---

AIJA Member < 35
495,00 €
595,00 €
695,00 €
AIJA Member >= 35
545,00 €
645,00 €
745,00 €
Non AIJA Member < 35
595,00 €
695,00 €
795,00 €
Non AIJA Member >= 35
665,00 €
765,00 €
865,00 €
Speaker
495,00 €
595,00 €
695,00 €
Local lawyers
495,00 €
595,00 €
695,00 €
In-House Counsel
150,00 €
225,00 €
300,00 €

---
REGISTER NOW
---
---
Become a sponsor
If you are interested in becoming a sponsor, please fill out the form*.
You can download the sponsorship brochure after submitting this form.
* Filling out this form does not obligate you to become a sponsor.
---