AIJA Americas Meeting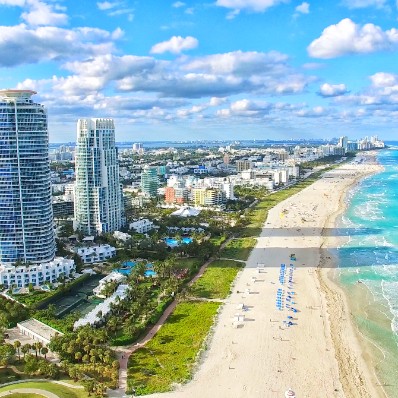 Miami
28 March 2022
---
Join us for the AIJA's Americas Meeting to take place in Miami during Monday 28 March 2022. Our vibrant host city is ready to welcome us back for an AIJA style friendly learning and networking moment. Our event will be jointly organised with the University of Miami Law School. Thanks to their generous support, attendance will be free of charge.
This year, the future of the legal profession is the focus of many discussions across our different platforms from podcast to webinars to the Annual Congress. In Miami, our President, Anna Wyrzykowska, invites you to an engaging discussion about the ultimate challenges, opportunities, and trends connected with the law and its practice in the region and worldwide.
Two academic sessions will take place on Monday afternoon, followed by a networking reception and an optional dinner.
Our AIJA's Americas Meeting will also be offered online. You can register here
Practical Information
Venue
University of Miami School of Law
1311 Miller Drive
Faculty Meeting Room & Lounge, 4th Floor, Law Library
Coral Gables, FL 33146
Accommodation
Please find below the hotel recommendations of the University of Miami Law School, including discount codes and instructions for individual reservations.
THesis Hotel Miami
THesis Hotel Miami Online booking
Phone: 305-667-5611
Corporate Code: UMIA
Mayfair Hotel & Spa
Phone: 305-441-0000 ext 3570
Corporate Code: UOM
Email: roomreserve@mayfairhotelandspa.com
Mr. C Coconut Grove
Mr. C Coconut Grove Online booking
Phone: 305-800-6672
Corporate Code: UMMIAMI
Email: reservations.coconutgrove@mrchotels.com
Mutiny Hotel
Phone: 305-441-2100 ext 2005
Corporate Code: SYNUM2
Email: reservations@mutinyhotel.com
Biltmore Hotel
Phone: 855-318-7562
Corporate Code: UNIHUR
Email: reservations@biltmorehotel.com
Co-Organiser
University of Miami School of Law
Support Partner
Sponsor
---
Full programme
AIJA Americas Meeting
Monday 28 March 2022
Registration and Check-in on Law School Bricks/Faculty Lounge (University of Miami Law School)
Welcome Remarks
-
Anna Wyrzykowska,
Partner at WKB Poland, AIJA President
-
Professor Caroline M. Bradley,
University of Miami School of Law, Associate Dean for International and Graduate Programs
"Future of the Legal Profession - The Role of Lawyers in the Rapidly Changing World"
o The panel discussion will focus on identifying how can legal professionals help to navigate through international challenges e.g. the outbreak of the COVID-19 pandemic or legal changes integrating ESG guidelines in our professional and legal standards.
Speakers:
-
Jessica Owley
, University of Miami School of Law, Faculty Director for the Environmental Law Program
-
James M. Meyer,
Harper Meyer, Founding Partner & Chair of the International Law Section of the Florida Bar
-
Jeffrey Bast
, Co-Managing Partner, Bast Amron LLP
Moderator:
-
Anna Wyrzykowska
, Partner at WKB Poland, AIJA President
Coffee/Networking Break in Faculty Lounge & Terrace
"Navigating a Legal Minefield: The Legal Implications in the Americas of Russia's Invasion of Ukraine"
o This panel will discuss the all-encompassing reach of the sanctions imposed by many countries around the world on Russia and their practical effects and legal implications for the way business is, and will be, conducted in the Americas, including the structuring of commercial transactions and the potential rise of disputes across the region.
Speakers:


-
Professor Caroline M. Bradley,
University of Miami School of Law, Associate Dean for International and Graduate Programs
-
Apoorva Patel
, Vice-President, Burford Capital
-
Julianne K. Nowicki,
Reed Smith's Global Regulatory Enforcement Group, Associate
Moderator:
- Eduardo De la Peña Bernal
, Reed Smith, Counsel & AIJA's Treasurer - Bureau Member
Closing Remarks
Networking Reception on Law School Bricks (courtyard, University of Miami Law School)
Optional Dinner
---