Event Overview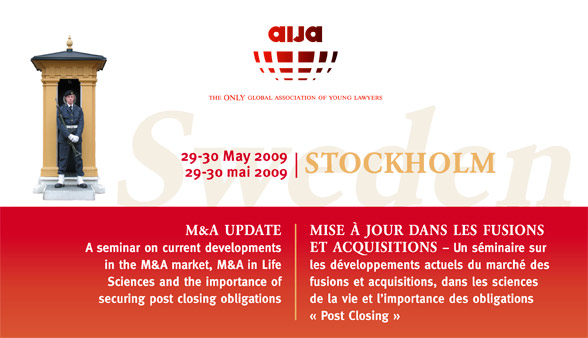 The AIJA Corporate Acquisition and Joint Ventures Commission is pleased to invite you to a seminar on recent developments in M&A.This two-day seminar and its particularly strong line-up of speakers will offer an unique opportunity for lawyers interested and specialising in M&A to update and improve their expertise and to further develop relationships with colleagues from other firms and countries. The organising committee has put together a varied seminar programme which is intended to explore the subject of M&A in greater depth. The first section of the programme will address recent developments in M&A with a particular focus on the current market situation and include a comparative analysis between the common law and civil law approaches to reducing risk in SPA drafting. The second part of the programme will focus on a rapidly growing and challenging business area, Life Sciences, and examine in what ways M&A is different in this industry. Finally, in the light of the current financial crisis, the programme will investigate the importance of securing the seller's post closing obligations and the various options that may exist in this regard. The program features speakers from highly respected business law firms, such as Allen & Overy, Reed Smith, Lindahl, Vinge and Wiersholm  as well as prominent speakers from the industry, such as Merck KGaA and investment banks. The social part of the program will include a cocktail reception on Thursday, 28 May for those arriving early. On Friday evening, we will discover the islands and skerries of Stockholm by boat and enjoy dinner in the beautiful Stockholm archipelago. A post seminar dinner will also be arranged on Saturday, 30 May, for those staying until Sunday. A visit to Stockholm offers an opportunity to see one of the world's most beautiful capitals. Built on fourteen islands around one of Europe's largest and best-preserved mediaeval city centres, the Swedish capital is superbly positioned, with stunning and extremely varied scenery in every direction.
AIJA Commissions involved
Fees & General Info
There are currently no registration fees available.
---
General terms and conditions
By registering you have to accept the general terms and conditions and accept that your registration is considered binding immediately, but participation to the event is possible only after full payment of the registration fee.
Please note that any arrangements related to the participation of the participant in an AIJA event, including but not limited to booking or cancellation of accommodation or flights, as well as respecting the cancellation deadlines indicated in the general terms and conditions, are the sole responsibility of the participant. AIJA shall not be held liable for any expenses the participant may suffer as the result of participant's failure to comply with his/her obligations.
It is recommended for each participant to purchase a cancellation and travel insurance.
Please note that in-house counsel registrations are subject to review and confirmation by AIJA. AIJA considers in-house counsel professionals who hold a university degree in law allowing access to a bar association and practicing law as an in-house counsel in private, public, or non-profit companies, institutions or organisations. Please note that in-house counsel who are at the same time active as fee-earning lawyers or consultants are not eligible to the discounted in-house counsel fee.
Please read the general terms and conditions applicable for AIJA events.
Practical Information
Personal Protection
The personal data that you communicate to us shall be processed by the Iternational Association Of Young Lawyers (AIJA), with its registered office at Avenue de Tervueren 231, 1150 Brussels, Belgium (Tel: +32 2 347 33 34 - office@aija.com), in accordance with Act No. 78-17 of January 6, 1978 relating to data, files and freedoms and Regulation No. 2016/679 on data protection, as of its entry into force on May 25, 2018.
Your data will be managed by AIJA's General Services, Events and Accounts Section:
For the purpose of administering your registration for the event and your on-site access to the event;
In order to pay for the selected services - your bank details will be deleted after receipt of your payment;
In order to communicate information messages from AIJA.
To the extent necessary for the execution of their respective tasks, our subcontractors in charge of our seminar organisation, our IT infrastructure, our management, the production and maintenance of our website and extranet, are likely to gain access to your data from time to time. Their servers are located in the European Union.
Data relating to your participation in the event shall be stored for a period of 10 years. We are obliged to archive billing data until the end of the period required for our tax and accounting obligations, i.e. for 7 full tax years.
We shall store your contact information to keep you informed until you ask us to stop. You have the right to access your data and have it corrected if necessary.