Event Overview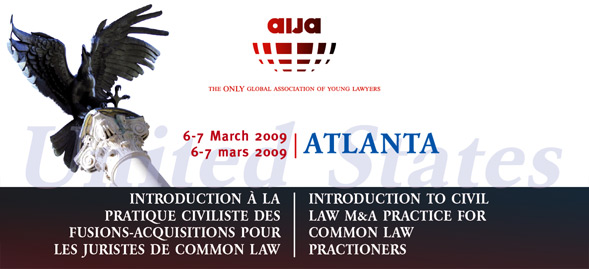 OBFG (for the French speaking Belgian attorneys)
accreditation points : 6 March : 6 points / 7 March : 2 points
Please join the Commission of Corporate Acquisitions and Joint Ventures for a Seminar in the capital of the southern United States - Atlanta, March 6-7, 2009 entitled "
Introduction to Civil Law M&A Practice for Common Law Practioners." The seminar will create an environment for constructive discourse between leading M&A lawyers from civil and common law jurisdictions.
Atlanta is a vibrant city of more than 5 million people with the third largest concentration of Fortune 500 companies in the United States behind New York City and Houston, Texas.
Among the major national and international companies headquartered in Atlanta are Coca-Cola, Home Depot, United Parcel Service, AT&T Mobility and Newell Rubbermaid. The city and region is also home to a thriving financial industry and has been a major source of direct international investments, particularly from Europe.

Many major European corporations, such as Porsche and Philips have located their North-American headquarters in Atlanta. To support its corporate citizens, Atlanta has sprung a significant, sophisticated and increasingly international M&A practice.
Come to Atlanta and experience the famous southern hospitality and our vibrant and exciting young city.
A vigorous social program is planned to introduce you to Atlanta's rich history, the traditions of the South and give you plenty of opportunities to meet members of the M&A bar.
We look forward to seeing you in the "ATL"!
AIJA Commissions involved
Corporate and M&A
Litigation
Fees & General Info
There are currently no registration fees available.
---
General terms and conditions
By registering you have to accept the general terms and conditions and accept that your registration is considered binding immediately, but participation to the event is possible only after full payment of the registration fee.
Please note that any arrangements related to the participation of the participant in an AIJA event, including but not limited to booking or cancellation of accommodation or flights, as well as respecting the cancellation deadlines indicated in the general terms and conditions, are the sole responsibility of the participant. AIJA shall not be held liable for any expenses the participant may suffer as the result of participant's failure to comply with his/her obligations.
It is recommended for each participant to purchase a cancellation and travel insurance.
Please read the general terms and conditions applicable for AIJA events.
Personal Protection
The personal data that you communicate to us shall be processed by the Iternational Association Of Young Lawyers (AIJA), with its registered office at Avenue de Tervueren 231, 1150 Brussels, Belgium (Tel: +32 2 347 33 34 - office@aija.com), in accordance with Act No. 78-17 of January 6, 1978 relating to data, files and freedoms and Regulation No. 2016/679 on data protection, as of its entry into force on May 25, 2018.
Your data will be managed by AIJA's General Services, Events and Accounts Section:
For the purpose of administering your registration for the event and your on-site access to the event;
In order to pay for the selected services - your bank details will be deleted after receipt of your payment;
In order to communicate information messages from AIJA.
To the extent necessary for the execution of their respective tasks, our subcontractors in charge of our seminar organisation, our IT infrastructure, our management, the production and maintenance of our website and extranet, are likely to gain access to your data from time to time. Their servers are located in the European Union.
Data relating to your participation in the event shall be stored for a period of 10 years. We are obliged to archive billing data until the end of the period required for our tax and accounting obligations, i.e. for 7 full tax years.
We shall store your contact information to keep you informed until you ask us to stop. You have the right to access your data and have it corrected if necessary.