Event Overview
Connect to your MyAIJA account to discover who from your network is attending this event.
Connect
The fall seminar of the AIJA Transport Law Comission (TLC) is to take place in the beautiful city of Marseille. This year we will be "Sailing the digital Wave". With the chosen subject we want to explore the (legal) impact of digitalization in the transport and trade sector. Autonomous vessels, autonomous trucks, loading and unloading of cargo without the involvement of men, release of cargo via pin code - for some the distant future, for others a present fact. Does anyone really know what blockchain and its implications are? Or how to insure a vessel of which the captain is a computer? Who is liable in case of an accident? We will be speaking about these and other key topics during the seminar.
As usually, our members will be on the panel to discuss the legal impact of the matter. However, considering the technicality of the matter this year, we have also invited people from the business world to address our participants: parties working in the blockchain industry, a master of vessels and a ship owner. We truly believe that this will be a unique event in the history of the AIJA Transport Law Commission.
And, not to forget the venue:
Marseille is the second largest city in France. It has its own culture and is proud of it. It is the most important trading center in the south of France, especially with regards to shipping activities as it is, among others, the city where CMA CGM has its headquarters. Marseille is continuously changing. Besides, it offers a wide range of leisure activities (bars, restaurants, clubs, museums, theatres, hiking in the Calanques or sailing on the Mediterranean Sea). Marseille is a city always in movement. Dynamic as it is, it's a perfect host to a seminar with an equally dynamic topic.
AIJA Commissions involved
---
Shipping 4.0: Sailing the Digital Wave
18:30 - 19:30
Registration

at the Hotel InterContinental
19:30 - 20:00
Transport Law Commission pre-seminar meeting
20:00 - 22:00
Welcome cocktail

at the Hotel InterContinental
22:00

Not included in the registration fees, payable locally
08:00
Registration

at the Hotel InterContinental
09:00 - 09:30
Xavier Costa Arnau
, AIJA President, Roca Junyent, Spain
09:30 - 11:00
Moderator
:
Jeremy Herschaft
, Blank Rome, US
Speakers
:
Frank Farhana
, Delviso-Avocats, France on 'Blockchain and Bills of lading'
Wendy van den Nouland
, Van Traa, the Netherlands on 'Blockchain in logistics and transportation'
Franck Kayser
, Shipmanagement West at V-Group, UK
Magnus Jones
, Ernst & Young, Norway on 'Blockchain – From concept to reality'
11:30 - 13:00
Moderator
:
Lucas Leite Marques
, Kincaid | Mendes Vianna Advogados, Brazil
Speakers
:
Bahar Sayhan Gulyás
, Sayhan Law, Turkey on 'Electronic docs, a Turkish perspective'
Hendrikje Herrmann
, Ahlers & Vogel, Germany on 'Delivery under CMR with electronic docs'
Mateus Andrade Dias,
Andrade Dias & Associados, Portugal on 'Port And Logistics Unique Window'
Julien Chapus,
OKARGO, France on 'Digitalization of shipping purchases (cargo's point of view)'
14:00 - 15:30
Moderator
:
Déhia Djahnine
, Favarel & Associés, France
Speakers
:
Edmund Sweetman
, Meana Green Maura & Co, Spain
Sinan Senol
, Erçin Bilgin Bektaşoğlu Law, Turkey on 'Cyber-risk policy'
Giedrius Abromavičius
, COBALT, Lithuania on 'Lithuanian perspective on the use of platforms for shippers and carriers'
Jennifer Hoovers
, Van Steenderen, the Netherlands on 'How the port of Rotterdam is handling cyber security and all its challenges'
16:00 - 17:30
Moderator
:
Sébastien Lootgieter
, Villeneau Rohart Simon, France
Speakers
:
Béatrice Favarel
, Favarel & Associés, France on 'COLREGS, SOLAS and autonomous vessels: Where do we stand?'
Pedro Calmon Neto
, Pedro Calmon Filho & Associados, Brazil on 'The importance of an International Regulation related to autonomous ships'
TBC
20:00 - 22:00

Address: 34 Boulevard Charles Livon, 13007 Marseille, France
22:00

Address: 2 Quai de la Tourette, 13002 Marseille, France
09:30 - 11:00
Moderator
:
Ansam El Okbani
, Delviso Avocats, France
Speakers
:
Danielle Quaini
, captain, CMA CGM on 'A former Master on board CMA CGM ships'
Diego San Simón
, San Simón & Duch, spain on 'The Spanish perspective and the main legal issues faced'
Tim Schommer
, Ince & Co, Germany on 'The legal position in Germany compared with the car industry, and a look into the conflict of law issues with a focus on the European legal position'
Christian Bjørtuft Ellingsen
, Simonsen Vogt Wiig, Norway on 'The world's first autonomous container vessel project'
11:30 - 13:00
Moderator
:
Cherry Almeida
, Alius Law, the Netherlands
Speakers
:
Robert Hoepel
, AKD, the Netherlands
Victor Mata
, Thomas Cooper, Spain
Duncan Ealand
, Campbell Johnston Clark, UK
Tom van Achter
, Elegis, the Netherlands
15:00 - 18:00
Visit of Le Panier quarter (old town) and the MUCEM (Museum of European and Mediterranean Civilisations)

Not included in the registration fees, payable locally
20:30

Not included in the registration fees, payable locally
Fees & General Info
There are currently no registration fees available.
---
General terms and conditions
By registering you have to accept the general terms and conditions and accept that your registration is considered binding immediately, but participation to the event is possible only after full payment of the registration fee.
Please note that any arrangements related to the participation of the participant in an AIJA event, including but not limited to booking or cancellation of accommodation or flights, as well as respecting the cancellation deadlines indicated in the general terms and conditions, are the sole responsibility of the participant. AIJA shall not be held liable for any expenses the participant may suffer as the result of participant's failure to comply with his/her obligations.
It is recommended for each participant to purchase a cancellation and travel insurance.
Please read the general terms and conditions applicable for AIJA events.
Prepare your stay
Accommodation
Please book your accommodation a the InterContinental Marseille Hotel using this form:
InterContinental Marseille - Booking Form - AIJA
Note: the discounted AIJA rate is accessible on a first come, first served basis.
Hotel address: 1 Place Daviel, 13002 Marseille, France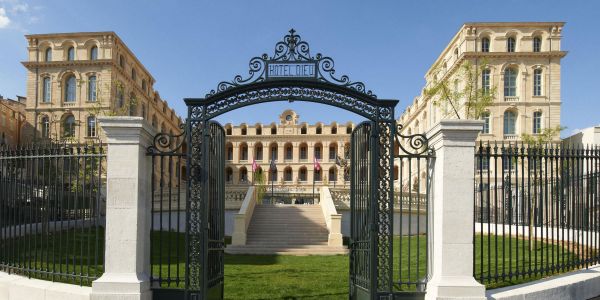 Personal Protection
The personal data that you communicate to us shall be processed by the Iternational Association Of Young Lawyers (AIJA), with its registered office at Avenue de Tervueren 231, 1150 Brussels, Belgium (Tel: +32 2 347 33 34 - office@aija.com), in accordance with Act No. 78-17 of January 6, 1978 relating to data, files and freedoms and Regulation No. 2016/679 on data protection, as of its entry into force on May 25, 2018.
Your data will be managed by AIJA's General Services, Events and Accounts Section:
For the purpose of administering your registration for the event and your on-site access to the event;
In order to pay for the selected services - your bank details will be deleted after receipt of your payment;
In order to communicate information messages from AIJA.
To the extent necessary for the execution of their respective tasks, our subcontractors in charge of our seminar organisation, our IT infrastructure, our management, the production and maintenance of our website and extranet, are likely to gain access to your data from time to time. Their servers are located in the European Union.
Data relating to your participation in the event shall be stored for a period of 10 years. We are obliged to archive billing data until the end of the period required for our tax and accounting obligations, i.e. for 7 full tax years.
We shall store your contact information to keep you informed until you ask us to stop. You have the right to access your data and have it corrected if necessary.