Event Overview
Connect to your MyAIJA account to discover who from your network is attending this event.
Connect
While waiting to be able to see each other in person again, we invite you to join the IP/TMT Commission Day to be held on 3 November 2020 from 13:00 to 20:00 CET.
During this day, there will be something for everyone and for all tastes. We have indeed put together no less than 4 panels during which we will discuss the following topics:
Data protection

: what are the implications of the ECJ's "Schrems II" decision for companies?

Sensitive health data

: can we afford to "close the eyes" towards data protection law in light of extreme situations?

This panel is co-organised with the Healthcare Commission

Protection of product shape

: which way to go?

Navigating IP rights through the pitfalls of insolvency

.

This panel is co-organised with the Insolvency Commission
To vary the pleasures, we have opted for different panel formats, alternating informal interviews, webinars and meetings, allowing you to interact directly via your camera and microphone or via a chat. In all cases, we will ensure maximum interaction to make sure that everyone can get the most out of this virtual day.
The 4 above-mentioned panels will be followed by a Commission Meeting, during which we will interactively discuss the current and future projects of the IP/TMT Commission and give you the floor to tell us your wishes, ideas, projects, etc. for the future of the Commission and/or AIJA.
Finally, we will close the day with a moment of conviviality during a speed networking session organised in collaboration with the T.R.A.D.E., Antitrust, Insolvency and Healthcare Commissions. To facilitate exchanges and conversations, do not hesitate to bring your favorite drinks!
Join us in great numbers for this IP/TMT Commission Day, which promises to be rich not only in scientific content, but also and above all in exchanges and meetings. We look forward to seeing you on 3 November 2020!
More information on the schedule of the IP/TMT Commission Day under the Programme section of this page.
Please fill in this form if you want to attend any part of our social programme.
Organising Committee
Inga George, boesling IP Rechtsanwälte PartG mbB
Luana Muniz de Barros, Montaury Pimenta, Machado & Vieira de Mello Advogados
Sophie Lens, ALTIUS
All academic sessions are recorded and shared in the Resource Centre the week after the events.
This event takes place during: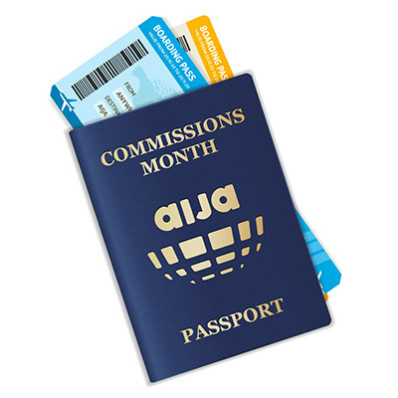 AIJA Commissions Month
20 October - 20 November 2020
Programme - IP/TMT Commission Day
13:00 - 13:10
Welcome Address by the AIJA President and the Organising Committee
13:10 - 13:45
This session hosted by the IP/TMT Commission will discuss and share some insights on the international data transfer after the Schrems II decision. On 16 July 2020, the ECJ declared the "EU-US-Privacy Shield" to be invalid. This means that transfers of personal data to the USA can no longer be based on the Privacy Shield, but may be based on EU standard contractual clauses, provided that an adequate level of data protection can be guaranteed by complementary measures. The economic and political impact of the decision is high and creates uncertainty in the market.
In this session two privacy lawyers will discuss:
What consequences does the ECJ ruling have for companies?
What can companies do to remain GDPR compliant?
What are the reactions of the data protection authorities in the EU?
Interviewer
:
Johannes Struck
, Brödermann Jahn, Germany
Interviewee
:
Rim Ben Ammar
, Proximus, Belgium
14:00 - 15:00
This is a joint session hosted by the IP/TMT and Healthcare commissions to discuss if data protection laws can be overlooked in specific healthcare crisis, such as the COVID-19 pandemic.
Speakers will focus their debate on the use of technology to share sensitive health data, even without individual consent. Representatives from both commissions will give their perspectives on the following:
Should we share sensitive health data in benefit of the "greater good"?
If so, is there a limit to what content can be shared?
Who can determine what an extreme situation is?
How to balance the right of privacy and the risk of a healthcare crisis?
Moderator
:
Silvia van Schaik
, Bureau Brandeis, The Netherlands
Speakers:
Diego Fernandez

, Marval O'Farrel Mairal, Argentina

Siri Martenssen

, Morris Law, Sweden

Julija Kalpokienė

, JurisConsultus, Lithuania
15:15 - 16:00
The protection of product shapes is a challenge for IP practitioners, in particular where the product also fulfils a technical function. In theory, product shapes can be monopolized under trademark, design and/or copyright law. However, as these regimes serve different objectives, they also follow different rules. Now for the first time, the ECJ dealt with product shapes from the perspective of copyright law in its decisions "Cofemel" and "Brompton".
In this session, the speakers will therefore discuss:
Pros and cons of trademark, design and copyright protection
Where do the protection regimes differ?
What are the essence and practical impacts of "Cofemel" and "Brompton"?
Moderator
:
Chloe Taylor
, Carpmaels & Ransford, United Kingdom
Speakers
Julia Hugendubel

, CMS Hasche Sigle, Germany

Cyrill Rieder

, Fuhrer Marbach, Switzerland

Rutger Stoop

, Brinkhof, The Netherlands
16:15 - 17:15
This joint session hosted by the IP/TMT and Insolvency commissions will discuss the role and the challenges in the treatment of IP rights when a business collapses. Insolvency can have immediate implications for IP licenses and contracts, creating a need for both legal and practical safeguards. Also, IP rights can be valuable assets and turned into account to satisfy creditors or to provide new funds for a struggling business.
We will hear the different perspectives from the point of view of the IPR holder, the insolvency practitioner and the creditors of a collapsed company, discussing questions such as:
Challenges in dealing with IP licenses on insolvency
How to commercialize IP rights of an insolvent business?
Securing the access to IP rights in case of insolvency – practical tips for avoiding danger
Moderator
:
Guilherme Peres de Oliveira
, M Nasser Advocacia Estratégica, Brazil
Speakers
Kathryn Charles

, Carpmaels & Ransford, United Kingdom

Anne-Sophie Leroi

, Benoliel Avocats, France

Antonio Berkemeyer

, BKM Berkemeyer, Paraguay

Kari Pendred

, Grant Thornton, United Kingdom
Fees & General Info
There are currently no registration fees available.
---
General terms and conditions
By registering you have to accept the general terms and conditions and accept that your registration is considered binding immediately, but participation to the event is possible only after full payment of the registration fee.
Please note that any arrangements related to the participation of the participant in an AIJA event, including but not limited to booking or cancellation of accommodation or flights, as well as respecting the cancellation deadlines indicated in the general terms and conditions, are the sole responsibility of the participant. AIJA shall not be held liable for any expenses the participant may suffer as the result of participant's failure to comply with his/her obligations.
It is recommended for each participant to purchase a cancellation and travel insurance.
Please read the general terms and conditions applicable for AIJA events.
Personal Protection
The personal data that you communicate to us shall be processed by the Iternational Association Of Young Lawyers (AIJA), with its registered office at Avenue de Tervueren 231, 1150 Brussels, Belgium (Tel: +32 2 347 33 34 - office@aija.com), in accordance with Act No. 78-17 of January 6, 1978 relating to data, files and freedoms and Regulation No. 2016/679 on data protection, as of its entry into force on May 25, 2018.
Your data will be managed by AIJA's General Services, Events and Accounts Section:
For the purpose of administering your registration for the event and your on-site access to the event;
In order to pay for the selected services - your bank details will be deleted after receipt of your payment;
In order to communicate information messages from AIJA.
To the extent necessary for the execution of their respective tasks, our subcontractors in charge of our seminar organisation, our IT infrastructure, our management, the production and maintenance of our website and extranet, are likely to gain access to your data from time to time. Their servers are located in the European Union.
Data relating to your participation in the event shall be stored for a period of 10 years. We are obliged to archive billing data until the end of the period required for our tax and accounting obligations, i.e. for 7 full tax years.
We shall store your contact information to keep you informed until you ask us to stop. You have the right to access your data and have it corrected if necessary.