Event Overview
Connect to your MyAIJA account to discover who from your network is attending this event.
Connect
We would like to welcome you at our Commission Day, which is a great opportunity to see plenty of us again, just by travelling across the VirtualAIJA-World!
Let's meet virtually on 26 October 2020, beginning at 12.20 with a Speed Dating event organized jointly with the Labour Law Commission.
Our Academic programme is focused on the impact of Corona on business development:
Expectations for Business and Business Development after the Covid-19 Crisis
Do you already know how business will develop once the COVID-19 Crisis belongs to the past? No matter what your answer is, you should join in the Auditorium at 14.30 and take the opportunity to share your thoughts with 3 panelists from different countries and different working areas about their prognosis for 2021!
The session will be followed by our Commission meeting, and we look forward seeing you and our friends and colleagues of the Labour Law Commission again for our home hospitality dinner in the evening!
For more details on the schedule and the speakers, please follow the programme section of this page.
Please fill in this form if you want to attend the Home Hospitality.
Organising Committee:
Bruno Guarnieri, Farroco Abreu Advogados
Eleni Skoufari, Zepos & Yannopoulos Law Firm
Julie Warnecke, M&S Law S.à r.l.
Eliana Botero, Gestion Compartida S.A.S.
Agata Adamczyk, Adamczyk, Liber & Współpracownicy
All academic sessions are recorded and shared in the Resource Centre the week after the events.
This event takes place during: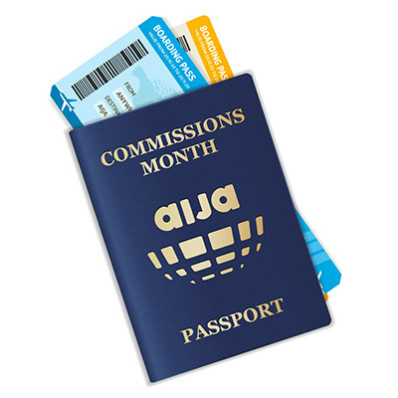 AIJA Commissions Month
20 October - 20 November 2020
Programme - International Business Law
12:20 - 13:00
An event organised jointly by the International Business Law Commission and the Labour Law Commission.
14:20 - 14:30
Welcome Address by the AIJA President
14:30 - 15:30
In this session, our keynote speakers from different fields will discuss about business worldwide, and the expectations for the development of business in the near future (after Covid-19).
Moderator:
Eleni Skoufari
, Zepos & Yannopoulos, Greece

Speakers:
Anand Hemnani

, Indo Bras United Ltda., Brazil/India/UK/USA

Kristina Koehler-Coluccia

, Woodburn Accountants & Advisory, China

Jacyrandi Steinmann

, Brainvest Trust Services, Switzerland
Fees & General Info
There are currently no registration fees available.
---
General terms and conditions
By registering you have to accept the general terms and conditions and accept that your registration is considered binding immediately, but participation to the event is possible only after full payment of the registration fee.
Please note that any arrangements related to the participation of the participant in an AIJA event, including but not limited to booking or cancellation of accommodation or flights, as well as respecting the cancellation deadlines indicated in the general terms and conditions, are the sole responsibility of the participant. AIJA shall not be held liable for any expenses the participant may suffer as the result of participant's failure to comply with his/her obligations.
It is recommended for each participant to purchase a cancellation and travel insurance.
Please read the general terms and conditions applicable for AIJA events.
Personal Protection
The personal data that you communicate to us shall be processed by the Iternational Association Of Young Lawyers (AIJA), with its registered office at Avenue de Tervueren 231, 1150 Brussels, Belgium (Tel: +32 2 347 33 34 - office@aija.com), in accordance with Act No. 78-17 of January 6, 1978 relating to data, files and freedoms and Regulation No. 2016/679 on data protection, as of its entry into force on May 25, 2018.
Your data will be managed by AIJA's General Services, Events and Accounts Section:
For the purpose of administering your registration for the event and your on-site access to the event;
In order to pay for the selected services - your bank details will be deleted after receipt of your payment;
In order to communicate information messages from AIJA.
To the extent necessary for the execution of their respective tasks, our subcontractors in charge of our seminar organisation, our IT infrastructure, our management, the production and maintenance of our website and extranet, are likely to gain access to your data from time to time. Their servers are located in the European Union.
Data relating to your participation in the event shall be stored for a period of 10 years. We are obliged to archive billing data until the end of the period required for our tax and accounting obligations, i.e. for 7 full tax years.
We shall store your contact information to keep you informed until you ask us to stop. You have the right to access your data and have it corrected if necessary.