Event Overview
Connect to your MyAIJA account to discover who from your network is attending this event.
Connect
It has been a year when everything we know about global mobility has been upended. As borders closed and people found themselves stuck in different countries, immigration systems have had to adapt at short notice to account for those who found themselves displaced. These displacements have had ripple effects, leading to unintended social security and taxation consequences. More broadly, the rise of the remote office raises long term questions about how, and for our purposes, from where, an international workforce can log on.
And, of course, the health and economic impacts of the pandemic create a climate of fear in which migrants remain vulnerable to scapegoating by those in power.
Drawing on these trends, the Immigration Law Commission Day will feature the following three sessions:
Social Security, Tax Issues and Immigration
Social security and tax issues relating to the transfer of employees continues to evolve. COVID-19 has also impacted these matters insofar as it has disrupted employee mobility. This seminar will accordingly focus on relevant issues relating to social security and tax matters in a rapidly changing immigration landscape.
Taking place just days after an election in which competing views on migration were very much at the forefront, this panel will explore the impact of the rise of populism on immigration, particularly across Europe and the US. We will examine long term trends, as well as the impact of the pandemic and closed borders on policies and approaches to migration going forward.
COVID-19's Impact on Global Economic Migration
In this seminar, we will investigate in-depth both the short- and long-term impacts of the COVID-19 pandemic on global economic immigration. Specifically, we will debate whether COVID-19 will retard the movement of both low and high skilled workers both within and between developing and developed countries. We will also explore the potential impact on economic growth, particularly in immigrant receiving countries, of a reduction in the intake of skilled immigrants. We will also contemplate whether COVID-19 will impair efforts to expand global trade and, thereby, result in a greater emphasis on localism and/or regionalism.

In addition to the academic sessions, the day will include a virtual speed networking event and a cocktail session (with quiz contest).
More information about the speakers and the schedule under the programme section of this page
Please fill in this form if you want to attend any part of our social programme.
Organising Committee
Malini Skandachanmugarasan, Doyle Clayton
Sharaf Sultan, Sultan Lawyers
Stefan Müller, Wenger Vieli
Katie Newbury, Kingsley Napley LLP
All academic sessions are recorded and shared in the Resource Centre the week after the events.
This event takes place during: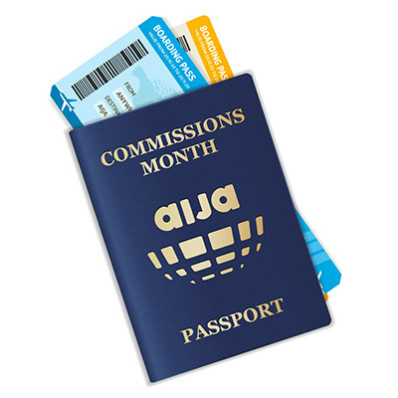 AIJA Commissions Month
20 October - 20 November 2020
Programme - Immigration Law Commission Day
12:55 - 13:00
Welcome Address by the AIJA President
13:00 - 14:00
Moderator:
Kato Aerts
, LYDIAN

Speakers
:
Katrien Bollen

, Tiberghien

Yvonne Bakker,

Atlas Tax

Thomas Kälin

, Meyerlustenberger Lachenal
14:15 - 15:00
Moderator:
Malini Skandachanmugarasan
, Doyle Clayton
Speakers
Colin Yeo

, Garden Court Chambers

Barbara Wegelin

, Van der Woude de Graaf

Karnig Dukmajian

, Fragomen

Katie Newbury

, Kingsley Napley LLP
16:30 - 17:30

Moderator
:
Sharaf Sultan
, Sultan Lawyers
Speakers
:
Torsten Gross

, Heuking Kühn Lüer Wojtek

Nan Sato

, Fisher Phillips
18:00 - 19:00
Cocktail session with quiz contest
Fees & General Info
There are currently no registration fees available.
---
General terms and conditions
By registering you have to accept the general terms and conditions and accept that your registration is considered binding immediately, but participation to the event is possible only after full payment of the registration fee.
Please note that any arrangements related to the participation of the participant in an AIJA event, including but not limited to booking or cancellation of accommodation or flights, as well as respecting the cancellation deadlines indicated in the general terms and conditions, are the sole responsibility of the participant. AIJA shall not be held liable for any expenses the participant may suffer as the result of participant's failure to comply with his/her obligations.
It is recommended for each participant to purchase a cancellation and travel insurance.
Please note that in-house counsel registrations are subject to review and confirmation by AIJA. AIJA considers in-house counsel professionals who hold a university degree in law allowing access to a bar association and practicing law as an in-house counsel in private, public, or non-profit companies, institutions or organisations. Please note that in-house counsel who are at the same time active as fee-earning lawyers or consultants are not eligible to the discounted in-house counsel fee.
Please read the general terms and conditions applicable for AIJA events.
Personal Protection
The personal data that you communicate to us shall be processed by the Iternational Association Of Young Lawyers (AIJA), with its registered office at Avenue de Tervueren 231, 1150 Brussels, Belgium (Tel: +32 2 347 33 34 - office@aija.com), in accordance with Act No. 78-17 of January 6, 1978 relating to data, files and freedoms and Regulation No. 2016/679 on data protection, as of its entry into force on May 25, 2018.
Your data will be managed by AIJA's General Services, Events and Accounts Section:
For the purpose of administering your registration for the event and your on-site access to the event;
In order to pay for the selected services - your bank details will be deleted after receipt of your payment;
In order to communicate information messages from AIJA.
To the extent necessary for the execution of their respective tasks, our subcontractors in charge of our seminar organisation, our IT infrastructure, our management, the production and maintenance of our website and extranet, are likely to gain access to your data from time to time. Their servers are located in the European Union.
Data relating to your participation in the event shall be stored for a period of 10 years. We are obliged to archive billing data until the end of the period required for our tax and accounting obligations, i.e. for 7 full tax years.
We shall store your contact information to keep you informed until you ask us to stop. You have the right to access your data and have it corrected if necessary.