Event Overview
Connect to your MyAIJA account to discover who from your network is attending this event.
Connect
Construction is one of the most litigious industries. When negotiations and alternative dispute resolution attempts fail, the parties, their employees and counsels, judges or arbitrators as well as experts inevitably become the protagonists of cases that quite regularly are characterised by extraordinary complexity both from a factual and legal perspective.
Vienna, one of the most popular congress destinations in Europe and ranked the world's most liveable city for many years, is the perfect venue to resume to AIJA normality after taking a pandemic break from in-person seminars. The Real Estate, International Arbitration, Litigation and Environmental and Energy Law Commissions are thrilled to welcome you to this lively city with its imperial history.
Our seminar will address those issues that make construction disputes outstanding to the average court or arbitration case. We will look into the sources for many fights between principals and contractors, procedural specifics and the role of individual protagonists in construction disputes. Since dispute resolution is a core topic in the construction industry, our seminar will provide valuable content not only for dispute lawyers, but no less to real estate practitioners, contract attorneys as well as in-house counsels of companies involved in construction projects by any means.
The organising Commissions are looking forward to meeting you at this great event.
AIJA Commissions involved
Environmental and Energy Law
International Arbitration
Litigation
Real Estate
---
Sponsors
Construction disputes
16:00 - 17:00
Address: Herrengasse 10, 1010 Wien
18:00 - 20:00
Address: Burggarten 1 – 1010 Vienna


Important note:
You have to enter the garden (Burggarten) to enter the Palmenhaus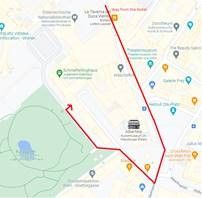 20:00
Not included in the registration fee, payable locally
08:00 - 09:00
Address: Herrengasse 10, 1010 Vienna
09:00 - 09:15
Welcome address by AIJA President - Anna WYRZYKOWSKA
09:15 - 09:45
Krishnapriya Devarbhavi
, Sandvik Group, India/Austria
Krishnapriya has 32 years of work experience in Project & Product Management, Sales as well as Business development and strategy. Among these 32 years of extensive experience, 27 are with Sandvik.

Since 2017, as a part of divestment of the mining project business in Sandvik, Krishnapriya is working exclusively on remaining contract closures and related liabilities and also closure of ongoing disputes project and labour related worldwide. He greatly values the need of feeding in various data points to the counsels who fight the companies' cause in a dispute.
09:45 - 10:30
Moderator:
Agnieszka Buksa
, Wiercinski, Kwiecinski, Baehr, Poland

Speakers:
Bruno Stroobants

, Lydian, Belgium

Emma Niemisto

, Merilampi, Finland

Thomas Seeber

, Kunz Wallentin, Austria
10:30 - 11:15
Speakers:
Eric Johnson

, Cederquist, Sweden

Herve Le Lay

, BrownRudnick, France

Nils Hanfstingl

, FTI Consulting, Germany

Roxanne de Jesus

, Pitkowitz & Partners, Austria
11:45 - 12:15
Moderator
:
Catrice Gayer
, Herbert Smith Freehills, Germany
Speakers:

Bernd Hauck

, Kellerhals Carrard, Switzerland

Johannes Meyer-Myklestad

, Selmer, Norway
12:15 - 13:00
Moderator
:
Mads Fuglesang
, Selmer, Norway
Speakers:

Katarzyna Kuzma

, Domanski Zakrzewski Palinka, Poland

Laurynas Lukosiunas

, Sorainen, Lithuania
14:15 - 15:00
Moderator
:
Silvia Dahlberg
, Vinge, Sweden
Speakers
:
Andres Alva

, Berkely Research Group, USA

Lukas Fellmann

, Walder Wyss, Switzerland

Tobias Zuberbühler

, Lustenberger, Switzerland
15:00 - 15:45
Moderator
:
Lukas Peissl
, CMS Reich Rohrwig, Austria
Speakers
:
Cristiana Gheorghe

, Enjoy Legal, Romania

Elena Rodriguez

, Niederer Kraft Frey, Switzerland

Wajma Mangal

, GSK, Germany
16:00 - 16:45
Speakers
:
Keith Newman

, Mason Hayers & Curran, Ireland

Nikolaus Vavrovsky

, Vavrovsky Heine Marth, Austria

Tino Schneider

, Lalive, Switzerland
17:00 - 17:30
Moderator
:
Alizee Verboogen
, Loyens Loef, the Netherlands
Speakers
:
Joséphine Jeanclos

, Hertslet Wolfer & Heintz, France

Pablo Cubel

, Cuatrecasas, Spain/China
20:00
Address: Stubenring 5, 1010 Vienna
08:30 - 09:30
Address: Herrengasse 10, 1010 Vienna
09:30 - 10:30
Moderator:
Gunnar Pickl
, DORDA, Austria

Speakers:
Jean-Rodolphe Fiechter

, Kellerhals Carrard, Switzerland

Roland Haring

, bauwirtschaft.consulting, Austria

Tero Kovanen

, Borenius, Finland
10:30 - 11:15
Speakers
:
Cinzia Catelli

, Bär & Karrer, Switzerland

Eoin Cassidy Mason

, Hayes & Curran, Ireland

Henning Jensen

, bnt, Latvia

Philip Exenberger

, DORDA, Austria
11:45 - 12:15
Moderator:
Oksana Karel
, Arzinger, Ukraine


Speakers
:
Aline von Düring

, Von Düring Group, Switzerland

Raphael Butz

, Vischer, Switzerland
12:15 - 13:00
Moderator:
Stefan Gäumann
, Homburger, Switzerland
Speakers
:
Florian Haugeneder

, KNOETZL, Austria

Hendrik Puschmann

, Farrer & Co, United Kingdom

Michelle Lindholm

, Pestalozzi, Switzerland
14:30 - 16:30
Included in the registration fee
20:00
Address: 8thfloor of Grand Ferdinand, Schubertring 1010, Vienna

Not included in the registration fee, payable upon registration
Fees & General Info
There are currently no registration fees available.
---
General terms and conditions
By registering you have to accept the general terms and conditions and accept that your registration is considered binding immediately, but participation to the event is possible only after full payment of the registration fee.
Please note that any arrangements related to the participation of the participant in an AIJA event, including but not limited to booking or cancellation of accommodation or flights, as well as respecting the cancellation deadlines indicated in the general terms and conditions, are the sole responsibility of the participant. AIJA shall not be held liable for any expenses the participant may suffer as the result of participant's failure to comply with his/her obligations.
It is recommended for each participant to purchase a cancellation and travel insurance.
Please read the general terms and conditions applicable for AIJA events.
Prepare your stay
SEMINAR VENUE
The seminar will be held at the Steigenberger Vienna situated in the heart of Vienna's old city, just 250 m away from the Hofburg.

The Goldenes Quartier, Vienna's luxury shopping district is reachable in ca. 4 minutes by foot.

It takes about 11 minutes to reach the State Opera.
ACCOMMODATION
Sponsors
Personal Protection
The personal data that you communicate to us shall be processed by the Iternational Association Of Young Lawyers (AIJA), with its registered office at Avenue de Tervueren 231, 1150 Brussels, Belgium (Tel: +32 2 347 33 34 - office@aija.com), in accordance with Act No. 78-17 of January 6, 1978 relating to data, files and freedoms and Regulation No. 2016/679 on data protection, as of its entry into force on May 25, 2018.
Your data will be managed by AIJA's General Services, Events and Accounts Section:
For the purpose of administering your registration for the event and your on-site access to the event;
In order to pay for the selected services - your bank details will be deleted after receipt of your payment;
In order to communicate information messages from AIJA.
To the extent necessary for the execution of their respective tasks, our subcontractors in charge of our seminar organisation, our IT infrastructure, our management, the production and maintenance of our website and extranet, are likely to gain access to your data from time to time. Their servers are located in the European Union.
Data relating to your participation in the event shall be stored for a period of 10 years. We are obliged to archive billing data until the end of the period required for our tax and accounting obligations, i.e. for 7 full tax years.
We shall store your contact information to keep you informed until you ask us to stop. You have the right to access your data and have it corrected if necessary.