Lawyers' Ball at the Hofburg Palace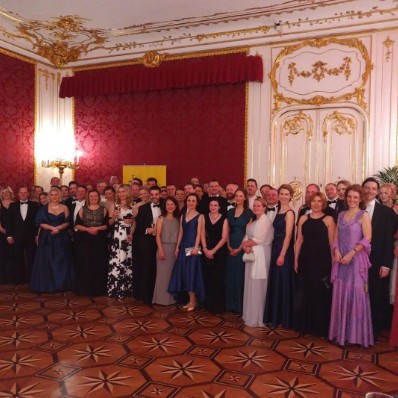 Vienna
22 February 2020
---
Every year, at the height of the ball season, the Lawyers' Ball (Juristenball) is celebrated at Vienna's famous imperial palace (Hofburg).
Over the past few years, it has already become a tradition for AIJA members and friends to visit this unique event together and enjoy a night of splendour, music and dance. All AIJA members (and of course also former members!) are welcome to join us and to bring their partners and friends along.
For those worried about their dancing skills, we will organise a dance class in the afternoon before the ball. Join us and you will see that learning the most important dances to prepare for the ball can be great fun.
But even if you are not that much into dancing it is worth visiting this unique event to enjoy the imperial setting and the orchestras and bands playing in the magnificent ballrooms.
How to join us
Please book your ticket(s) directly on the ball website here. The website is in German only, but the standard ticket is this one: "Eintrittskarte | EUR 155". On the following page, you can also book a seat at a table, if you wish. Please remember to print the ticket(s) and bring them to the ball.
In addition to registering on the ball website, please confirm your attendance to Clara Gordon by email. Let her know if you would like to join the dance class in the afternoon.
---