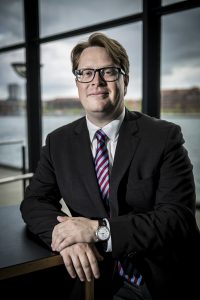 You might not know this, but your AIJA membership also brings you benefits from other global lawyers' associations too. AIJA is recognised as the organisation for young international lawyers, and therefore keeps close ties with the American Bar Association (ABA), IBA, UIA, IPBA, CCBE and many more. Often ratified by official memorandums of understanding, each organisation mutually benefits from enhanced reputation, visibility, but also making sure their members have access to as wide a network as possible.
"AIJA's clear goal is to provide a better service to our members when they are acting outside of the AIJA world and to have a chance to meet other organisations' members when they attend AIJA events," informs David Frølich, AIJA President. "It also provides a platform for AIJA members once they move on from AIJA after the age of 45."
The purpose of the official MoUs, explains Frølich, is to ensure "mutual recognition of the organisations. It is very important that we see eye to eye and acknowledge each other in the global legal community. We must work together despite competing for the same member pool to a certain extent. However, we are not exclusive so we are in reality more complimentary than competitive. The MoUs contain a number of possible practical platforms and ways to work together, including co-events, co-marketing and work on publications. Leadership from the various organisations are also invited to attend respective programs at mutual congresses, and to develop seminars together and joint panel discussions."
Ultimately, it means that AIJA can offer even more to its members: "The more people our members can network with, the more possibilities they have to create a foothold in other organisations, and the more visibility our members gain, the better," says Frølich. "It is always easier to move into and get a foothold in an organisation if you find familiar faces in the beginning."
By working together, legal associations have a stronger voice. AIJA has issued a number of statements with other legal associations worldwide. One example is the recent statement on the possible reinstatement of the death penalty in Turkey, signed by AIJA alongside the UIA, CCBE and FBE. This statement detailed: "The right to life is guaranteed by all major international and regional human rights treaties… The undersigned organisations believe that the abolition of the death penalty contributes to the fostering and protection of human dignity and the gradual development of a global culture of human rights." Issues such as this, which are important to members, are heard more clearly when lawyers stand united.