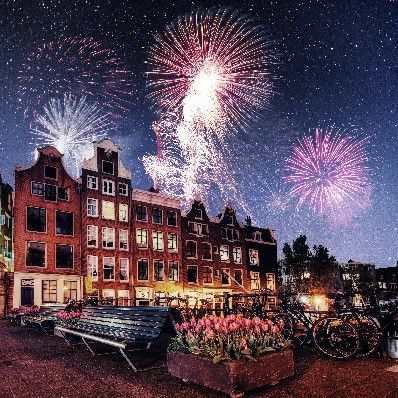 AIJA is about to turn 55, and that will be celebrated in style in Amsterdam! Kicking off on Friday 23 June with cocktails and "Bitterballen" (traditional Dutch snacks), the Saturday program will include a seminar and an AIJA-style Gala Dinner. Together with the Bureau, a small team of active members of the OC Amsterdam 2017 has set up a nice program.
To mark this historic event, AIJA will also be launching its Alumni Club – a platform for all former AIJA members to stay in touch and up to date even after moving on in their careers. For that purpose, everyone who has ever been a member is invited to sign up for the Alumni Club by clicking HERE.
"AIJA will always remain an association for young lawyers but we recognise the potential of keeping older members informed and part of the network", explains the new AIJA Alumni Coordinator, Michiel Groenland. "The Alumni Club gives AIJA an elegant possibility to keep connected with its alumni, whilst securing the age limit. Our Alumni are AIJA's best ambassadors and supporters to bring in young colleagues to AIJA. It is also a good way to value the great contributions the AIJA members have given over the years, building the AIJA spirit to what it has become today… This birthday party is the first step in reaching out to this large alumni group."
Celebrating AIJA's birthday every fifth year has become something of a tradition, and indeed will happen again in 2022 for the 60th anniversary celebrations. Each party therefore aims to be one to live long in the memory. As well as the cocktails and dinners, the Amsterdam event will include, "a scientific program, organised by a great team of working coordinators, about the strategic key issues on digital transformation and law firm management", explains Groenland. "This topic will be of great interest for both AIJA's alumni and members, and there is plenty of time to meet old friends within the program, in an inspiring environment – the museum district is in walking distance."
But the overall aim of the event – and for the newly launched AIJA Alumni Club – is a celebration of the AIJA family and its ability to build long-lasting, global friendships, even as the years go by. AIJA values all its members, including its alumni, who together have helped build up the association to what it is now.
"I am sure that this Network will generate a lot of energy from the participants and that in itself will make Amsterdam a must-attend", says Groenland. "It brings back and facilitates the old friendships as experienced during their time of active membership. Of course there is a flavour of nostalgia too, which may certainly renew old connections". And there is a big benefit for the existing 'class of 2017' too – the chance to strengthen connections with senior lawyers, who truly share and understand the value of the AIJA experience.
Join us in Amsterdam on 23-24 June to celebrate AIJA's 55th Birthday and the launch of the AIJA Alumni Club. Please share with alumni colleagues.
For more information and to register, click HERE