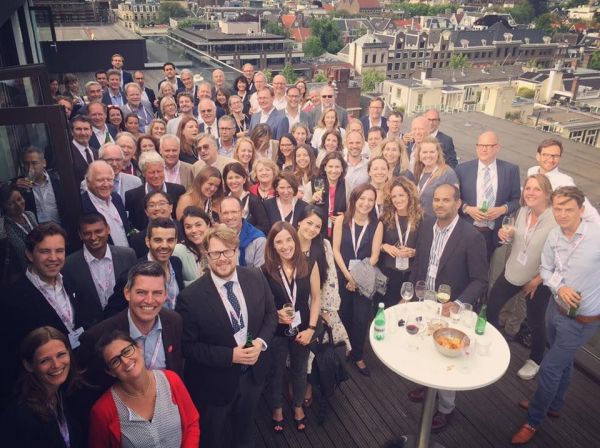 AIJA is still recovering from its 55th birthday party in Amsterdam! The sold-out event saw attendees enjoy insightful presentations, meet up with old friends, and enjoy a gala dinner and a cocktail party (with an unexpected musical finale). An alumni event was also launched for members to maintain their network after turning 45.
"The combination of old friends and new faces is so typical for AIJA events", explains Martine Hoogendoorn, member of the party organising committee. "It was the perfect occasion to launch the alumni programme".
The presentations to kick off the event focussed on digital transformation in the profession. "The main takeaway was that intelligent software might be an infant industry but it is growing at a fast pace and can also conquer the legal market", informs Hoogendoorn. "This forces us to rethink tasks we can and must do as lawyers. Legal tech companies are reshaping the market, whether this is by simplifying contract drafting, submitting a claim, predicting the possible outcome of a matter with an algorithm or providing clients with an overview of the lawyer's fee."
"The main question on everyone's mind was: what is the risk of being replaced by intelligent software or a machine?", adds Rachid Aoladsi, also of the organising committee. "The best answer - in my opinion - was given by one of our speakers, Sonia Gumpert Melgosa, AIJA Alumni and current Dean of the Bar of Madrid, who quoted one of the founders of a large Spanish law firm: while we are discussing the ethics of cloning, they are cloning as we speak… we should try to keep up by constantly re-evaluating our profession."
The interactive sessions received glowing feedback from the attendees, with speakers able to provide up-to-date insights around the impact of digital transformation on law firms, including the opportunities as well as the risks.
But this was, after all, a birthday party - and AIJA only celebrates this every five years. So the cocktail party and gala dinner proved memorable for all those there. "The atmosphere started out bubbly, the sun came out and spending time and chatting on the terrace at the Vondelpark was already pretty special", says Hoogendoorn. "A surprise brass band really added both the element of fun and it became apparent that all were in a festive mood." The dinner even culminated in a Village People tribute act, performed by long-standing members of AIJA. It was one of the highlights of the celebrations which ran well into the early hours.