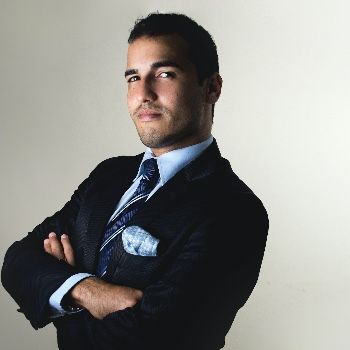 The story of Herman Duarte is an inspirational reminder of just how international and diverse the AIJA family is. Duarte is a recent AIJA member, and one of only 700 people in the world to boast citizenship of both El Salvador and Switzerland.
Duarte became a law student in the year 2005, at the age of 16 and soon became interested in International Arbitration due to the Vis MOOT. In 2010, he moved to Sweden to study a Master's programme in international commercial arbitration at Stockholm University. It was also the year that he came out as gay.
"Studying judicial inefficiency was not my biggest challenge at that time! In the openness of the Scandinavian society, I stopped being terrified and embraced my sexual orientation. This understanding helped me exit the prisoner´s dilemma I was living." He became the first Salvadoran board member of Rainbows – the LGBT student body of Stockholm University.
However, on his return to El Salvador, he experienced discrimination for the first time: "professional doors were shut in my face, all due to my sexual orientation. This was so hard for me to accept, it even made me question my decision of coming out on October 18, 2010."
After ten months of struggling in his home country he persuaded the top tier dispute resolution Costa Rican firm, Batalla Abogados to hire him, becoming their first international associate. "I am grateful for having the opportunity to work in a place like Batalla Abogados, it was my home for almost 5 years and it has an atmosphere where I had no problems as an openly gay man. I received love, support and motivation to excel."
As well as a number of successful arbitration cases, Duarte represented the firm as a speaker in over thirty events throughout North and South America.
However, he "decided not to ignore the reality" of his home country. Through a number of op-ed columns in the Salvadoran media, Duarte began challenging traditional views and offering an inclusive LGBT perspective.
"Advocating for minorities, in a country where the majority is against opening their minds to sexual diversity… [is] a task that comes with insults, social segregation and threats", he admits. After filing a constitutional claim before the Supreme Court of Justice of El Salvador to achieve marriage equality, "my career [moved] into a new direction and after a very tough decision I decided to move on from Batalla Law Firm… to set up my boutique firm HDUARTE-LEX which has a mission of eradicating discrimination due to sexual orientation and gender identity and to formalise the Igualitos movement into a NGO." His professional profile was recognised in the Chambers & Partners Global Guide, 2017.
The only thing missing from his CV now was AIJA membership! Looking to join "a community where there are principles in respect of human rights, friendship and opportunities to grow" led him directly to AIJA. "It is truly promising for a new member such as myself to be part of this community", he says. "I made the decision to be part of this institution and I am so grateful to be selected. It is a great venue to learn, to stay updated on the current threads of the law business, and to be part of a prestigious community that has clear aims in favour of human rights and promoting the practice of law. "