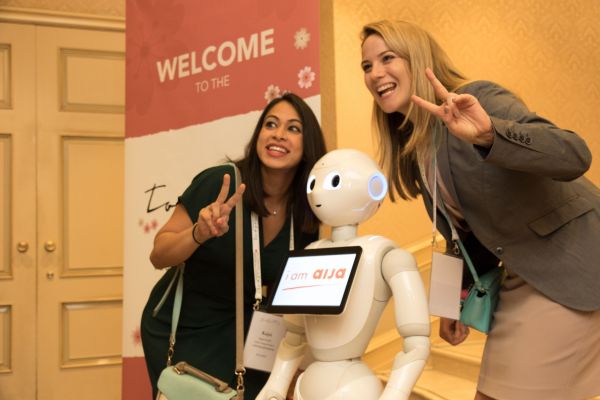 The biggest AIJA event ever held outside of Europe recently came to a close: the annual congress in Tokyo. Unsurprisingly it attracted a huge number of members, eager to visit arguably the world's most advanced megacity. And the 500 participants in Tokyo were further immersed in technology with the overarching theme of the Congress: AI and Innovation.
The AI theme, covered by every commission, "was a new element of the Congress", explained Giuseppe Marletta, Association Manager at AIJA. "Usually every commission organises a session independently on hot topics in their legal practice. But this new way of organising it ended up being a real success. It was useful to 'tell the story' and give the whole congress an integrated content, looking at the same issue from a number of perspectives."
Other highlights included the Japanese food hospitality dinner ("the best way to discover Japanese culture from the inside", said Giuseppe), an e-book project looking at how young lawyers perceive and work with AI today, and top-rated sessions including 'The Smart Lawyer Leverages AI: Practical Thoughts and IT Tools For Lawyers'. The Congress mobile app was also rated as 'very useful' by most attendees.
As ever, the number one reason for attending (cited by 85% of attendees who responded to the Congress Survey), was 'networking and exchange of views'. The global friendships and contacts made in Tokyo will benefit members' careers for many years to come. The general organisation of the congress was rated excellent or good by 96% of attendees, while almost 99% said they would be likely to attend another AIJA Annual Congress in the future.
The Tokyo Congress also signalled AIJA's intention to grow globally, and attract Asian members. "A strong presence of Japanese lawyers as well as Asian participants confirmed a strong interest for AJIA in Asia", confirmed Giuseppe.
"A special thank you goes to the Japanese hosts who made us all experience Japan in an amazing way", continued Giuseppe. "Everybody was so impressed and the location gave this congress a very unique flavour. I'd also like to thank all participants for their active participation and the AIJA team who worked hard two years prior to the event and during a busy week in Tokyo and ensured a smooth and enjoyable event for everyone (always with a smile!)." And given they had all the delights of Tokyo – and the AIJA congress – at their disposal, there was a lot to smile about.