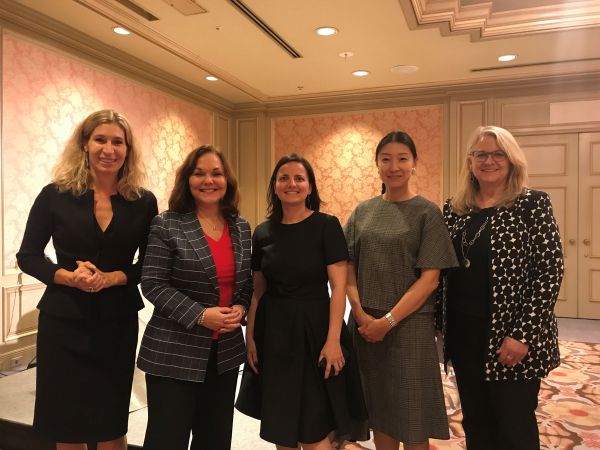 For many who attended the Tokyo conference, the prestigious Voice of the Profession session on Women in Law & Innovation was a stand-out event.
The impact of innovation on the future of the legal profession and gender equality in leadership positions is a topic of crucial importance to young lawyers who are building careers and families simultaneously. With many firms experiencing intake rates of 50% women or more, limiting their career advancement would cause a distinct competitive disadvantage.
The keynote speaker Tsukiko Tsukahara, vice-president of Catalyst Japan, a leading global non-profit organisation accelerating progress for women through workplace inclusion, covered everything from how the gender landscape differs in the US versus Japanese Law firms to how inclusion predicts rates of innovation (clue: there is a strong link). She also provided her top takeaways for audience members to advance their career, including "be an inclusive leader, challenge stereotypes in yourself and others", and "make this everyone's problem to solve." Additionally, Tsukiko pointed out that "gender diversity is not only women's issue but an issue for creating innovation." Regarding how inclusive leadership behaviours could result in innovation, she believes "inclusive leadership behaviours realize psychological safety in people's minds that enable people, team, citizenship and individual innovation. Everyone, not only the people at the very top of the organisation, can role model as an inclusive leader, yet you can start with EACH behavior to influence people and create an inclusive workplace."
In the following interactive debate that was moderated by Orsolya Görgényi, Immediate Past President of AIJA, Partner at Szecskay in Budapest, some strong views exchanged regarding gender inequality. Sara Sandford, Immediate Past Chair of International Law and Owner Garvey Schubert Barer, US, commented on her previous experiences of working in Japan: "When I first worked in Japan, I definitely experienced different treatment than men. In fact, I was told they wanted to hire me but needed to get permission from others to hire a woman, because they had recently hired two other women and maybe the partners didn't want so many women."
While being clear that women are no more or less innovative than men, "I absolutely believe that adding diversity increases the quality of what we do because more people with varied perspectives bring varied ideas", said Sara. "Also, diversity of our firm's lawyers and staff allows our firm to relate to different clients, bringing greater understanding of a clients' goals and objectives." During the debate Hilarie Bass, President of the American Bar Association, Partner of Greenberg Traurig in Miami spoke on the unconscious bias and the ABA's initiatives in gender issues.
The second keynote speaker of the night, Dana Denis-Smith, added: "in the US and the UK, countries with a longer history of women being allowed to practise law, the challenge is one of leadership... Leading by example and getting women involved with the regulators, in the international debate and generally with policy making is important in order to shape the future landscape of the profession."
Taking inspiration from the surroundings, Dana believed that maintaining equality and diversity is akin to tending a formal Japanese garden: "equality can easily fall out of shape at the drop of a stone. So we must continue to pursue equality but recognising its fragility."