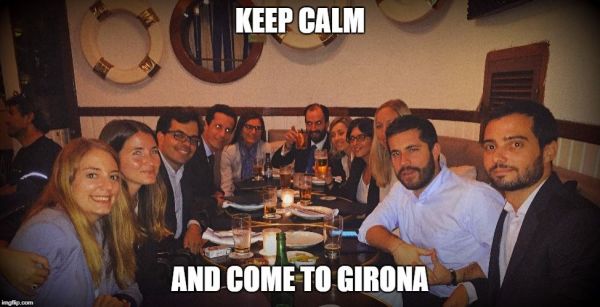 The AIJA November Half Year Conference (HYC) will deal with two striking topics "Crowdfunding & Alternative Financing" and "Film Industry Law", in an equally striking destination: Girona, Spain.
The seminar programme, jointly hosted by the Banking, Finance and Capital Markets Commission the Intellectual Property, Technology, Media, and Telecommunications Commission and the M&A and International Business Law Commission (among others), tackles innovative topics and emerging trends.
"The economy is changing on an ongoing basis, and the models of economy and sources of financing are not an exception", explains Cristina Hernandez-Marti, Co-chair of the OC. "Nowadays, alternative financing including crowdfunding is an essential topic to discuss and understand." The seminar will include sessions on fintech and regulated financial entities, angel investors, and accelerators vs incubators.
The Film Industry Law seminar will focus on cinematographic rights, from an IP perspective and private law intricacies governing the copyright of the audio-visual work. "We intend to deal with the latest court decisions and new laws, not only from a European perspective", says Hernandez-Marti. "We thought Girona would be a great venue for hosting this topic after Game of Thrones was filmed in this city."
But Game of Thrones is far from Girona's only claim to fame. Rich in history, gastronomy and medieval architecture, it is an experience not to be missed. Girona is home to one of the best restaurants in the world and some of Spain's wildest coastal scenery is just half an hour away (la "Costa Brava").
"The HYC is one of the most cherished AIJA experiences for members", enthuses Pablo Vinageras, Co-chair of the OC. "It has a great scientific program but also highlights the substance of AIJA: networking opportunities through an enriching gathering of young lawyers."
"We are excited about showing Girona to AIJA and eager to show all the charm Girona has to offer to its visitors", says Vinageras. The social programme certainly aims to do just that, starting with a cocktail dinner at the private club "Casino of Girona" in the centre of Girona, founded in 1848. On Thursday, dinner will be served in Mas Marroc, owned by the world-renowned Roca Brothers (of Celler de Can Roca, the third best restaurant in the world). On Friday, local attorneys even open their houses to AIJA attendees to sample the local hospitality – "this is one of the best moments of the HYC, says Vinageras, "where a diverse melting pot of young lawyers get to know each other tasting local gastronomy and sharing AIJA's spirit". And finally on Saturday the closing dinner will be held in the breath-taking San Gregori Castle.
You don't have to be a Game of Thrones fan to enjoy this one! With around 200 lawyers expected to attend from around the world, the HYC in Girona will truly live long in the memory.
To register, please visit: www.aija.org/en/event-detail/361