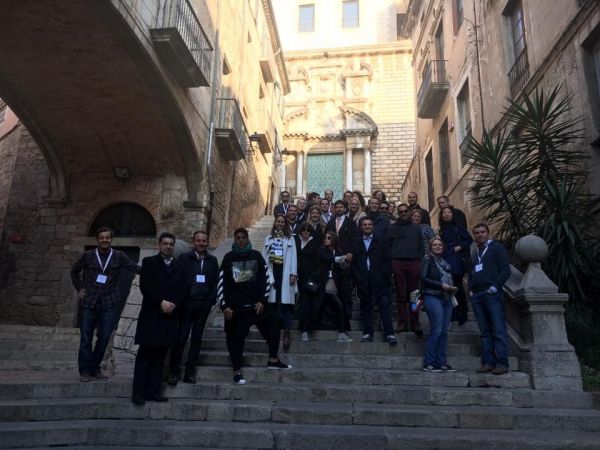 Each year AIJA awards a number of scholarship for young international lawyers to attend an international conference of their choice. In November 2017, the AIJA scholarship was awarded to Maria Diory Rabajante, an Associate at the Esguerra & Blanco Law Offices, Philippines, to attend the Girona conference.
"I noticed that what set AIJA apart are the youthfulness, energy and vibrancy of its members", enthused Diory after the event. "These characteristics of AIJA's members make professional networking, as well as building personal relationships, easier. AIJA is a perfect platform for young lawyers to establish an international network, and to discuss various legal issues with lawyers of different nationalities."
AIJA granted Diory a full scholarship to attend its conference in Girona following her successful online application. "I browsed AIJA's website, and got interested in the Film Industry Law seminar", she explained. "I applied for a scholarship, and fortunately got accepted".
She described AIJA as, "an avenue for skills development and knowledge acquisition. Since AIJA encourages its members to step up and volunteer in its projects, the members have the opportunity to improve their skills and develop new ones. Furthermore, with the interaction of various cultures, AIJA's members will have a wider perspective of their respective legal fields."
Her experiences in Girona more than matched her expectations. "Everything about the conference was amazing", she said. "Girona is a perfect event venue for the conference, particularly the Film Industry Law seminar. The city has an incredible architecture, rich history and culture, and delectable food. A tour of the sites where the Game of Thrones was shot and a visit to the Museu del Cinema complemented the lessons that I learned from the seminars."
As well as providing her with a great opportunity to learn from lawyers in her specific field ("the discussion on different domestic laws involving film industry gave me a wider perspective of the Intellectual Property law, which is one of my areas of practice", she said) she also left Spain with a bulging contacts book: "the conference served as a platform for building relationships. I had the opportunity to meet, network, bond and party with lawyers from different parts of the world."
Diory returns to Asia with an enthusiastic message about AIJA: "As an Asian, I believe that AIJA would be able to attract more Asians to join and attend AIJA's events if it would organise more conferences and events in the Asian region... I would definitely recommend joining AIJA and attending AIJA's events to other young lawyers."