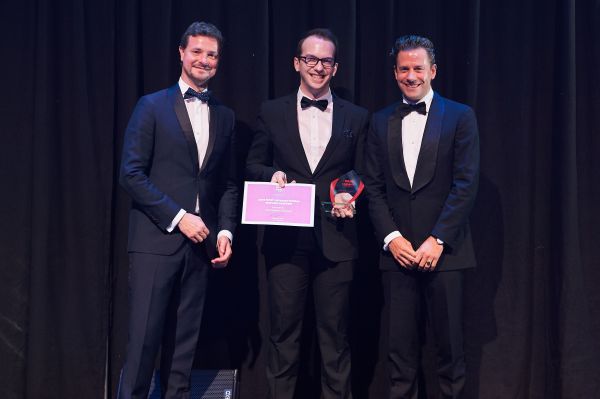 We are delighted to announce the winner of this year's Best International Future Lawyer Award - Christopher Sawyer.
The award ceremony took place on 1 September at the closing gala dinner of the 56th International Young Lawyers' Congress in Brussels. The award was presented by the competition sponsor, SGG Group.
About the winner
Christopher graduated from the University of South Africa (UNISA) in September 2015 with a bachelor's degree in commerce (BCom), with double majors in law and tax. He then pursued a bachelor's degree in law (LLB) at the same university and graduated in September 2018. In his final year of LLB studies, Christopher took modules on International Law, World Trade Law and International Transport Law. With interests in aviation, science-fiction and law, Christopher hopes to move further into the expanding international, space and commercial legal fields, both academically and in practice.
About his essay
This year's essays were judged by the European Centre for Space Law. Christopher Sawyer's essay received the highest score for his "very structured argumentation and approach, good grasp of relevant international law and his to-the-point philosophical approach underlying the legal reasoning".
His essay explores the existing, but perhaps inadequate, international legislation vis-à-vis humanity's use of space and celestial bodies. He shows that although some legislation exists, there are simply not enough controls in place at present to properly govern a colony formed on the Moon.
The essay considers that if a colony was formed off-world, its inhabitants would be from different countries and therefore different legal systems. Without a written legal system, without certainty, legal nuances would be lost and chaos would ensue shortly after inhabitation. Christopher also explores the concepts of citizenship and what this would mean for people who emigrate to the colony and the generations of people born there, as well as different forms of government which could work in controlling the colony (or colonies, as it were).
You can read the winning essay on awards.aija.org or here.
About the Best International Future Lawyer Award competition
Every year, AIJA awards essays submitted on a topic in the field of international law. This year, AIJA granted the Best International Future Lawyer Award for the best written essay submitted on the topic "The moon is now colonised, you are in charge of its legislation. How do you handle it?".
The competition is open to any law student aged 45 and under, and enrolled at any university worldwide at the time of the submission. The winner is entitled to free AIJA membership for the next three years and free attendance to the International Young Lawyers' Congress.
For more information, please visit the dedicated website awards.aija.org. The 2019 Best International Future Lawyer Award competition will open early next year.