AIJA's Best International Future Lawyer Award (BIFLA) seeks to develop law students understanding of the global development agenda. AIJA believes that encouraging young lawyers to provide solutions to major challenges in the world is vital if we are to adequately prepare them for their future careers. The BIFLA strives to prepare young lawyers for the testing road ahead!
This year's competition was focused on the United Nations Sustainable Development Goals (SDG) in line with the 57th Congress's sustainability theme. The essay question that entrants responded to was 'If I could change the world…how can I, as a future lawyer, contribute to a more sustainable world?'.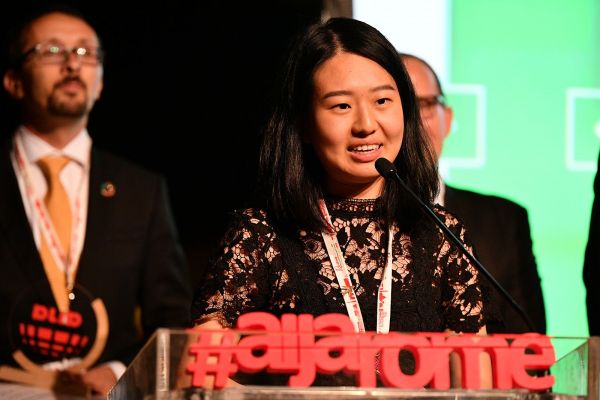 The 2019 winner is Xuejun Zhao. Xuejun graduated from the University of Groningen in September 2015 with a bachelor's degree in International and European Law. Due to her interest in sustainability, Xuejun continued her studies at the same university by pursuing a Master's degree in Climate and Energy Law.
Her essay delves specifically into SDG 13: Climate Action, where the current trend of climate litigation is analysed. The essay explores the feasibility of climate litigation, and considers the existing domestic cases, as well as the possibility of turning to the international realm.
The essay illustrates that, while the courts may be our best hope of reversing the damage done to our planet, the domestic context may not be the solution. Hence Xuejun's essay analyses the possibility of creating of an International Environmental Court as a means of achieving SDG 13. In doing so the issue of jurisdiction is considered, in addition to private party access.
In response to her astounding achievement, Xuejen says 'almost half a year since hitting the submit button, I can safely say that entering the BIFLA competition was one of the best decisions I have ever made. During the Rome congress, I learned from (and even met!) experts in a field that I hope to break into someday, cultivating skills applicable to my future career. It was also in Rome that I found out about Loyola Law School's generous offer, which will allow me to further deepen my legal knowledge. Entering the BIFLA competition made all this possible, and I am immensely grateful to AIJA for that!'
Xuejun was presented with the BIFLA at the Gala Dinner at the glamorous Villa Medici at the 57th Congress in Rome. Her award was honoured with an array of prizes, including free AIJA membership until 2022, publication of her essay across AIJA's channels and an invitation to attend the 57th Annual Congress free of charge with travel and accommodation included, as well as a one-year scholarship with our prestigious sponsor Loyola Law school.
Loyola Law School, Los Angeles is one of the top law schools in the United States. Loyola is home to prominent faculty, dedicated students, and cutting-edge programs, with a strong sense of social justice. Our 18,000+ alumni network reaches across the United States and into 35 different countries and includes current and former ambassadors, high level government officials, and more than 800 partners at major law firms.
'We are delighted to sponsor this year's award for Best Future International Lawyer. Loyola seeks to educate women and men who will be leaders in our globalised world. We look for students who will be demonstrating in their practice of law and public service the highest standards of personal integrity, professional ethics and a deep concern for social justice and society. Members of AIJA represent the perfect example of the above and the winner of the Award, with her focus on sustainability, will surely be affecting with her work the advancement of society. It was an honor for Loyola to play a small role during this year's AIJA Congress and we look forward to welcoming Xuejun to our campus in the near future!'', said Professor Michael Waterstone, Fritz B.Burns Dean, Loyola Law School.
This year, AIJA also awarded two special mentions in addition to the Best International Future Lawyer Award. The two special mentions were awarded to Rebeca Spuch for her essay on the intersection between education and the Sustainable Development Goals and Judith Creppy for her essay 'Would legal personhood help to ensure a better protection for the environment?'. The two essays have proven great quality, as well as a good understanding of the SDGs and law.
The Best Future International Lawyer Award competition reopens in February 2020. To find out more, follow the updates on the website here. To read this year's winning essay, click here.