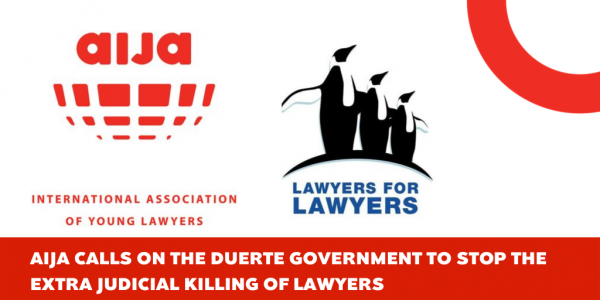 AIJA is proud to announce that it has signed the petition aimed at raising concerns about the situation of lawyers in the Philippines. AIJA has joined more than 150 international and national bar associations, lawyers' organizations and individuals from across the globe in signing the petition.
AIJA has taken this action to express its deep concern over the increasing harassments, intimidations and attacks against lawyers in the Philippines and the oppressive working environment they've faced since the start of President Duterte's administration in June 2016. Here at AIJA we call on the Duterte Government to adequately protect the safety and independence of lawyers and end the culture of impunity in which these attacks occur.
Since June 2016, the number and intensity of attacks against lawyers has risen significantly. There have been at least 46 jurists killed between July 2016 and 5th September 2019, including at least five serving and retired judges. Its believed that most of these killings took place as a result of discharging professional duties. The lawyers especially at risk are those representing individuals accused of terrorists or drug related crimes, but also government critics such as journalists, opposition leaders and human rights defenders.
The attacks against and extra-judicial killings of lawyers and the impunity shielding perpetrators significantly impair the ability of lawyers to provide effective legal representation, making lawyers increasingly wary of working on sensitive cases. Consequently, this severely undermines the proper functioning of the rule of law and the adequate protection of rights, including the right to remedies and fair trial.
Therefore, AIJA demands that the Duterte Government upholds the United Nations Basic Principles on the role of lawyers. To find out more, check out the petition (in English) here.