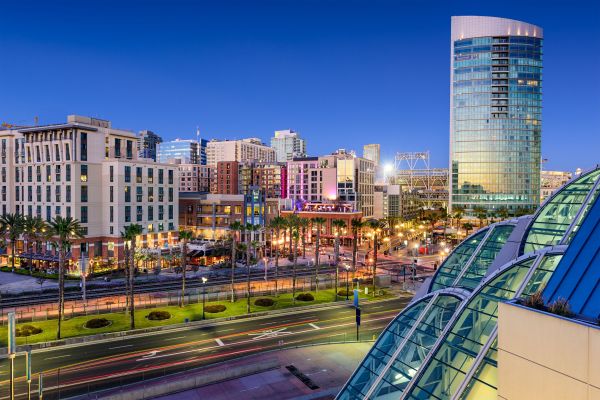 Over the last decades, San Diego has gained a reputation as a vibrant start-up and innovation hub where many cutting-edge sectors, such as telecommunications, cybersecurity, connected devices, health IT, gaming, data analytics, have come together to learn from – not compete between - each other. A big city that still feels like a small town, San Diego has a unique culture that is for many more supportive and cooperative compared to other markets. This has encouraged the rise of technology-based start-ups as well as incubators and accelerators. To support the growth, San Diego's major research universities, such as the UC San Diego, are also developing innovative technologies and driving changes at a global level.
The spirit of innovation, coupled with the bustling start-up environment, is what will bring international lawyers and entrepreneurs to AIJA's seminar "Entrepreneurship and innovation: from early stages to the evolution" from 8-10 November, at Westin San Diego Gaslamp Quarter. With early bird registration fees until 2 October, the seminar promises to uncover the "real stories" of successful entrepreneurs who have made an impact in their industry.
The scientific programme will focus on key challenges in setting up new businesses, from strategies to implement and expand the business through different financing models, to protecting corporate and IP assets. The sessions will feature not only lawyers covering the legal aspects, but also entrepreneurs sharing their point of view on what makes a business successful. "We will analyse all steps related to how to finance a startup and discuss the obstacles during negotiations with investors. Participants will also get a view on the growth of university technology transfer from a representative of the University of California San Diego", says Milena Prisco, senior associate at CBA Studio Legale Tributario.
Legal preparedness for building a successful business
Building a business from scratch can be a daunting process. Irrespective of the business model, there is a set of basic legal rules that should be implemented to ensure the success of your business. Milena believes that "any entrepreneur should tailor the best dress code for corporate governance and IP assets in view of growth and with the aim to scale up the business globally. I strongly believe that setting a solid legal basis is the first investment when setting up a new business". She explains that the starting point is the protection of founders and key people in your business. It is also crucial to design strategies that can add value to the company in terms of funding and investors.
"First, you need to arrange everything between the founders and agree on a well-balanced shareholder agreement. This may already take a while. Then, the first business angel steps in and you start negotiating again. You have to amend the corporate bylaws and deal with 'liquidation preferences', 'tag and drag along' and with each round of negotiations, the processes get more and more complicated", says Chiharu SEKINO, associate attorney at Shepherd, Finkelman, Miller & Shah, LLP.
"Even though many of the clauses in agreements and bylaws are standard, it is important to go thoroughly through them. You will end up with a real mix of legal and economical questions. So, you should really be prepared from the beginning. The setup of terms and conditions, registration of trademarks and the GDPR compliance (in the EU) are also challenges almost every start-up must deal with from the very beginning", concludes Frederic DACHS, attorney at Kleiner Rechtsanwälte.
Adopting new technologies for innovation
Over the last decade, digital technologies have dramatically changed the global economy and have imposed new drivers for competing in a market. Caroline PLUTA, attorney at PLUTA Rechtsanwalts GmbH, believes that technological change is happening faster than ever. "This is a huge challenge for established companies, as they have to reorganise their processes. In my opinion, they also have to establish new ways of management and product development".
For many entrepreneurs, advancements in technology have also become major contributing factors in the success of their business ventures locally and globally. Through extensive market research, "technology and digitalisation can provide huge opportunities for entrepreneurs to develop new business models which can be disruptive and thus really change the world", adds Inese GRATE, senior case and business development manager at Law offices of Jacob Sapochnick. She explains that "the need to innovate has pushed for open innovation which has increased the interaction between start-ups and old or new economy industries and universities".
These topics and much more will be discussed from 8-10 November at the seminar "Entrepreneurship and innovation: from early stages to the evolution". To register, visit the dedicated webpage.
Organised by AIJA's Organising Committee:
Frederic DACHS, Kleiner Rechtsanwälte (GERMANY)
Inese GRATE, Law offices of Jacob Sapochnick (UNITED STATES)
Caroline PLUTA, PLUTA RechtsanwaltsGmbH (GERMANY)
Milena PRISCO, CBA Studio Legale Tributario (ITALY)
Chiharu SEKINO, Shepherd, Finkelman, Miller & Shah, LLP (UNITED STATES)