AIJA News
AIJA Environmental & Energy Law Commission report on Circular Economy Day
15 December 2020
For the Circular Economy Day, 18 November 2020, the AIJA Environmental & Energy Law Commission asked members for a contribution regarding the current state of the 'circular economy' in Belgium, Brazil, the EU, Finland, France, Germany, India, Ireland, Italy, Mexico, Slovenia and Sweden.
All answers are purely informative and cannot be seen as a legal advice whatsoever.
Feel free to contact authors of each given section of this report for further advice.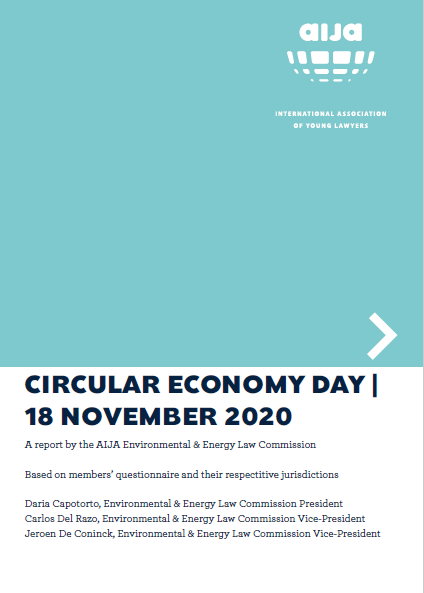 ---
Joint statement on Iranian lawyer persecution
03 December 2020
AIJA, together with 24 other Bar Associations and legal organisations, stands in solidarity with renowned Iranian lawyer Nasrin Sotoudeh. She is being persecuted by their Government for practising her professional duties.
Learn more about Ms Sotoudeh' situation in our joint statement attached.
Read the full joint statement (English)
Read the full joint statement (Persian)
To further understand her persecution, the International Bar Association's Human Rights Institute and the Law Society of England and Wales invite you to the Nasrin Sotoudeh film seminar, taking place on Friday, 4 December at 16:30 - 18:00 GMT.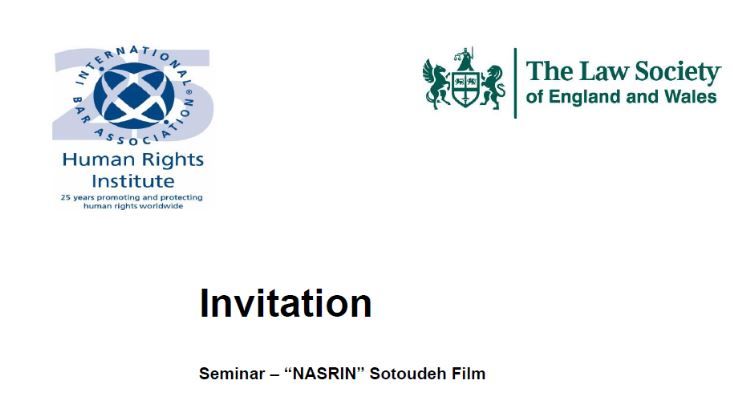 Speakers:
Jeff Kaufman - "NASRIN" Director
Marcia Ross - "NASRIN" Producer
Hossein Ahmadiniaz - Iranian Lawyer
Baroness Helena Kennedy QC - Director, IBA Human Rights Institute
Moderator:
Dr. Marina Brilman - International Human Rights Adviser, The Law Society of England and Wales
---
AIJA urges UN Member States to recognise, uphold and protect the rule of law
14 July 2020
A joint call for action - signed by 50 bar associations, law societies, and national and international lawyers' associations, including AIJA, the International Association of Young Lawyers - has been issued on the occasion of the 30th Anniversary of the adoption of the UN Basic Principles on the Role of Lawyers.
The call for action reaffirms the relevance and the universality of the Basic Principles and notes with "great concern the increasing frequency, globally, of attacks and interferences both on the independence of the legal profession, and against lawyers individually, including threats, intimidation, retaliation, harassment and interference in the discharge of lawyers' professional functions. Lawyers are exposed to arbitrary sanctions, including arrest, prosecution or deprivation of licence to practice law, and/or to situations in which governments fail to safeguard lawyers adequately where their security is threatened as a result of engaging intheir profession".
The document is available for download in English, French and Spanish.
---
World Refugee Day 2020
20 June 2020
Written by AIJA's Human Rights Committee
Today, 20 June 2020, is World Refugee Day. On this day, we honor the millions of refugees and forcibly displaced people across the globe and commemorate, with the greatest respect, the many lessons of life and humanity that draw from their hope, strength and courage. Today, we also take a pause and acknowledge – perhaps more than ever – that we all share responsibility in the making of a world that is truly just, inclusive and equal to all human beings.
With 'Every Action Counts' as its global theme, a more inclusive and equal world is in fact what UNHCR (the UN Refugee Agency) lays emphasis on in commemoration of World Refugee Day 2020:
The COVID-19 pandemic and the recent anti-racism protests have shown us how desperately we need to fight for a more inclusive and equal world: a world where no one is left behind. It has never been clearer that all of us have a role to play in order to bring about change. Everyone can make a difference. This is at the heart of UNHCR's World Refugee Day campaign. This year, we aim to remind the world that everyone, including refugees, can contribute to society and every action counts in the effort to create a more just, inclusive, and equal world.
The urgency of doing something has become apparent now, more than ever before, with more than one per cent of humanity (i.e. one in every 97 people) being affected by forced displacement and with fewer and fewer of them being able to return home. As UNHCR reflects in its annual Global Trends Report that was published two days ahead of World Refugee Day 2020, 79.5 million people were displaced by the end of 2019. Whilst this is the highest total that UNHCR has seen to date, an added concern is the long term exclusion of displaced individuals from society: 'We are witnessing a changed reality in that forced displacement nowadays is not only vastly more widespread but is simply no longer a short-term and temporary phenomenon," according to UN High Commissioner for Refugees Filippo Grandi.
People cannot be expected to live in a state of upheaval for years on end, without a chance of going home, nor a hope of building a future where they are. We need a fundamentally new and more accepting attitude towards all who flee, coupled with a much more determined drive to unlock conflicts that go on for years and that are at the root of such immense suffering.
Undeniably, World Refugee Day 2020 has gained extra dimensions due to the unprecedented number of forced displacements and the health, social and economic challenges that our global community has been experiencing in recent months. On World Refugee Day 2020, we recognise that a more just, inclusive and equal world by definition depends on solidarity, well-informed individuals and on concern for the well-being of others. It depends on our actions and our actions count. As an international organisation for young lawyers and as members of the global community, we will continue to use our platform to raise awareness about the plight of refugees around the world and to promote the protection of their human rights. And in doing so, we will continue to rely on the dedication, inspiration and actions of our members to creating a world in which no one is left behind.
ترفند بازی انفجار



بازی انفجار رایگان
بازی انفجار شرطی
آموزش پوکر
سایت پوکر
---
Virtual coffee with the AIJA President
02 June 2020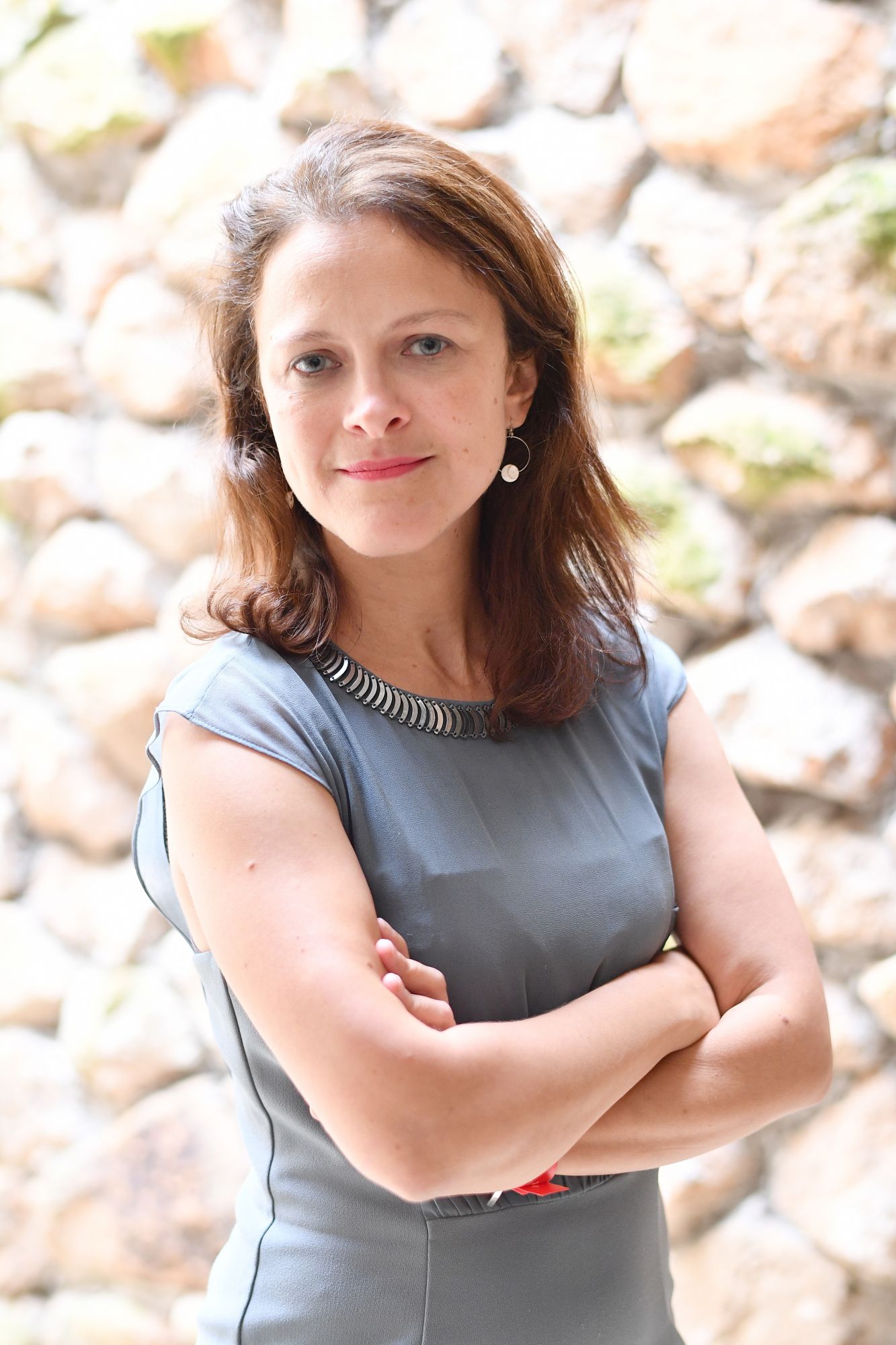 In June, as part of our association's commitment to Diversity this year, join AIJA President Paola Fudakowska for a series of virtual coffees with inspirational women who will share interesting stories from their careers in frontline journalism, diplomacy, medicine and law.
AIJA members, colleagues, friends and families are invited to join and engage in a interactive discussion about women in leadership across a variety of professions.
On 5 June, Paola has invited British diplomat Caroline Hurndall. See more here.
To accommodate the different time zones of our global membership, the coffees will take place at 15:00 CET each Friday on 12, 19 and 26 June on Zoom, for which please follow this link. More details about the guests will be published soon.
Updates can be found on our 'Upcoming events' page.
---
AIJA Commissions meet online
02 June 2020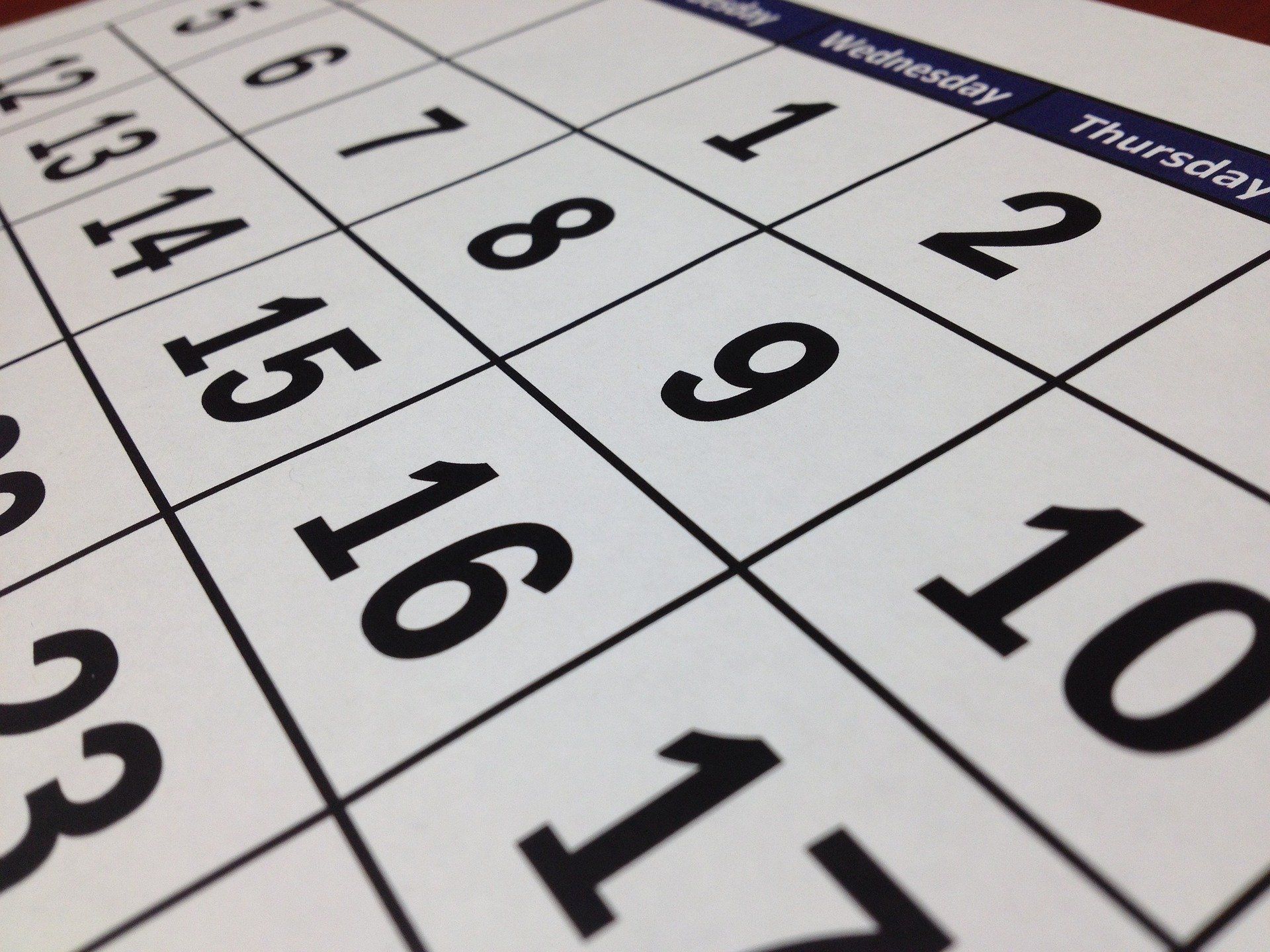 AIJA members can now meet online with their Commissions.
Be prepared to discuss current events in your area of practice, ask questions, share experiences from your jurisdiction or business. If you have any AIJA projects in mind, this is also a good moment to share and plan for the coming months.
The meetings will take place during the last week of the month in April, May and June. The meeting details will be shared by your Commission President and Vice-Presidents.
Schedule overview
| | |
| --- | --- |
| Antitrust | 30 April, 28 May (16:00 CET) |
| Corporate and M&A | 30 April, 28 May, 25 June (14:30 CET) |
| Environment and Energy Law | 27 April (16:00 CET), 26 May (17:30 CET), 2 July (16:00 CET) |
| In-house Counsel | 30 April (17:30 CET), 29 May (13:00 CET), 3 July (13:00 CET) |
| Insolvency | 27 April (14:30 CET), 25 May (16:00 CET), 2 July (17:30 CET) |
| International Arbitration | 28 April, 26 May, 30 June (16:00 CET) |
| International Business Law | 28 April, 26 May, 30 June (14:30 CET) |
| IP/TMT | 29 April, 27 May, 1 July (16:00 CET) |
| Labour Law | 28 April (17:30 CET), 2 June (17:00 CET), 7 July (18:00 CET) |
| Litigation | 28 May, 29 June (17:30 CET) |
| SCILL | 29 April, 27 May, 2 July (14:30 CET) |
| T.R.A.D.E. | 29 April, 27 May, 1 July (13:00 CET) |
| Transport Law | 27 April (17:30 CET) |
| Commercial Fraud | 29 May (16:00 CET), 29 June (11:30 CET) |
| International Private Clients and Family Law | 3 June (14:30 CET) |
---
AIJA virtual home hospitality
11 May 2020
Social distancing-imposed practices worldwide have made meeting with our AIJA friends challenging, but not impossible. AIJA continues to travel the world – just virtually this time.
We've decided to put a virtual spin to our traditional and much-loved evenings of home hospitality. Once a month, AIJA member volunteers are virtually opening their homes to guests for an hour-long get-together. The next virtual home hospitality will start at 18:00 CET on Thursday, 28 May.
How to join
Please send us an email by 20 May COB where you tell us whether you want to be a host or a guest on 28 May.
The AIJA team will contact by email all hosts to introduce them to their guests and share with them some guidelines on how they can organise their virtual home hospitality. Hosts are then invited to communicate directly with their guests and share the details to connect.
To ensure everyone gets to speak and share, each host is assigned up to 8 guests.
Here's a screenshot of April's home hospitality, with some 50 guests joining our hosts for the evening: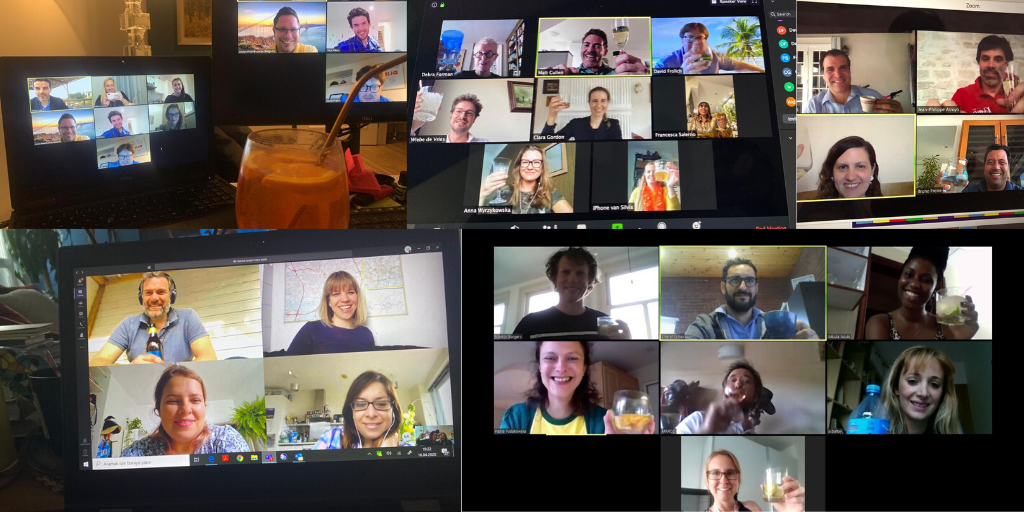 Available to AIJA members only.
---
This is our new normal
04 May 2020
An update from Paola Fudakowska, AIJA President 2019/20
At AIJA we thrive on embracing qualities and experiences that are different from our own. Our variety of expertise, skills and knowledge has enabled us to build a diverse association with over 4,000 members from more than 90 countries. This cultural diversity has empowered us to grow and foster strong alliances, relationships and connections both inside and outside our association. Through supporting diversity, we have created a community which produces innovative ideas and solutions from the synergy of our members.
Until now this year has been different, unexpected. As we navigate through the COVID-19 pandemic, it's important for us to continue to meet as a community and have the events we are used to having and love – just virtually.
What we've been up to
We've set up an internal e-learning taskforce to propose new ideas, formats and content for our members to stay connected online during the upcoming months. The e-learning taskforce works closely with AIJA's Academic Programme Committee which is responsible for maintaining our calendar of virtual events. The e-learning Taskforce is composed of Viktoria Keri (AIJA Association Manager), Anouk Rosielle (Co-chair, Academic Programme Committee), Manuela Cavallo (Portolano Cavallo), Debra Forman (Pinstripe Coaching) and Corina Pirva (AIJA Communications Manager), with support from François Barré (AIJA First Vice-President). Our approach is built on three main themes:
(1) Learn: We want to provide a learning environment for our members, using webinars to discuss current events impacting the legal profession and the practice of law.
(2) Network: We want our members to continue to meet as a community during these uncertain times when in-person events and meetings may not be possible.
With the weekly Friday virtual 'Coffee with the AIJA President' series, we've started informal conversations to connect with our members and their experiences across the globe. Guests have interacted with our members on important topics, such as well-being in lockdown and tackling disability in the legal profession. The next dates are currently scheduled on 8 May, 15 May, 22 May and 29 May.
We've also put a virtual spin on our traditional and much-loved evenings of home hospitality. Once a month, AIJA hosts are opening their virtual homes to their guests. If you'd like to be a host or guest for the next virtual home hospitality on 28 May, send us an email home_hospitality@aija.org. Here's a screenshot of April's home hospitality, with some 50 guests joining our hosts for the evening.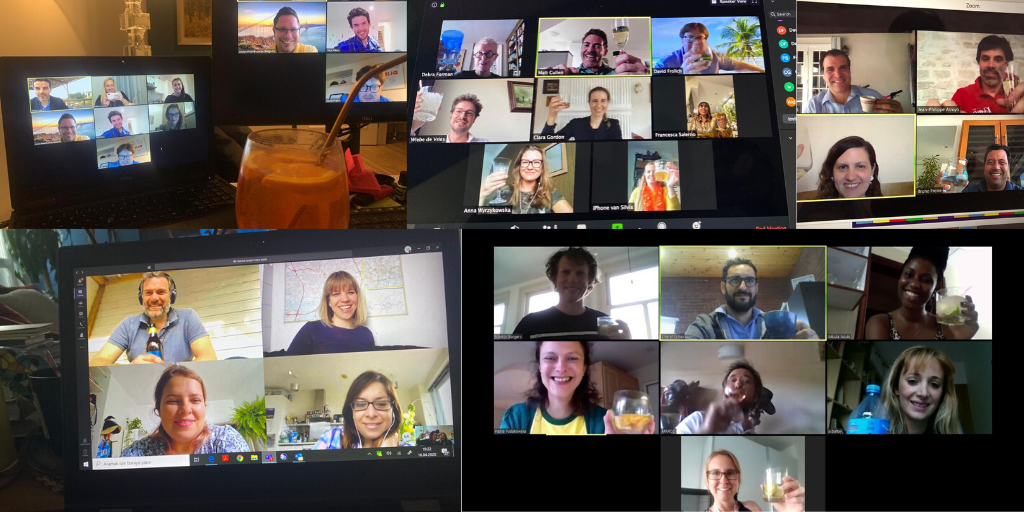 (3)Share: Our community can continue to grow by sharing best practices and experiences.
We've launched the AIJA #HomeTalks, a limited series of weekly informal conversations about the business and human impact of COVID-19, with lawyers and business leaders from around the world sharing their experiences.
Finally, we've offered our members the opportunity to meet with their Commissions to discuss current events in their areas of practice, share and plan future AIJA projects and keep in touch. Commission meetings take place during the last week of the month in April, May and June. The agenda is available here.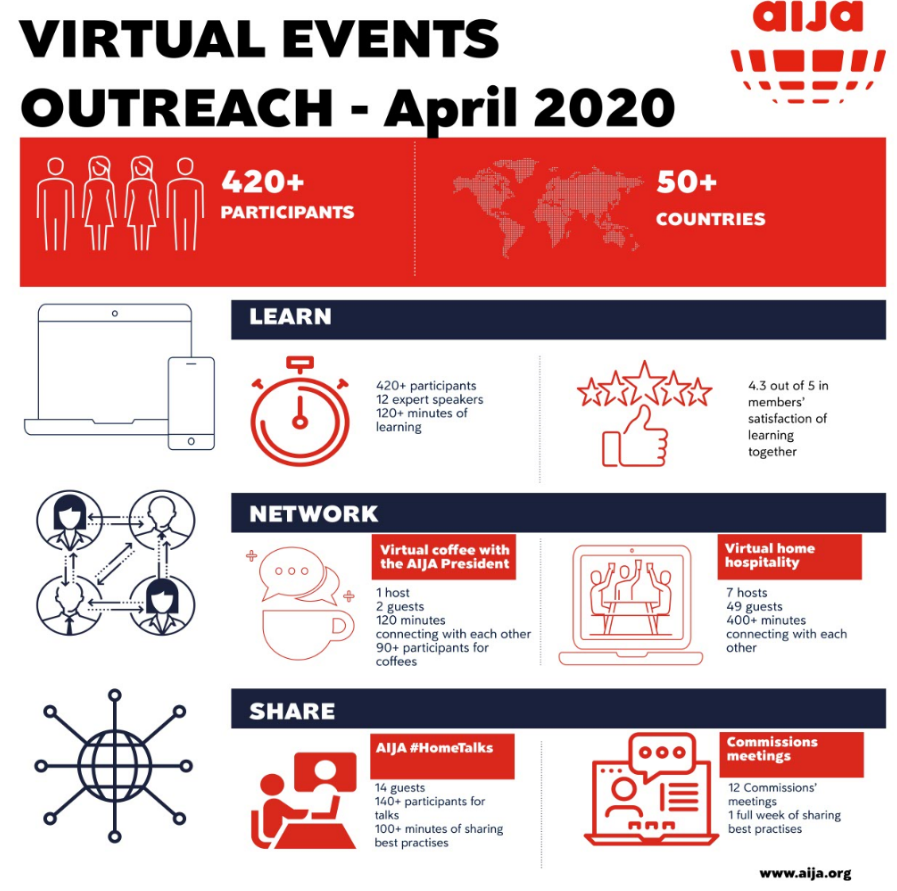 What's next
For AIJA, this year dedicated to Diversity is about starting to enrich conversations and challenge individuals to understand the value of different perspectives within society and the workplace. The COVID-19 pandemic has moved these conversations online for now.
I want to thank our Brussels team for their efforts to bring our beloved Association online during this extraordinary time. We will continue to closely monitor feedback and adapt our online offering to the needs of our members.
To keep track of virtual events that you can take part in, we have created a calendar you can use for May. You can also check the Upcoming events section on our website here.
To contact the AIJA eLearning Taskforce about new ideas for e-learning projects, please send an email to office@aija.org.
If you are a Commission looking to organise a webinar, please contact the AIJA Academic Programme Committee(Anouk Rosielle, Babak Tabeshian, Kristine Zvejniece).
---
'Your legal first aid kit: COVID-19' webinar takeaways
29 April 2020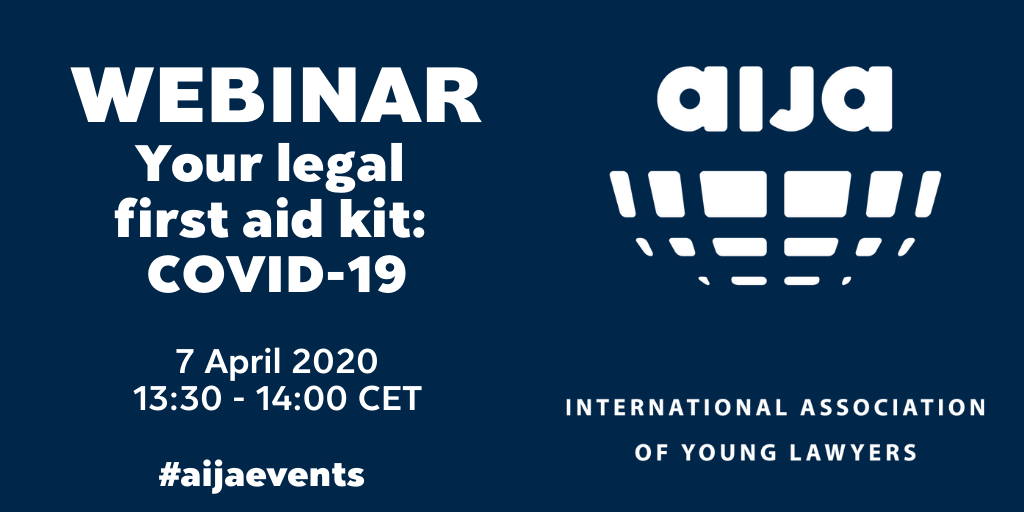 On 7 April, AIJA hosted its first webinar in response to the challenges ushered in by COVID-19. Both external and in-house counsel perspectives have been shared during this 30-minute event as well as new ideas and tools for your legal first aid kit.
Undoubtedly, the crisis brought challenges but also a series of opportunities. This webinar was the ideal moment for speakers from different jurisdictions to share their first weeks' experience dealing with the COVID-19 crisis and map out some of the opportunities that they had already identified. These insightful discussions have sparked many questions that directly affect clients' business and legal professionals.
Key Takeaways from the webinar's speakers:
Marco Gardino, R&P Legal - Studio Associato, Italy:
"Some national legislations had to adapt in order to remove certain corporate formalities, allowing shareholders and board of directors' meetings via digital means", and "companies will have to be very careful about managing the approval process of annual financial statements and decisions on whether or not to distribute profits accrued before the outbreak of the virus".
Anda Mize, European Lingerie Group, Latvia:
"We have been lucky that our company is already a very digital one, mostly due to our footprint, as the management team is spread throughout various European countries. In terms of working remotely, the current restrictions do not present a significant change-up for us. With companies, law firms, and authorities alike becoming more digital, more efficient and focused, I believe that this will be one of the positive takeaways from this situation.
Arguably, the most difficult aspect of this crisis is that we do not know how long it is going to last, and hence, how to appropriately gear up for the future. Surely, law firms and companies alike can relate to this.
What I personally appreciate from our external counsel is that they keep calm and carry on, adjust, react, and just stay focused on the issues at hand. It is also interesting and useful to hear their insights and suggestions on how to go about this undoubtedly unique crisis, as external counsel work with clients in different industries and jurisdictions and have hence seen more issues, solutions, and do's and don'ts than I have as an in-house lawyer in my specific company/industry."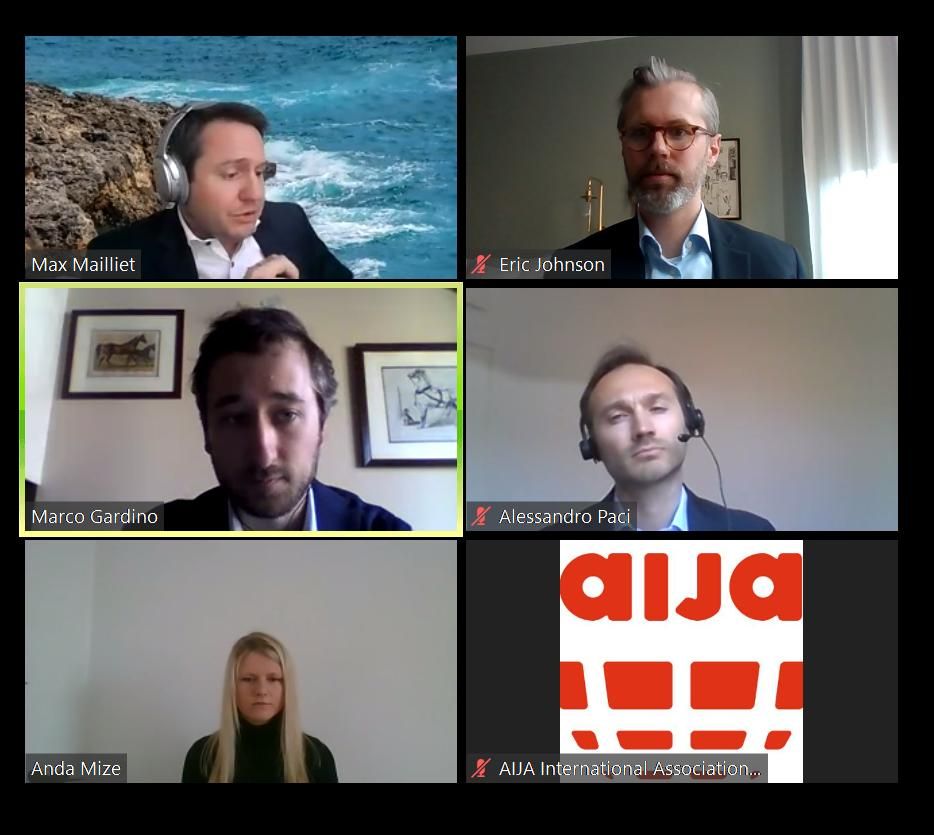 Alessandro Paci, R&P Legal - Studio Associato, Italy:
"Many clients are not aware that force majeure clauses may include notice requirements and time limits. Some clauses also require to provide force majeure certificates from qualified authorities; however, not all countries' authorities issue certificates. In any case, it may be questionable if a certificate would be recognised in the country of performance. In the weeks ahead, it is imperative that new contracts contain optimised force majeure clauses and also specific Covid-19 provisions."
Eric Johnson, Advokatfirman Cederquist, Sweden:
"Albeit unlikely to be force majeure, a drastic decline in revenue may be considered hardship, i.e. situations where the commercial balance has been severely impacted due to external unforeseen circumstances, and one of the contracting parties is suffering major losses whilst the other stands more or less unaffected. Now, hardship clauses – as opposed to force majeure clauses – do not release the suffering party from its performance obligations, but they would give the party a right to have the contract renegotiated (at least in part). If there is no hardship clause in the contract, it is probably very difficult in most jurisdictions to unilaterally impose amended terms. Looking ahead, consider including renegotiation clauses in your contracts, and/or terms that will allow you to push back payment dates for a certain period of time, in case of extraordinary external circumstances."
Max Mailliet, Etude Max Mailliet, Luxembourg:
"These are interesting but also challenging times for lawyers. In many countries, the rules change daily, today's truth is tomorrow's lie. We have to move quickly, anticipate changes and, most of all, keep our synthetic thinking at the same time. We are also stuck somewhere between our client's best interests and our ethical rules, some of which ask us to uphold the general best interest."
Thank you to the speakers for their contribution. Check out for other AIJA online events here
---
COVID-19 measures must factor in fundamental human rights and the rule of law
24 April 2020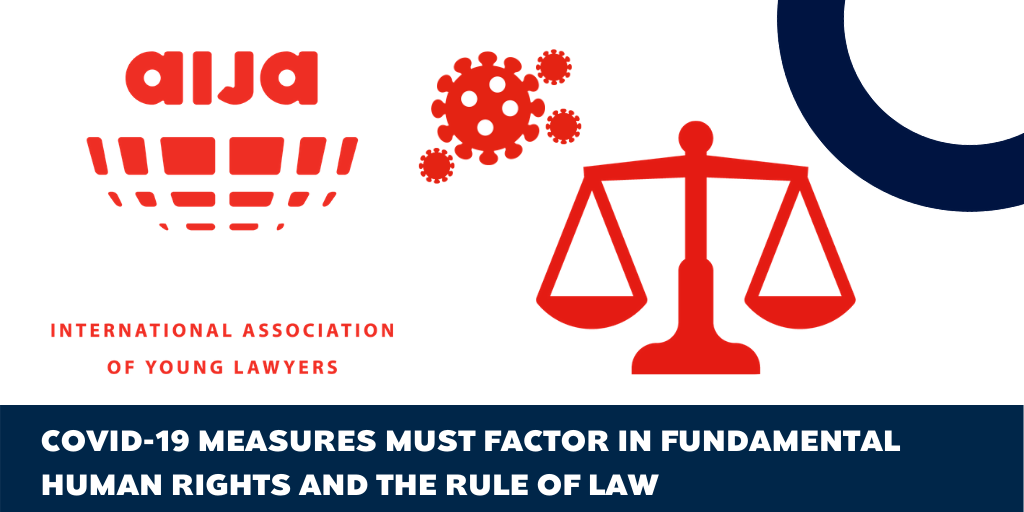 AIJA is profoundly concerned about the risk of violations of the principles of rule of law, democracy and fundamental rights arising from the adoption of certain emergency measures taken in order to address pandemic risks.
Emergency measures should be limited to what is strictly necessary, proportionate and temporary in nature, subject to regular scrutiny, and respect the aforementioned principles and international law obligations. They should not restrict the freedom of expression or the freedom of the press.
If the principles of the rule of law, democracy and fundamental rights have been violated once, it may be extremely difficult to revert once the emergency situation is over.

AIJA commends the initiatives taken by several European countries and the Council of Bars and Law Societies of Europe (CCBE) to bring to the attention of policymakers and lawmakers at EU and national level some of the obvious threats to the rule of law:
AIJA urges all members and young lawyers around the world to actively safeguard and take personal actions as young professionals to defend the principles of the rule of law, human rights and democratic values during these challenging times.
AIJA recommends our members and young lawyers to take the following concrete measures:
use existing mechanisms, especially judicial ones, to protect the above values,
initiate discussions with your local bar associations about the importance of defence of human rights and rule of law in difficult times,
contribute to defending these values in civil life.
AIJA is the only global association devoted to lawyers and in-house counsel aged 45 and under. Since 1962 AIJA provides outstanding international opportunities for young lawyers to network, learn and develop.
AIJA's Human Rights Committee supports the right of every lawyer to practice their profession freely. The committee supports the entitlement of every individual to legal representation and a fair trial, and the protection of the rule of law.
---
Talking tax and tech in Malta amidst global disruption
08 April 2020
Silvio Cilia (Corrieri Cilia - Malta) shares some highlights from the recent AIJA Annual Tax Conference, on behalf of the Organising Committee.
It's been four weeks since we saw many of our AIJA friends and colleagues at the 2020 AIJA Annual Tax Conference organised by our Tax Law Commission at the Malta Hilton in St Julians, Malta. The world was already beginning to change, and some of our participants and speakers joined us remotely. Despite the setback from the COVID-19 crisis, the AIJA spirit remained vibrantly alive throughout the event, with more than 57 lawyers coming from 20 countries coming to Malta.
The conference was organised by a committee composed of several AIJA members: Guadalupe Diaz Sunico (Lener - Spain), Marco Masi (Facchini Rossi Michelutti - Italy), Alessandro Foti (De Berti Jacchia - Italy), and Silvio Cilia (Corrieri Cilia - Malta).
Keeping up with the tech - Is technology a friend or foe for tax payers and tax practitioners?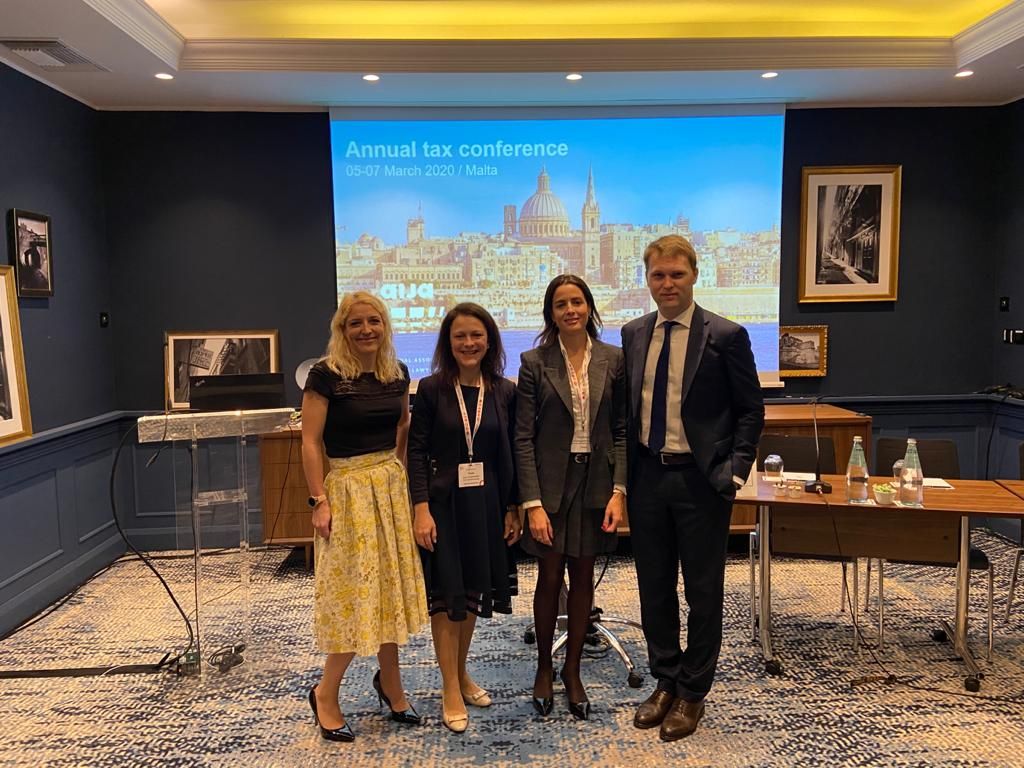 This was the central question set out at the start of the conference. The event opened on Friday morning with an enthusiastic duo made up of AIJA President Paola Fudakowska and AIJA Tax Law Commission President Jessica Kemp. Their welcome address was followed by interventions from two distinguished local guest speakers, Dr Gege Gatt and Dr Ian Gauci. Dr Gatt, a lawyer by training and an IT/AI entrepreneur by profession, provided the attendees with illuminating insights on concepts such as artificial intelligence, robotics, machine learning and data processing technology; setting the tone for the topics discussed in the later sessions. Dr Gauci, a leading tech lawyer in Malta, shared an erudite overview of the legislative and regulatory developments and the features thereof making Malta innovative and relevant in the field of technology, AI and blockchain.
The first panel of the day, made up of Rachel Dress (Racine - France), Michelle Wiesner -Lameth (Rosinus Partner - Germany) and moderated by Barry Mcgettrick (Matheson - Ireland), discussed the increasing use of artificial intelligence and technology by tax authorities throughout the tax inspection process. In addition, the panellists discussed their experience with electronic tax returns and supporting documentation, as well as the implications in case of a tax inspection process and the increasing use of electronic tax compliance management systems.
This was followed by a discussion on the rise of blockchain, cryptocurrencies and Initial Coin Offerings and the related VAT and tax aspects for companies and individuals. The discussion also shed light on the challenges faced by tax advisers in relation to such new technologies and innovative business models. Moderated by Gertjan Verachtert (Sansen International - Belgium), the panel welcomed Catarina Belim (Belim Services – Portugal) and Michael Gauci (Corrieri Cilia - Malta) as speakers, together with Marco Masi (Facchini Rossi Michelutti - Italy) and Eva Stadler (Wolf Theiss - Austria) who both joined via Skype.
A post-BEPS world and the challenges of tech disruption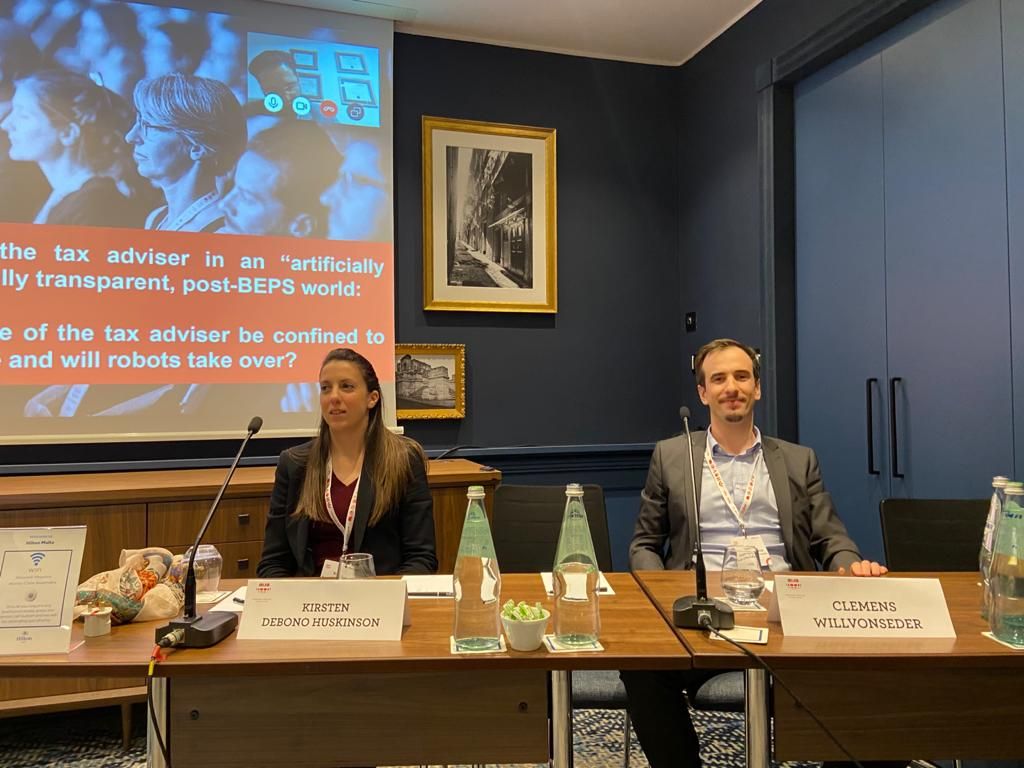 In the afternoon, David Areias (Areias Advogados - Portugal) led a panel that discussed the role of the tax adviser in the context of a post-BEPS world and the challenges of technological disruption in the legal sector where the new mantra appears to have become tax compliance, not tax planning. The panel was joined by several speakers, Clemens Willvonseder (Binder Grösswang Rechtsanwälte - Austria), Kirsten Debono Huskinson, Camilleri Preziosi - Malta), along with Jose Rubens Scharlack (Scharlack Advogados – Brazil) on Skype.
The ongoing conflict between the right to privacy and the quest for transparency in the light of new digital tools (geolocalisation, credit cards and financial info, AI and cognitive technology etc.) was the theme of the last panel on Friday. Moderated by James Bromley (Farrer & Co - United Kingdom), the panel presented views from Marc Buchmann (Fischer Ramp - Switzerland) and Alexandra Ologu (Monolit Legal & Tax - Romania) on where the moral and legal boundary might lie between these two conflicting priorities.
Taxing the digital economy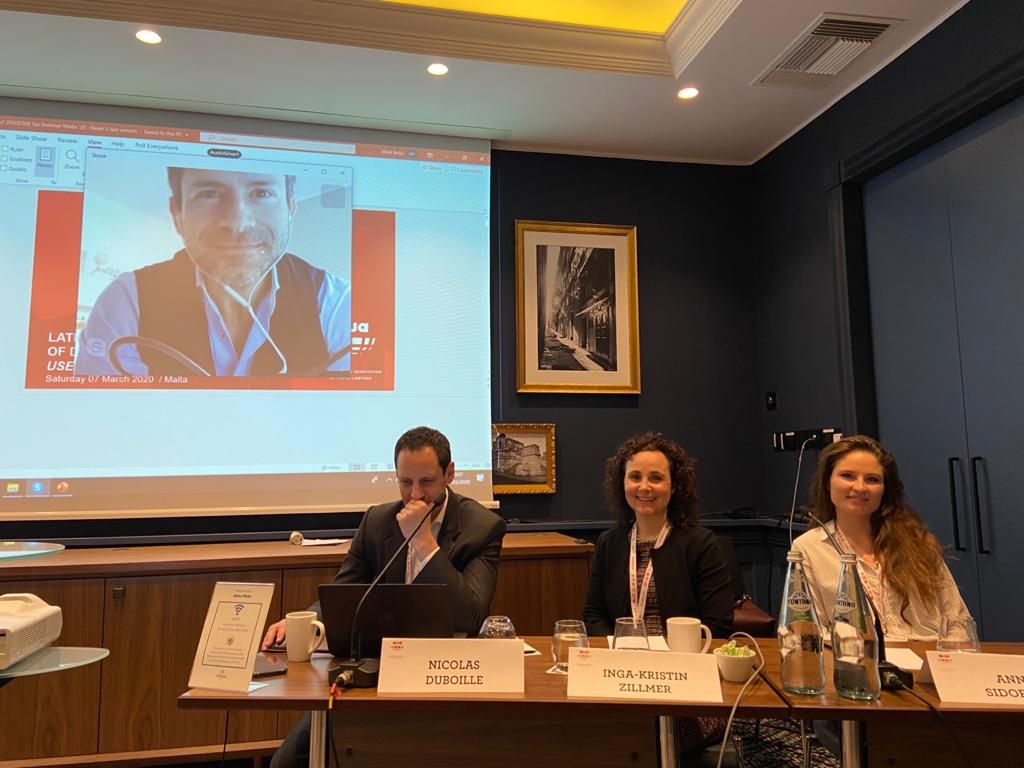 The second day saw a very well-attended first panel which was dedicated to the latest developments in the taxation of the digital economy dominated by US MNEs and the implementation of unilateral measures by some EU countries, as well as the new concept of digital PE. This panel was led remotely by Alessondro Foti (De Berti Jacchia - Italy) with Nicolas Duboille (Sumerson - France), Anna Sidorova (Bonnard Lawson - Switzerland) and Inga Zillmer (Zillmer - Germany) being physically present.
The academic programme closed with an animated roundtable discussion on the tax implications and challenges of the sharing economy moderated by Jose Eduardo Aguilar Shea (Squire Patton Boggs - Spain) with fellow panellists Coralie Dedieu (Algance - France), Peter van Velthoven (Van Doorne - Netherlands) and Arne Riis (BDO - Denmark) actively engaging all attendees.
The social programme in brief
Besides the academic content, the seminar featured a delectable social programme starting on Thursday evening with welcome drinks at the classy Quarterdeck bar at the conference hotel. This was followed by an exquisite dinner at Sale e Pepe restaurant in St Julians. On Friday evening participants were treated to a very informative historic walking tour of Valletta followed by dinner at the 16th century grand hall of the former military hospital of the Knights of St John. On Saturday afternoon, a select group gathered for a scenic guided tour of the west part of the island and a walking tour of Mdina, Malta's ancient capital city. The conference ended with a lavish gourmet dinner at the Michelin star De Mondion Restaurant situated in one of Mdina's historic palazzos.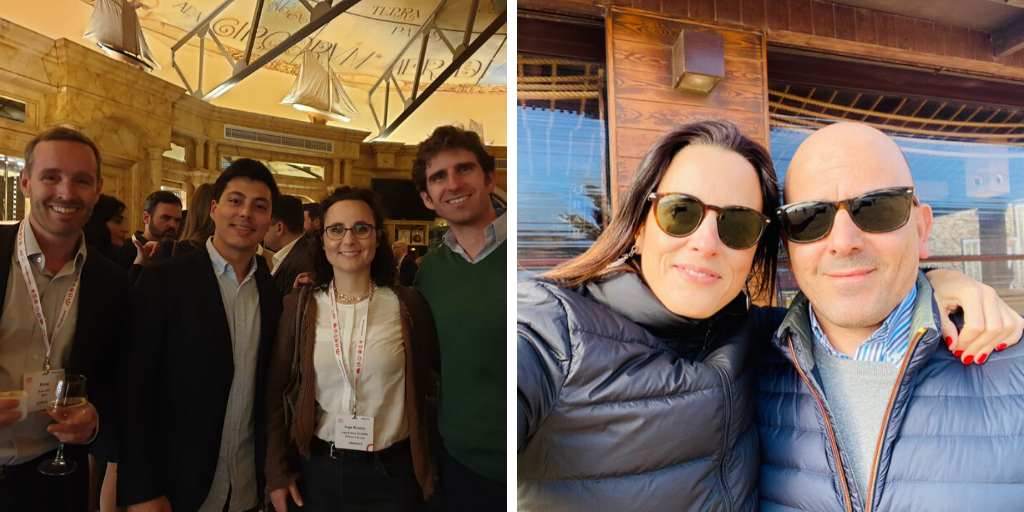 ---
AIJA #HomeTalks by lawyers
06 April 2020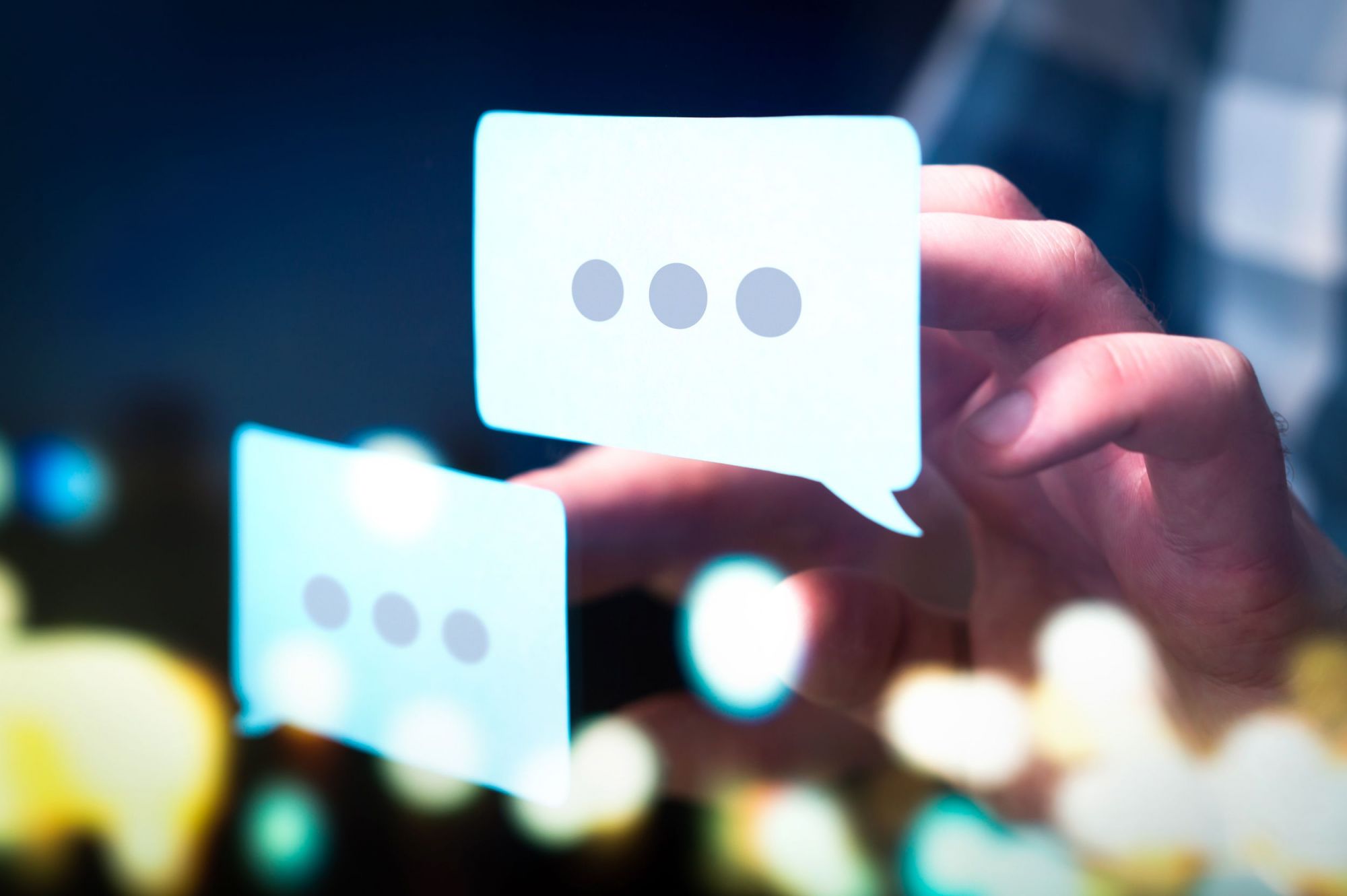 The world has stopped because of COVID-19: What about your law practice? What about you?
Following on from our webinar 'Your first legal aid kit', AIJA will start a series of weekly informal conversations about the business and human impact of COVID-19 with lawyers from around the world.
AIJA's first '#HomeTalks by lawyers' session kicks off on Zoom on Wednesday, 8 April (10:00 - 10:30 AM CET) with guests from Hong Kong, Spain, Italy, Netherlands and France.
We would like to hear from you, too. Come and share your own experience of the lockdown and how you make the best of the situation in your country, at your law firm, with your clients, or at home. We will do our best to allow time for everyone to speak. Just remember: there's always another talk the following week as these interactive talks will take place every week on Zoom: link.
Stay updated on our website and social media for more info.
---
48th European Presidents' Conference – Vienna
09 March 2020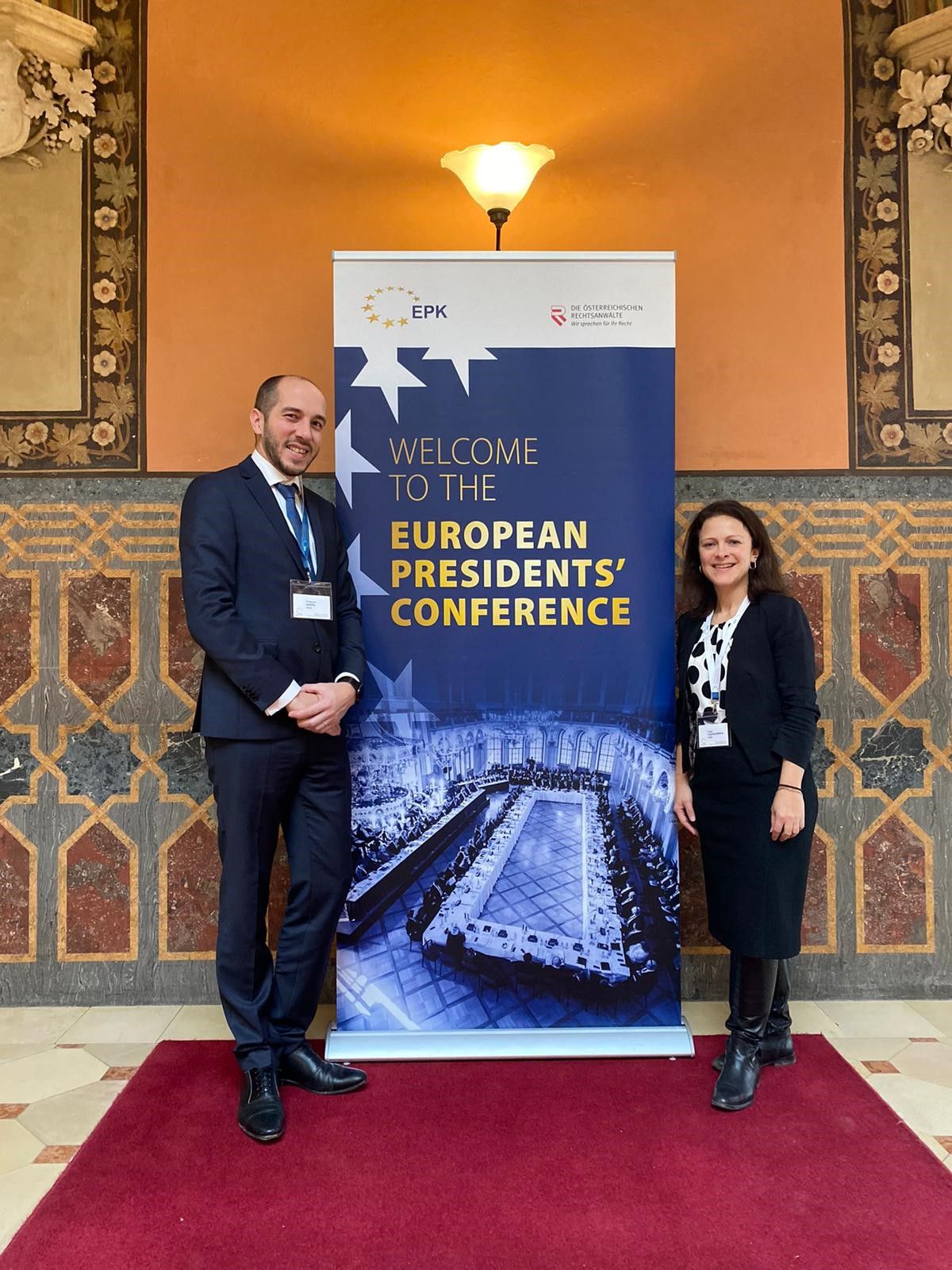 AIJA took part in the 48th European Presidents' Conference of Bar Associations and Law Societies on 21 February 2020 in Vienna.
Together with other Presidents and High Representatives of European Bar Associations, Law Societies and international lawyers' organisations, AIJA President Paola Fudakowska and AIJA First Vice-President François Barré participated in this year's discussion on 'Democracy and Rule of Law – Keeping up the Pressure' which was the main topic of the event.
Following the European Conference, a Resolution signed by 48 Bar Associations and international organisations of lawyers, including AIJA, has been released this month to share our joint commitment to the rule of law, the separation of powers, an independent judiciary and fundamental rights. The resolution also highlights widely shared support to members of the Polish legal professions who have been targeted by repressive disciplinary measures and have recently voiced their concerns during the so-called 'march of the 1.000 robes' in mid-January 2020.
In this context, the Resolution invites the wide legal family, all our fellow lawyers, judges and prosecutors to send a strong signal during a 'march of the European Robes' between 24 and 26 June 2020 in Brussels, Belgium.
As an international association, AIJA stands together with all judges, prosecutors, lawyers to defend the rule of law and safeguard the independence of the judiciary in Europe and beyond.
Read the full resolution here.
---
#EachforEqual every day
08 March 2020
An equal world is an enabled world. This year, the International Women's Day (IWD) is calling for collective action to achieve more gender balance in the world. Celebrated on 8 March, this annual celebration is also an opportunity to reflect on the importance and value of diversity within society and the role we all play in encouraging equal opportunities.
Here at AIJA, diversity is the beating heart of our association and we have dedicated the year of 2020 to this topic. As the International Association of Young Lawyers, it's diversity that first brought us together and continues to do so.
'My election as the fifth female President of AIJA in the last decade illustrates how the members of our association for international young lawyers actively support female empowerment and leadership', says AIJA President Paola Fudakowska.
Our statistics speak for themselves: 43 per cent of our members are women and 51 per cent of the officer roles are held by women. There is currently a gender balance across the Association's executive board and during the past ten years 73 per cent of the senior leadership roles on our executive board were held by women.
Paola makes the point that, 'We lead by example to show - in the words of another champion for female empowerment - women don't need to find a voice, they have a voice. They need to feel empowered to use it and people need to be encouraged to listen'.
Following the 2020 narrative of 'an equal world is an enabled world' – and recognising everyone's role in this – AIJA will celebrate diversity at our 58th annual congress in Rio de Janeiro, from 24-28 August. Under the theme 'United in Diversity: Empowering our Future', the congress will advocate for a dynamic and wide-ranging profession; it will offer a discussion platform to provide insights into the complex and multidimensional nature of our society. The congress will also mark the launch of the AIJA Women's Network, an initiative to leverage the strength and capabilities of AIJA's members to promote and progress the advancement of women's careers in the legal sector. Whilst we can't single handily solve the issues women face in the legal profession, we believe that our collective strength can enable us to together build brighter careers for the woman of today and the future.
With over 4,000 members from more than 90 countries, it's also the cultural diversity within our association that has empowered us to grow strong alliances across our differences, fostering strong relationships and connections both inside and outside our association in the past 58 years.
Collectively, each one of us is able to contribute towards a more gender equal world. Gender equality matters in business, government and society. Because an equal world is an enabled world, AIJA chooses to be #EachForEqual every day.
This year, our members have accepted the #EachForEqual challenge launched by the UN to promote equal opportunities. Want to share your photo? Put your arms up front and strike the #EachForEqual pose. Send us the photo by email with a short message on the value of diversity and gender equality within society. Over the next weeks we will be publishing our members' messages on our social media.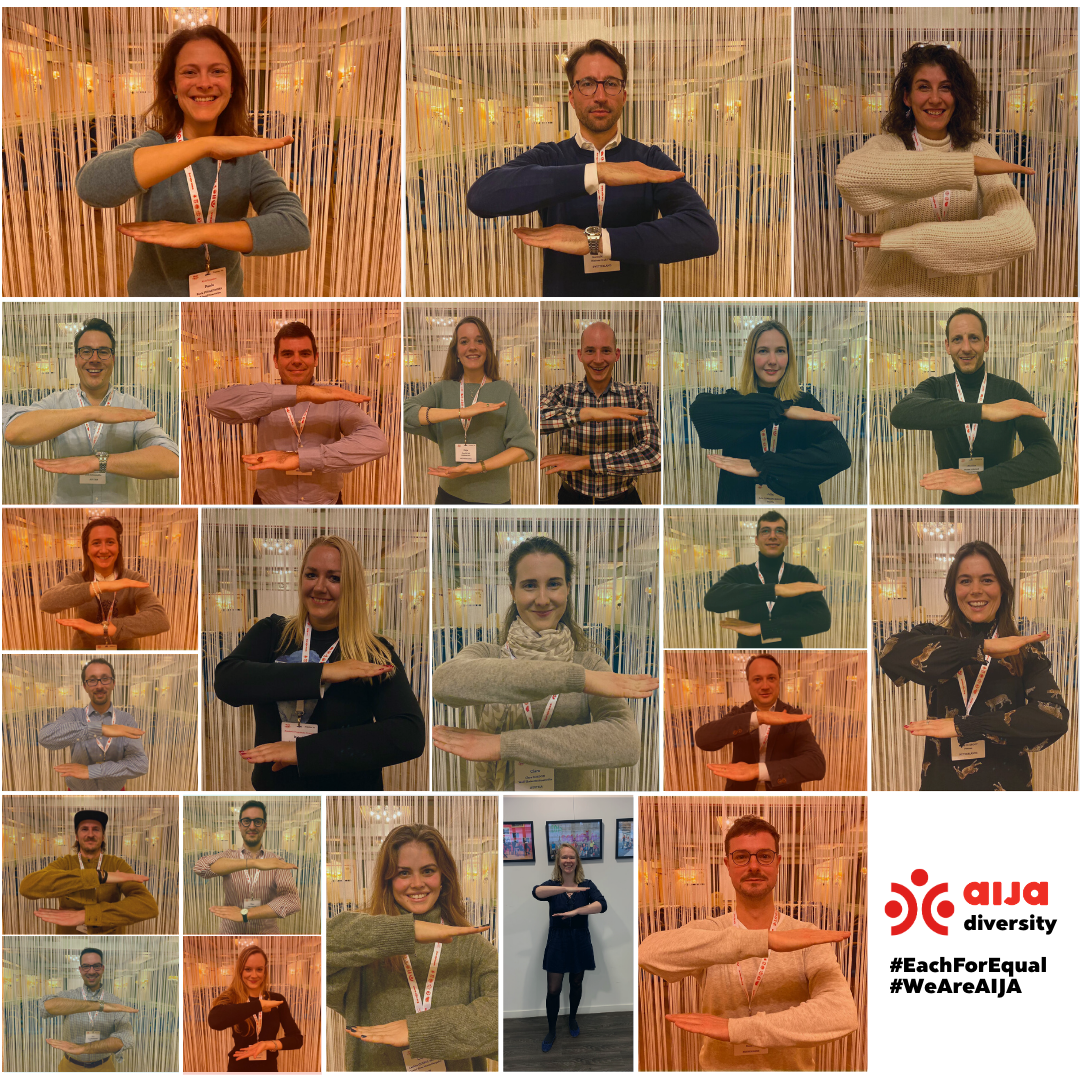 ---
AIJA to launch women in law network
06 March 2020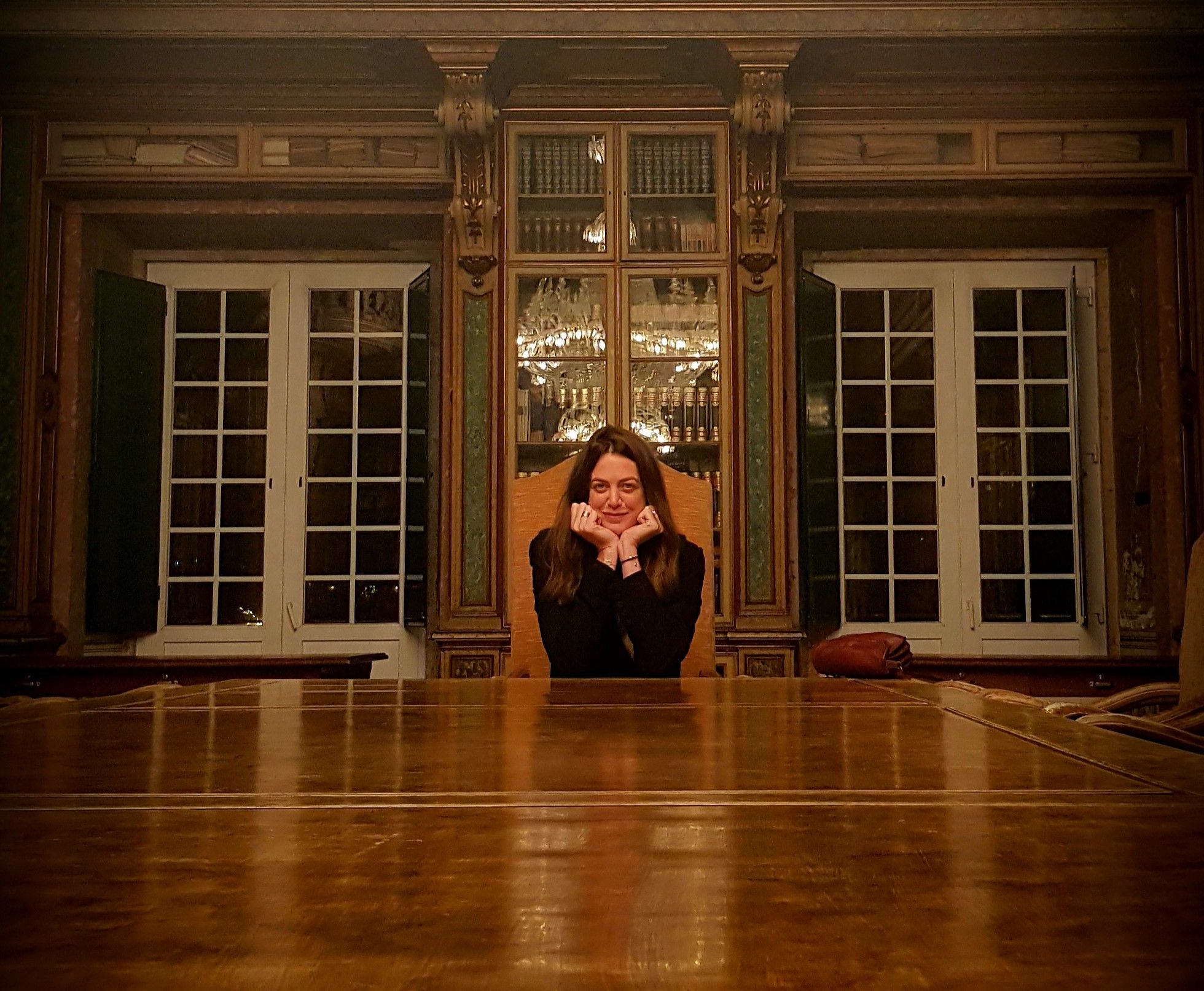 8 March marks the International Women's Day. This year's theme is 'Each for Equal' which is about challenging stereotypes, broadening perspectives and celebrating women's achievements. We spoke with Jennifer Maxwell, President of the Banking, Finance and Capital Markets Commission, about the launch of the AIJA Women's Network and gender diversity in the legal profession.
1. What inspired you to create the AIJA Women's Network initiative?
Forty-three per cent of AIJA members are women and fifty-one per cent of AIJA's officers are women. This high level of participation is impressive, especially when we look at gender diversity statistics from the wider legal sector, which are less encouraging.
Moving towards equal representation requires substantial changes within the legal sector and at a societal level. But we can't wait for that to happen.
And while each of us can work to effect change within our own practice and firm, I believe that our unique and untapped tools are the networks and capabilities of the women members of AIJA. If we work together and share our experiences, we can build our careers together.
So I shared this idea with several AIJA friends (including Paola Fudakowska, AIJA President), and together we formed the AIJA Women's Network.
2. What is your main goal for the AIJA Women's network?
The main goal of our network is to leverage the strength and capabilities of AIJA's members to promote and progress the advancement of women's careers in the legal sector.
Our first session at the Annual Congress will be a series of moderated discussions on how to challenge stereotypes, fight bias, build client relationships, and move towards partnership.
We're going to listen to each other to gain insight from our respective real-life successes and brainstorm about how to work together to move forward in our careers. I believe that we can learn as much from real-life women and their professional experiences, obstacles and successes as we can from experts. Plus, we can help one another.
The long-term goals of the network will be determined by everyone at our first session. So I hope that many people attend so that they can have their say! I also want to mention that in the long term, the network will not be restricted to women.
3. What one piece of advice would you give to a woman thinking of starting a career in law?
While having mentors who are more senior to you is important, it's just as important to develop strong relationships with people who are at the same stage as you are. These relationships will help your personal and business development, as you can work together to overcome the obstacles that inevitably pop up. The concept of 'peer mentorship' is the main driver behind our network's first session.
4. The number of women joining the legal profession is rising. What impact do you think a more representative split at the top of the profession would have?
The number of women entering the legal profession has been high for many years. The real problem is how to keep women in law. For example, in Germany, up to 50% of the first-year associates are women, but at the equity partner level only 16% of partners are women.
It's been proven in study after study that having women in decision-making roles improves company performance. Diversity equals profitability, and the same principles apply to the legal sector.
5. Which powerful woman do you admire the most and why?
The women I most admire and who have had the most impact on me are those who are in my day-to-day life. I have been lucky to work with some incredible women (both colleagues and clients) who have shown me, by example or through mentorship, new ways to address the societal and professional barriers that we face as women lawyers. That being said, I must also state that Beyonce is amazing. #beyhive
6. What does this year's International Women's Day 2020 slogan #eachforequal mean to you?
It's a reminder that while the world is moving ever closer towards equality, we must all play our part to make those vital changes happen.
---
Advertise in our 2019/20 yearbook
02 March 2020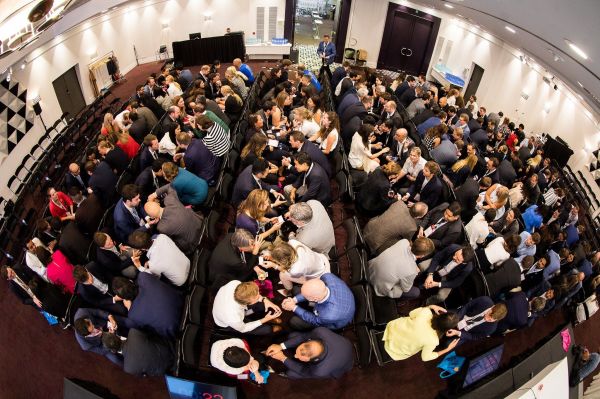 4,000 yearbooks are sent to our members and supporters in more than 90 countries worldwide. Showcase the services of your law firm and profile yourself by publishing an ad in the AIJA 2019/20 yearbook.
Check out the different options and choose your preferred level of visibility.
Profile A - Personal profile

Profile B - 1/4 page ad

Profile C - 1/2 page ad

Profile D - Full page ad

Publication of your photo and contact details

Inside page (black & white or full colour)
Format: 57,5 x 81,5mm (+ 3 mm bleed)

Inside page (black & white or full colour)
Format: 180 mm x 81,5 mm (+ 3 mm bleed)

Inside page (black & white or full colour)
Format: 148 mm x 210 mm (+ 3 mm bleed)

€150 (+ VAT if applicable)

€600 (+VAT if applicable)

€950 (+VAT if applicable)

€1,600 (+VAT if applicable)
---
World Day of Social Justice: Closing the inequalities gap
20 February 2020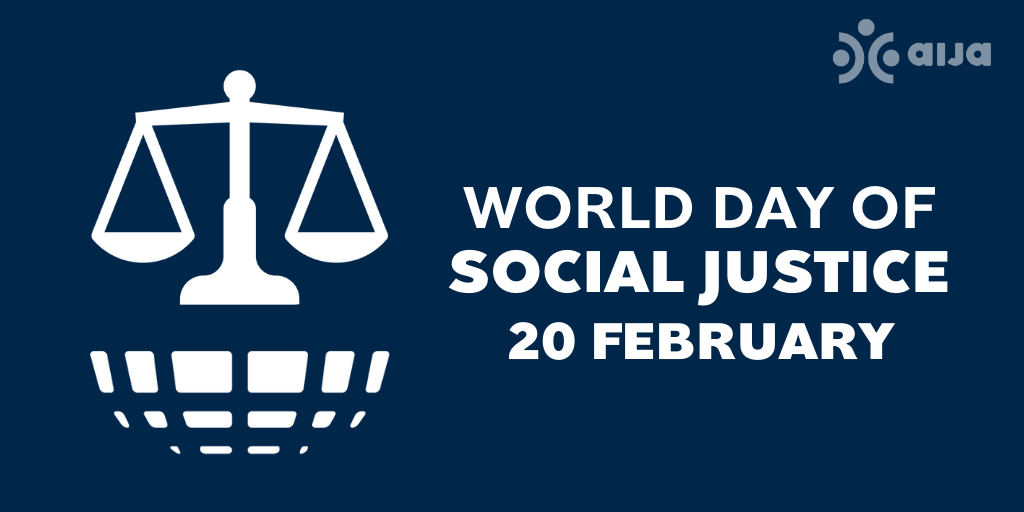 'Social justice is an underlying principle for peaceful and prosperous coexistence within and among nations. We uphold the principles of social justice when we promote gender equality or the rights of indigenous peoples and migrants. We advance social justice when we remove barriers that people face because of gender, age, race, ethnicity, religion, culture or disability.' - United Nations
Today, the 20th of February 2020, we join the United Nations in the commemoration of the World Day of Social Justice: a day for us as a young lawyers' association, for us as lawyers and, more generally, for us as members of society, to raise awareness on the pursuit of social justice by promoting the human development and human dignity of all. Today, we remind ourselves that the notions of inclusive development and respect for human dignity lie at the heart of human rights. We emphasize once again that we cannot attain social justice, unless we respect human rights.
To mark this year's World Day of Social Justice, the United Nations has chosen the theme 'Closing the inequalities gap to achieve social justice'. Within this context, today is also a day to celebrate the fact that the last decade has shown a decline (albeit in modest figures) in global inequality for the first time since the 19th century. And yet, as encouraging as this might sound, there is still more to be done: 'While we have made many notable advances in this field, there is still much work to be done, not only to track inequality but also to better understand how the rules of the global economy can help drive inclusive growth' (World Bank). In particular, with the global economy itself being pressured by disruptive developments that are fueled by protectionism, the digital economy and the threat of climate change, it is fair to say that we have reached yet another critical stage in the pursuit of equality. As the United Nations have pointed out, 'this is a critical time for decisive actions for an equitable future, which requires strong and coordinated responses at the global level to address the multidimensional root causes and to achieve the 2030 Agenda for Sustainable Development'.
Today, as we stand at the dawn of a new decade, i.e. the decade preceding the 2030 deadline of the Agenda for Sustainable Development, we follow the United Nations in their call to uphold global social justice. We assert human dignity and human development and call upon our members to continue to do what is in their capacity, particularly as lawyers, to improve social conditions and remove the barriers faced by people because of gender, age, race, ethnicity, religion, culture or disability. Closing the inequalities gap might be a challenge indeed, but it's high on the agenda of our association. Our annual congress in Rio will be an occasion to explore the topic even further as we will discuss diversity and inclusion under the theme 'United in Diversity: Empowering our Future'.
The article has been written by AIJA's Human Rights Committee to mark the World Day of Social Justice. To find out more about the World Day of Social Justice, please visit the UN website.
---
More than 100 young lawyers gathered in the Dolomites to discuss M&A
17 February 2020
This year, the annual AIJA M&A winter seminar took place in Madonna di Campiglio, from 15 to 18 January. Marco Gardino (R&P Legal - Italy) summed up the event by sharing some of the main highlights with us.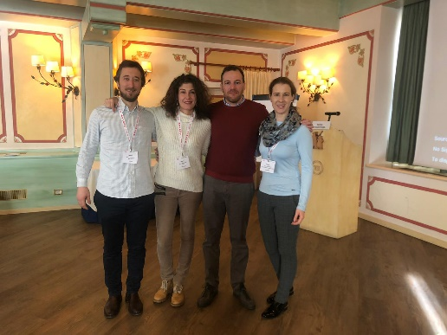 The organising committee, Marie Brasseur (ALTIUS - Belgium), Marco Gardino (R&P Legal - Italy), Clara Gordon (WOLF THEISS Rechtsanwälte GmbH & Co KG - Austria) and Matteo Vernizzi (Studio Legale Spinazzi Azzarita Troi Genito - Italy), planned out three days of workshops which explored teamwork in M&A transactions as well as which M&A transaction 'pitfalls' arise from other legal fields.
The seminar was opened by AIJA President Paola Fudakowska, with an attendance of more than 100 lawyers from more than 20 jurisdictions. The welcome address was followed by a panel on how the limits set by antitrust law can be integrated in M&A processes in a practicable way. Moderators Clara Gordon (Wolf Theiss - Austria) and Vittoria Deregibus (Pedersoli - Italy) discussed the topic with the two antitrust law experts Gustaf Duhs (Stevens & Bolton - United Kingdom) and Isabel Oest (Commeo LLP - Germany).
Antti Sailakivi (HPP attorneys - Finland) and Alex Montoya (Casahierro Abogados - Peru) then guided the tax panel on how to structure the deal from a tax perspective and what specific tax clauses should be envisaged in the transactional documents with the two tax law experts Alessandro Foti (De Berti Jacchia Franchini Forlani - Italy) and Alberto Brazzalotto (Maisto e Associati - Italy).
HR issues in M&A transactions are always crucial for M&A transactions. Using a very interactive approach, with an interesting live survey system, Dino Serafini (Ughi e Nunziante - Italy) and Jakob Nortoft (Glimstedt - Sweden) moderated a very effective panel with Nicky De Groot (Penrose Law - Netherlands), Stefan Muller (Wenger & Vieli - Switzerland) and Zuzana Chudackova (BNT attorneys - Slovakia).

On the second day, the first panel was dedicated to data protection issues, with an interesting analysis by Siri Martensson (Morris Law - Sweden) and Karolina Miksa (WKB - Poland) on the impact of GDPR in the management of M&A transactions, moderated by Giorgio Ferrero (Portolano Cavallo - Italy) and Dr. Daniel Mösinger (K&L Gates - Germany). The second panel focused on dispute resolution: Lars Raedschelders (Sherpa Law - Belgium) and Thomas Seeber (Kunz Wallentin - Austria) discussed the importance of efficient dispute resolution of M&A disputes with expert litigators, Liv Bahner (Bratschi - Switzerland) and Marie Davy (Kramer Levin Naftalis & Frankel LLP - France).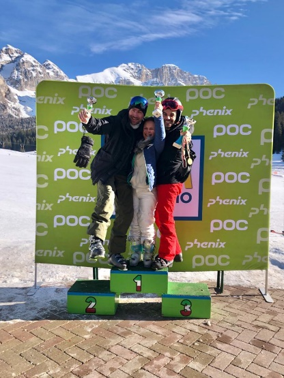 Marie Brasseur then moderated a well-attended panel dedicated to exchanging views with in-house counsel. Gloria Bertini (Head of Contracting, Snam SpA - Italy), Nemio Passalacqua (General Counsel Europe, Petronas Lubricants - Italy) and Davide Davico (General Counsel, Ersel Investimenti - Italy) debated how interaction between in-house lawyers and external counsel can be improved.
The need to interact in M&A transactions with lawyers from very diverse backgrounds requires great project management capabilities. For this reason, the programme closed with a project management training session led by DLM Partners. The participants worked on a practical exercise, which was also a great support activity for CBM Italia Onlus.
Besides the academic content, the seminar featured a fantastic social programme, with skiing as well as the first AIJA ski mountaineering excursion. Participants enjoyed a dinner at the well-known Chalet Fiat, surrounded by the unique landscapes of Dolomiti di Brenta.
---
AIJA finances explained
10 February 2020
AIJA is a longstanding and growing international association which offers professional and personal development opportunities to young lawyers worldwide. Operating in a financially sustainable way is important to ensure we offer the best possible value for money through our events and other membership benefits.
We are a non-profit organisation which means we don't aim to make any profits. In 2016, AIJA had a surplus, or accumulated funds, generated from membership fees, event registration fees and event sponsorship. The decision was made to invest those funds to fund growth in strategic destinations to extend our global reach, to develop membership services and make long-term sustainable investments. Through this approach we were able to hold events in strategic locations, attract new members, contribute to the local young legal community whilst growing our association's international presence, present in 90 countries.
Our members expect us to manage our finances sustainably and responsibly. We therefore regularly review our income and expenditure to make sure that we are investing in the most efficient way. We have devised a long-term plan, allocating funds where they are most strategically beneficial. Moving forward, the association will also increase its efforts in developing year-round institutional sponsorship to cover AIJA's operational costs and support event-related expenses. This will diversify and increase the income streams of the association, but also build organisational resilience.
Below you will find a broad overview of our finances. For a more detailed analysis, members can see AIJA's annual accounts which are presented every year at the General Assembly during the Annual Congress and can be found in the MyAIJA members platform. Our Bureau is available to discuss the association's finances with you.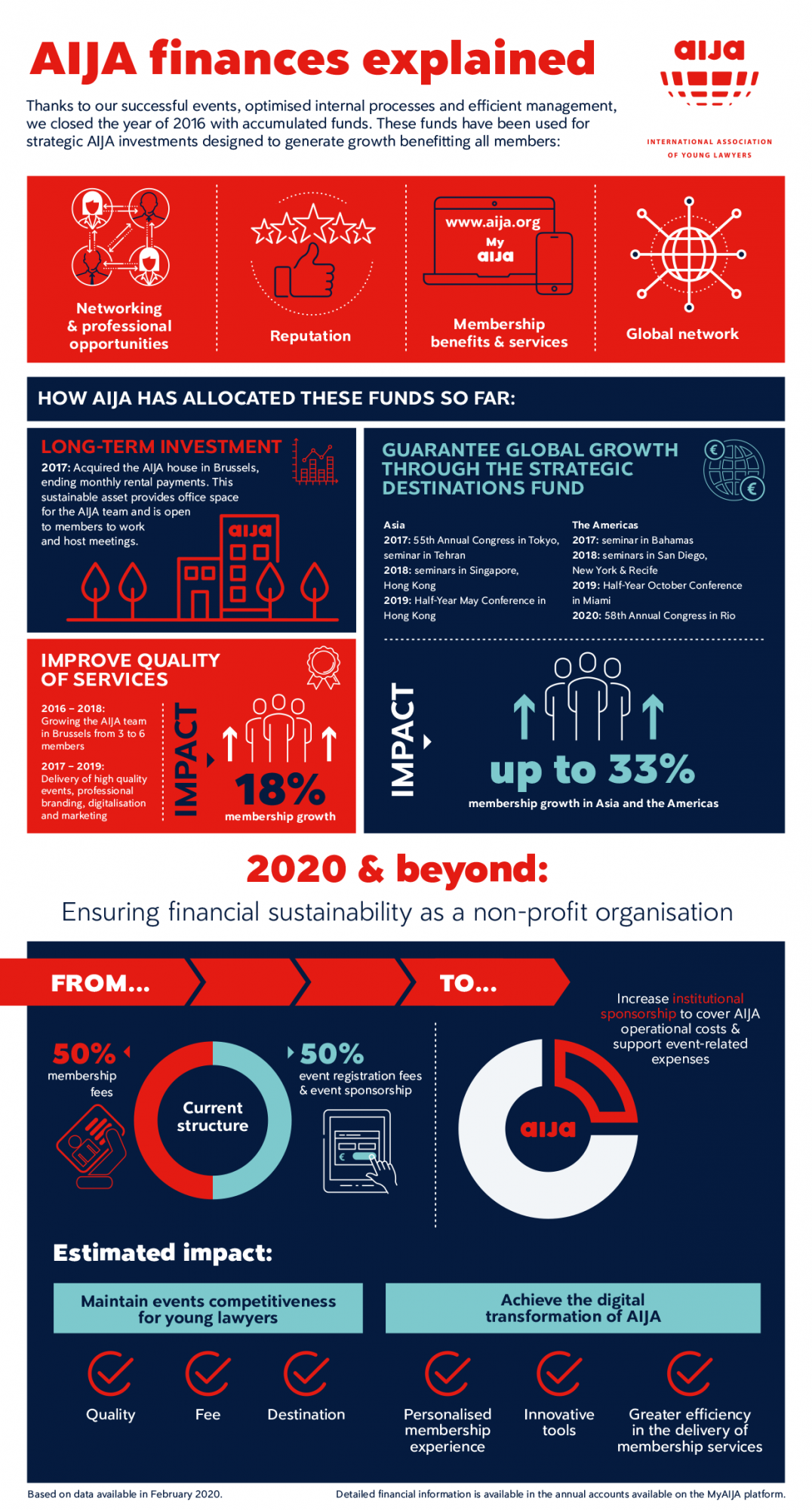 ---
Day of the Endangered Lawyer: A struggle to protect the lawyers from Pakistan
24 January 2020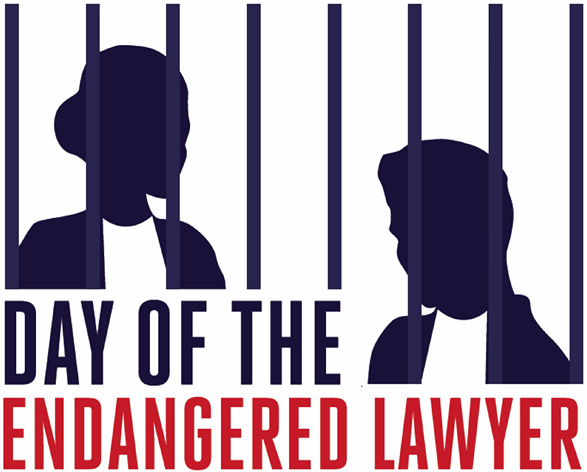 AIJA has joined an international coalition of 32 law organisations and bar associations in recognising the Day of the Endangered Lawyer, which is commemorated on the 24 January every year.
On 24 January 1977 four trade union lawyers and an employee were murdered in their Madrid office for simply doing their job. In 2010 the Day of the Endangered Lawyer was established to remember those killed in these abhorrent attacks, and raise awareness of lawyers around the world whom are harassed, threatened, tortured and murdered for their work.

In recent years the Day of the Endangered lawyer has focused on the threats lawyers face in Egypt, Turkey and China. This year, the day is highlighting the challenges lawyers in Pakistan face. Pakistani lawyers have been subjected to acts of judicial harassment, murder and mass terrorism for carrying out their professional duties. The most notorious attack took place on 8 August 2016 when terrorists attacked the Government hospital of Quetta, resulting in the deaths of 56 lawyers. The Human Rights Institute of the Bar of Bordeaux has created a video illustrating the horrific attacks on lawyers in Pakistan as part of the Day of the Endangered Lawyer, you can watch it here.
A struggle to protect the lawyers from Pakistan - Petition
AIJA with its international partners has signed a petition to the The Pakistani Government, calling on the government to ensure that lawyers are free to carry out their professional duties in safety and without fear of reprisals or attacks as required by the UN Basic Principles on the role of lawyers, amongst other vital measures. The petition is available in several languages: English, French and Spanish.
To learn more about the Day of the Endangered Lawyer, visit the website here.
To find out more about the status of lawyers in Pakistan, read the report here.
---
Load more