AIJA News
AIJA's 55th Birthday Celebration and Launch of the Alumni Club
11 May 2017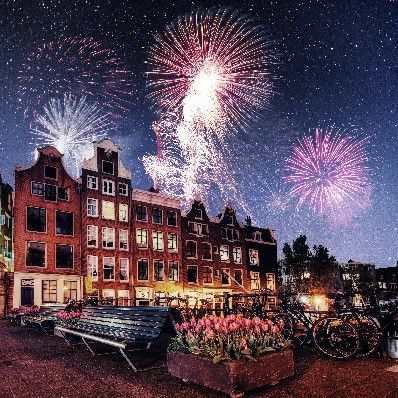 AIJA is about to turn 55, and that will be celebrated in style in Amsterdam! Kicking off on Friday 23 June with cocktails and "Bitterballen" (traditional Dutch snacks), the Saturday program will include a seminar and an AIJA-style Gala Dinner. Together with the Bureau, a small team of active members of the OC Amsterdam 2017 has set up a nice program.
To mark this historic event, AIJA will also be launching its Alumni Club – a platform for all former AIJA members to stay in touch and up to date even after moving on in their careers. For that purpose, everyone who has ever been a member is invited to sign up for the Alumni Club by clicking HERE.
"AIJA will always remain an association for young lawyers but we recognise the potential of keeping older members informed and part of the network", explains the new AIJA Alumni Coordinator, Michiel Groenland. "The Alumni Club gives AIJA an elegant possibility to keep connected with its alumni, whilst securing the age limit. Our Alumni are AIJA's best ambassadors and supporters to bring in young colleagues to AIJA. It is also a good way to value the great contributions the AIJA members have given over the years, building the AIJA spirit to what it has become today… This birthday party is the first step in reaching out to this large alumni group."
Celebrating AIJA's birthday every fifth year has become something of a tradition, and indeed will happen again in 2022 for the 60th anniversary celebrations. Each party therefore aims to be one to live long in the memory. As well as the cocktails and dinners, the Amsterdam event will include, "a scientific program, organised by a great team of working coordinators, about the strategic key issues on digital transformation and law firm management", explains Groenland. "This topic will be of great interest for both AIJA's alumni and members, and there is plenty of time to meet old friends within the program, in an inspiring environment – the museum district is in walking distance."
But the overall aim of the event – and for the newly launched AIJA Alumni Club – is a celebration of the AIJA family and its ability to build long-lasting, global friendships, even as the years go by. AIJA values all its members, including its alumni, who together have helped build up the association to what it is now.
"I am sure that this Network will generate a lot of energy from the participants and that in itself will make Amsterdam a must-attend", says Groenland. "It brings back and facilitates the old friendships as experienced during their time of active membership. Of course there is a flavour of nostalgia too, which may certainly renew old connections". And there is a big benefit for the existing 'class of 2017' too – the chance to strengthen connections with senior lawyers, who truly share and understand the value of the AIJA experience.
Join us in Amsterdam on 23-24 June to celebrate AIJA's 55th Birthday and the launch of the AIJA Alumni Club. Please share with alumni colleagues.
For more information and to register, click HERE
---
Scholar's Takeaways from AIJA's Double Seminar in Lausanne
11 May 2017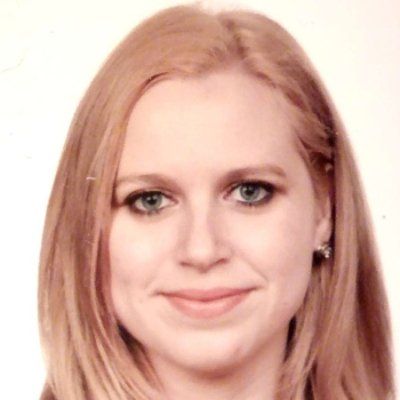 The newly established Public Law Commission recently held its very first AIJA seminar together with the Sports Law Commission, in Lausanne, Switzerland.
Covering governance of world sports, including world championships and Olympic Games, and the elections held within sports federations, sports lawyers have an increasingly complex task to offer legal protection for all stakeholders involved.
Attending the recent seminar in Lausanne was Sabina Markič, Associate at Lidija Kobe law office and PhD student at University of Ljubljana, who won an AIJA scholarship covering all her registration, travel and accommodation expenses.
The AIJA Scholarship Programme, "enables young lawyers to attend AIJA's events or events co-organized by AIJA", explains Markič. "I applied for the AIJA Double Seminar titled Olympic Games, Corruption and Sport Arbitration & Government contracts - Public Procurement Law and Contract Law. My scholarship included free participation at the seminar, free accommodation and all travel costs."
She found it to be, "a really fantastic and unforgettable opportunity to learn from experienced experts in this particular area. The lectures, which were at a very high level, were extremely instructive and interesting and have contributed a lot to my doctoral research."
As a domicile of the IOC and CAS, Lausanne is the heart of sports law, and was a fitting place for the seminar to be held. Aside from the formal programme, Markič also enjoyed the peer-to-peer networking. "I was surrounded by very friendly people who were happy to share their knowledge and experiences with colleagues", she said. "I met colleagues from different countries engaged with sports law. This is the field of law that I am extremely interested in. To a doctoral student and young lawyer at the beginning of a career, such as myself, having the opportunity to exchange views on certain issues with colleagues from other countries means a lot".
Following her experiences on the scholarship, she now recommends AIJA to all her peers: "From my point of view it is very important for young lawyers to get acquainted with colleagues experiences not only in the domestic environment but also internationally - this is a great organisation, which really opens up opportunities to young lawyers and students for networking and gaining additional knowledge at the international level."
Markič found out about the scholarship via the AIJA website, and chose to apply. She encourages others to do the same. "If you have a desire for international networking and participation in very interesting seminars, do not hesitate and apply", she says.
If you are interested in finding out more about AIJA Scholarships, click HERE
---
AIJA Visits the IBPA Annual Congress
11 May 2017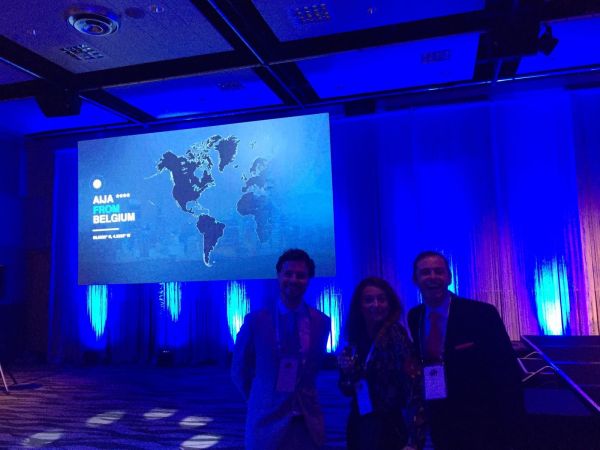 Two AIJA Bureau members recently visited the Inter-Pacific Bar Association (IPBA) as guests at their annual conference in Auckland. Part of AIJA's ongoing work to deepen relationships with the Asia-Pacific region, and broaden networks for all AIJA members, Wiebe de Vries, First VP at AIJA and Justyna Szpara, Treasurer at AIJA, were happy to accept the invitation.
"We have a Memorandum of Understanding with IPBA", explains de Vries. "This serves as a framework on how we deal with each other: representation at each other's congresses and conferences, and mutual promotion of our events. Our cooperation has been improving significantly in the last years."
By visiting the IPBA annual congress, it gives both organisations the chance to "meet and learn from each other's agendas and events", continues de Vries. "The promotion of our Tokyo congress was a key reason for going to Auckland and to speak to the IPBA board. In addition we met some of our Japanese AIJA Annual Congress OC members and other delegates that we could introduce our annual congress and other events."
There was also the chance to meet with the Auckland young bar association, informed Szpara: "they are full of ideas on how to increase awareness of AIJA in New Zealand and Australia, so I won't be surprised if we can have a seminar in this part of the world in the upcoming years. Webinars especially may be a useful tool to be in contact without travelling."
"A considerable number of New Zealand lawyers move to London or Dubai for some time in the earlier stage of their career to work abroad, after which many of them return to New Zealand. It's great to involve them in AIJA to give them a soft landing in the place where they go and to keep them involved when they return."
The trip also provided a useful contrast and comparison to AIJA events: "Well, nothing beats AIJA! Our all inclusive approach to events, our more modest cost base, and our large young crowd are essentials that we must cherish. On the other hand, compared to other large international lawyers associations, we think IPBA is a more informal and pleasant organisation to go to."
There was another key difference, joked the visiting bureau members: "At AIJA, the bar stays open much longer!"
---
Spring Half-Year Conference in Riga
11 May 2017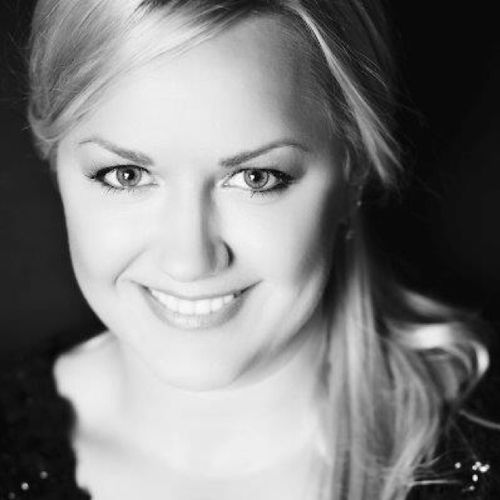 This year's May conference will take place in Riga, the capital of Latvia. One of Europe's hidden treasures – full of art, beguiling architecture and compact enough to walk around in a day – it is the perfect location for this year's Spring Half-Year Conference.
Kristine Zvejniece, co-chair of the organising committee, who is from Riga, describes herself as being "beyond excited" to welcome more than 250 international lawyers to her city. "They will enjoy all the splendid venues we have chosen - from rooftop terraces overlooking the Old Town and the other bank of the Daugava River, all the way over to the magical Gala dinner that will be held in the vintage 'House of Blackheads' manor, built in the early 14th century, and the home hospitality evening where Latvian lawyers will open their doors and cook for our international guests."
The committee has also been busy organising an interesting and innovative scientific programme. There will be two programmes running simultaneously: 'The start-up world – From seed to crop: current trends and developments', and 'Environmental & energy transactions – how to conduct / avoid litigation?'. Over four packed days, delegates can choose from seminars from either track, such as 'Start-Up 4.0: FinTechs and the Online World', and 'War stories on disputes in environmental and energy cases'.
"Creation of a start-up friendly and supportive environment is an extremely hot topic for governments, and the Baltics are often seen as somewhat revolutionary in the field", explains Zvejniece. "I can proudly add that Latvia has recently adopted a new law in this respect. And as more energy businesses are bought, sold, developed, or financed, and environmental laws and regulations become more complex and pervasive, it is vital that both in-house and private practice lawyers understand how to deal with those challenges".
In addition to the two programme streams, there will be a selection of activities including interactive sessions on key skills required to produce legal texts, a corporate counsel event, and "a human rights session with prominent speakers, where we will concentrate on the currently significant aspect of fake news and their impact, as well as many more", explains Zvejniece. "Moreover, the half year conferences also serves as a gathering platform for all commissions, AIJA officers and newcomers to AIJA, and all the regular meetings – such as the commission meetings and EC meeting."
The Thursday night dinner should also not be missed, enthuses Zvejniece: "It will be held in our seaside city of Jurmala, along the white-sand beach with a 'city in a forest' vibe". It is a city, and a conference, that is set to impress.
Join us in Riga from 17 to 20 May for an exceptional conference with two parallel seminars to choose from. For more information and to register HERE
---
Innovation Legal Services Forum
26 April 2017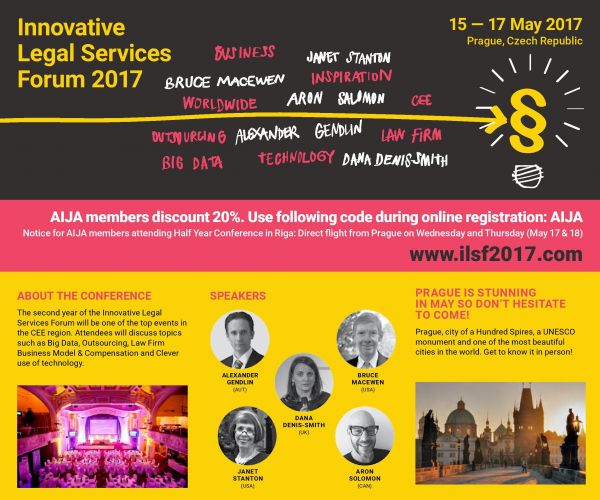 This year again AIJA supports the Innovation Legal Services Forum taking place in Prague next 16-17 May.
Only a couple of weeks (and a few places) left before the event. And AIJA members have right to a special reduction!
See here: ILSF website
---
Turo Sumu wins a free registration to an AIJA seminar
12 April 2017
Turo Sumu, a Finnish member of AIJA since 2014, is the lucky winner of a free registration to an AIJA event.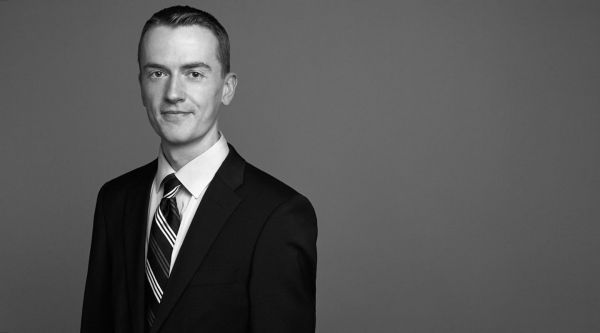 Turo is one the many AIJA members who dedicated some time in March 2017 to take a membership survey, used to kick off a new marketing strategic plan in 2017. He won the raffle and will attend an AIJA event in 2017 free of charge.
Well done Turo!
---
Join the IBA Congress in Sidney free of charge
11 April 2017
Young Lawyers 35 or under based in Europe can attend the Annual Meeting of the IBA in Sydney free of charge.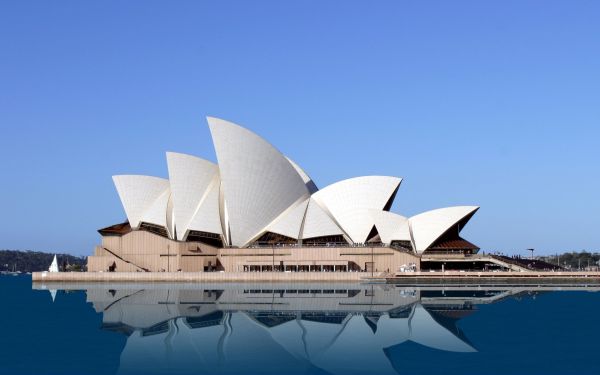 An attractive scholarship programme is available and covers the costs of travel, accommodation and registration fee.
The title of the essay to be submitted this year is 'Building a Fair Migration Policy for Europe: what would such a policy look like and is such a policy achievable?'. Additional information about the scholarship is set out here.
Do not miss this opportunity!
---
AIJA, Shortlisted for the Best Association Award at the Association Excellence Awards 2017
04 April 2017
AIJA was shortlisted for the Best Association Award at the Association Excellence Awards 2017.
Unfortunately the Award went to another association, but it is certainly a privilege for us to be admitted to the "Olympus of International Associations".
AIJA received gratifying comments from the judges, including:
"This is an exciting organisation which has great prospects for growth and influence. Is clearly making an impact"
"Good support for members. Imaginative meetings and events"
"A global membership organisation with a reach of approximately 450,000 young lawyers around the world. Excellent twitter campaign on matters of global importance such as human rights. Key achievement this year is a Brussels head office."

---
New Summer Program announced
04 April 2017
New summer program announced!
Good news for potential interns and law firms which need interns. Check out the European Center for Career Education website to know more!

---
AIJA Meets Bar Leaders as Part of Its Strategic Expansion in Asia
21 March 2017
AIJA Meets Bar Leaders as Part of Its Strategic Expansion in Asia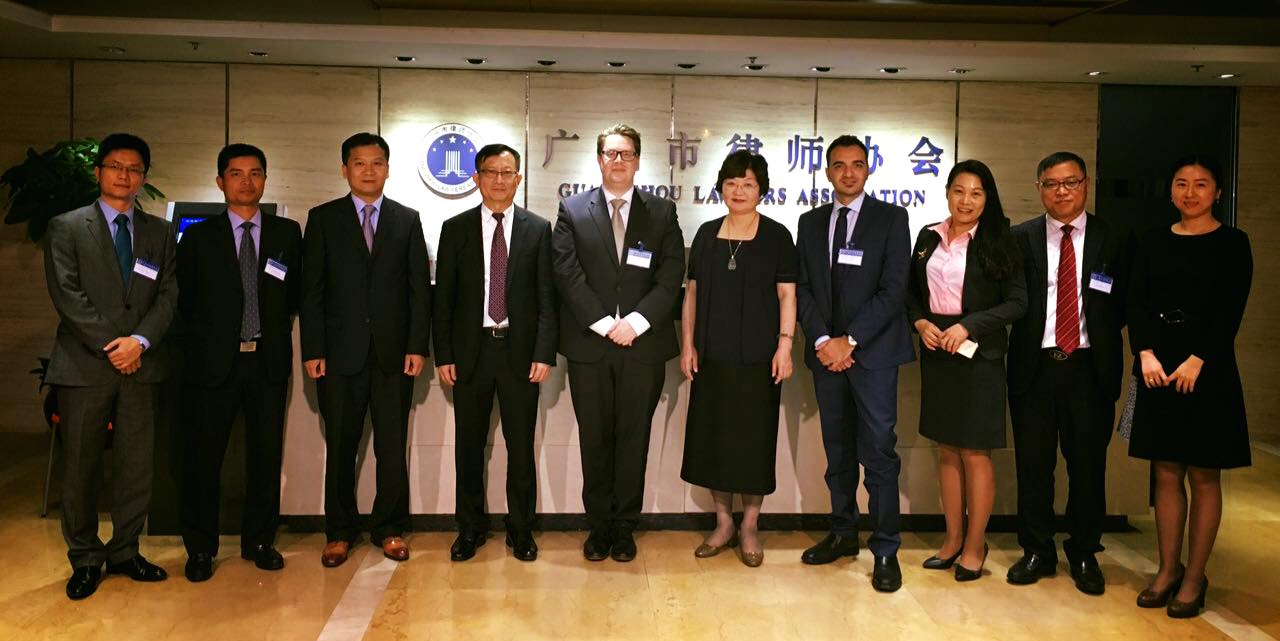 The AIJA network is rapidly reaching out into Asian markets, and AIJA President David Frølich recently accepted an invitation to Hong Kong to mark the start of the Legal Year. Whilst there, he ensured that he made the most of his time to actively promote the benefits of AIJA in the region. The opening of the Legal Year is the biggest ceremony in the legal calendar in Hong Kong and "it was an honour to attend and represent AIJA there," said Frølich. The visit included the opportunity to meet with the Association of Law Firms in Guangzhou – China's third largest city – and their boards of directors.
And even more recently, AIJA visited also several Bar associations in Japan (JFBA, Tokyo Bar Association, Dai Chi, Dai Ni) and in Korea (Korean Bar Association).
"By making such visits, we intend to strengthen our connections and hopefully attract more Asian lawyers to AIJA," said Frølich. "In due course, we hope to hold more seminars and other relevant activities in Asia. Several Asian countries fully recognise that they need European lawyers as much as Europeans need Asian lawyers. And the best way to meet young lawyers is of course through AIJA. I have personally experienced the genuine interest in working together, creating opportunities for the young Asian lawyers."
The Annual Congress in Tokyo in August is a great example to continue this work, and extend AIJA's networking opportunities in Asia. "Japan has more than 10,000 new lawyers joining the profession every year, almost all of whom are under 30 years of age," said Frølich. "A lot of them will need to have an international focus, and the earlier they start to gain knowledge and network on an international scale, the quicker they will gain unique opportunities. That is, of course, what AIJA offers. Not only that, but you also get inspiration, make personal friendships, and create the networks that will form the core basis for your future career."
By making sure that Japan, China, Korea and Asia at large, is well represented at AIJA events, broadens the networking possibilities and contacts for European members too.
"That is the beauty of networking and having a network," said Frølich. "The goal is always, as our mission statement says, 'to create unique opportunities for young international lawyers' and that's what we do through our events, through our publishing, and all our initiatives. And as we do that, we engage our members, we engage our staff, and we engage a community of young lawyers in a global scene."
---